API Parameters
Searchdata Parameters
The engine of the API. Needs to be set to amazon for this request.
The ID of the category you are searching for. You can use both alias or numerical id for parent categories. List of category IDs
The device used for your amazon search. Can be set to desktop, mobile or tablet.
scroll_to_bottom
Optional
Boolean parameter to scroll to bottom of the page before scraping.
wait_bottom_carousel
Optional
Boolean parameter to wait for bottom products carousel to load before scraping.
Waiting time after page was loaded before scraping. Measured in ms.
The zipcode you want to use for your amazon search.
Search Type
The type of scraping performed on Amazon. It can be of type search, product, category, bestsellers, new-releases, todays-deals. Use category in this case.
Amazon Category examples
Example using alias "amazon_devices" for category_id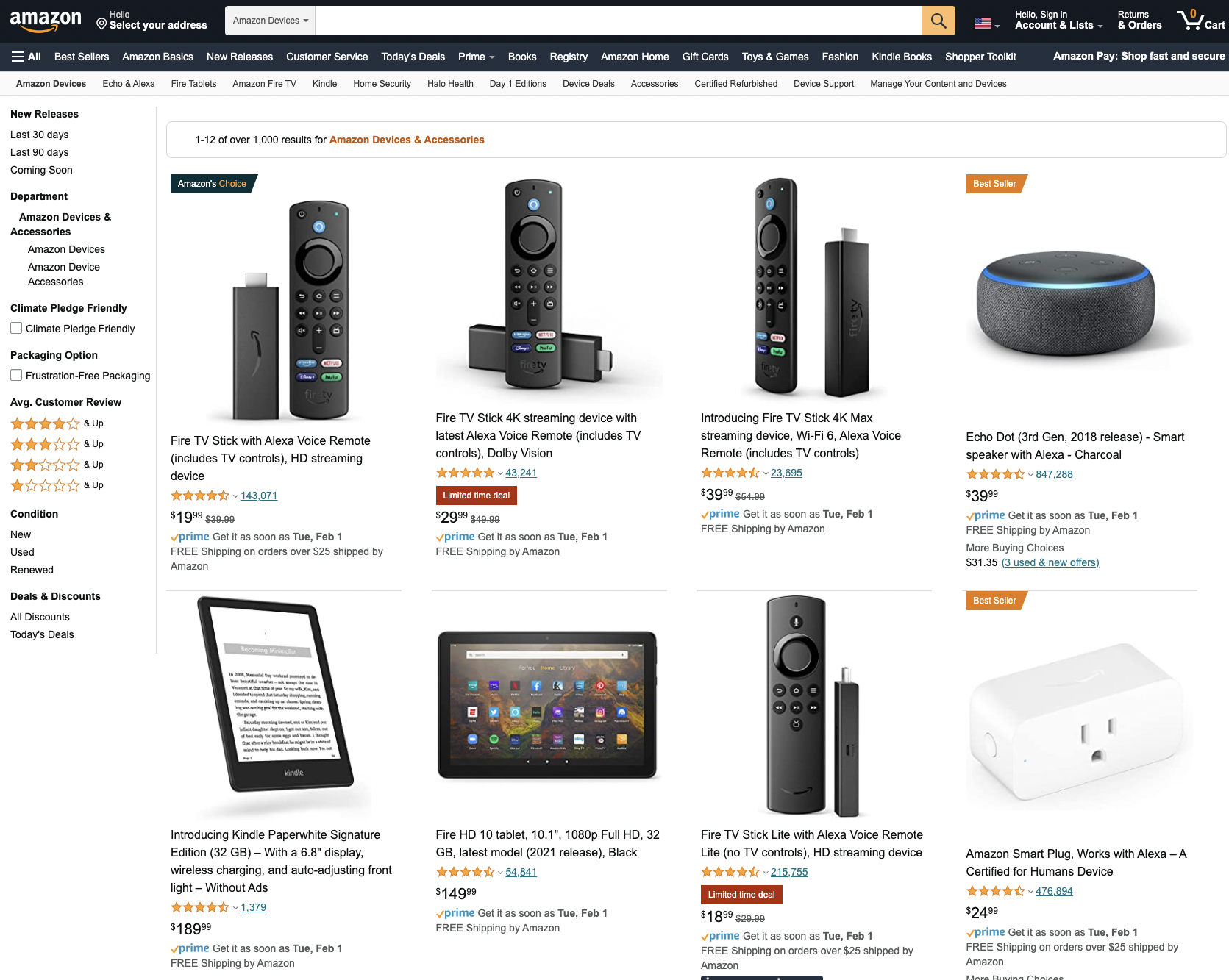 GET
{{BASE_URL}}/v1?engine=amazon&api_key={{API_KEY}}&type=category&category_id=amazon-devices
Code to integrate
Json Example
{
    "search_parameters": {
        "amazon_url": "https://www.amazon.com/Amazon-Devices/b?ie=UTF8&node=2102313011",
        "engine": "amazon",
        "amazon_domain": "amazon.com",
        "device": "desktop",
        "type": "category",
        "category_id": "amazon-devices"
    },
    "search_information": {
        "organic_results_state": "Results for exact spelling",
        "total_results": null,
        "query_displayed": ""
    },
    "category_results": {
        "product_results": [
            {
                "position": 1,
                "product_id": "B08C1W5N87",
                "sponsored": false,
                "is_prime": true,
                "kindle_unlimited": false,
                "is_amazon_fresh": false,
                "is_whole_foods_market": false,
                "is_climate_pledge_friendly": false,
                "is_carousel": false,
                "thumbnail": "https://m.media-amazon.com/images/I/51KKR5uGn6L._AC_UL320_.jpg",
                "title": "Fire TV Stick with Alexa Voice Remote (includes TV controls), HD streaming device",
                "link": "/fire-tv-stick-with-3rd-gen-alexa-voice-remote/dp/B08C1W5N87/ref=lp_2102313011_1_1",
                "price": "$19.99",
                "currency": "$",
                "price_raw": "$39.99",
                "rating": {
                    "rating": "4.7 out of 5 stars",
                    "total_ratings": 141438,
                    "link": "/fire-tv-stick-with-3rd-gen-alexa-voice-remote/dp/B08C1W5N87/ref=lp_2102313011_1_1#customerReviews"
                },
                "amazon_choice": {
                    "link": "/fire-tv-stick-with-3rd-gen-alexa-voice-remote/dp/B08C1W5N87/ref=lp_2102313011_1_1"
                },
                "shipping_details": [
                    "Get it as soon as Sun, Jan 30",
                    "FREE Shipping on orders over $25 shipped by Amazon"
                ]
            },
            {
                "position": 2,
                "product_id": "B08XVYZ1Y5",
                "sponsored": false,
                "is_prime": true,
                "kindle_unlimited": false,
                "is_amazon_fresh": false,
                "is_whole_foods_market": false,
                "is_climate_pledge_friendly": false,
                "is_carousel": false,
                "thumbnail": "https://m.media-amazon.com/images/I/411y5UdVmvL._AC_UL320_.jpg",
                "title": "Fire TV Stick 4K streaming device with latest Alexa Voice Remote (includes TV controls), Dolby Vision",
                "link": "/all-new-fire-tv-stick-4k-with-alexa-voice-remote/dp/B08XVYZ1Y5/ref=lp_2102313011_1_2",
                "price": "$29.99",
                "currency": "$",
                "price_raw": "$49.99",
                "rating": {
                    "rating": "4.8 out of 5 stars",
                    "total_ratings": 42107,
                    "link": "/all-new-fire-tv-stick-4k-with-alexa-voice-remote/dp/B08XVYZ1Y5/ref=lp_2102313011_1_2#customerReviews"
                },
                "deal": "Limited time deal",
                "shipping_details": [
                    "Get it as soon as Sun, Jan 30",
                    "FREE Shipping by Amazon"
                ]
            },
            {
                "position": 3,
                "product_id": "B08MQZXN1X",
                "sponsored": false,
                "is_prime": true,
                "kindle_unlimited": false,
                "is_amazon_fresh": false,
                "is_whole_foods_market": false,
                "is_climate_pledge_friendly": false,
                "is_carousel": false,
                "thumbnail": "https://m.media-amazon.com/images/I/41XTOfFgUqL._AC_UL320_.jpg",
                "title": "Introducing Fire TV Stick 4K Max streaming device, Wi-Fi 6, Alexa Voice Remote (includes TV controls)",
                "link": "/fire-tv-stick-4k-max-with-alexa-voice-remote/dp/B08MQZXN1X/ref=lp_2102313011_1_3",
                "price": "$39.99",
                "currency": "$",
                "price_raw": "$54.99",
                "rating": {
                    "rating": "4.7 out of 5 stars",
                    "total_ratings": 23100,
                    "link": "/fire-tv-stick-4k-max-with-alexa-voice-remote/dp/B08MQZXN1X/ref=lp_2102313011_1_3#customerReviews"
                },
                "shipping_details": [
                    "Get it as soon as Sun, Jan 30",
                    "FREE Shipping by Amazon"
                ]
            },
            {
                "position": 4,
                "product_id": "B07FZ8S74R",
                "sponsored": false,
                "is_prime": true,
                "kindle_unlimited": false,
                "is_amazon_fresh": false,
                "is_whole_foods_market": false,
                "is_climate_pledge_friendly": false,
                "is_carousel": false,
                "thumbnail": "https://m.media-amazon.com/images/I/6182S7MYC2L._AC_UL320_.jpg",
                "title": "Echo Dot (3rd Gen, 2018 release) - Smart speaker with Alexa - Charcoal",
                "link": "/Echo-Dot/dp/B07FZ8S74R/ref=lp_2102313011_1_4",
                "price": "$39.99",
                "currency": "$",
                "rating": {
                    "rating": "4.7 out of 5 stars",
                    "total_ratings": 844796,
                    "link": "/Echo-Dot/dp/B07FZ8S74R/ref=lp_2102313011_1_4#customerReviews"
                },
                "bestseller": {
                    "link": "/gp/bestsellers/amazon-devices/17142716011/ref=sr_bs_3_17142716011_1",
                    "category": "in Echo Smart Speaker & Display Bundles"
                },
                "shipping_details": [
                    "Get it as soon as Sun, Jan 30",
                    "FREE Shipping by Amazon"
                ]
            },
            {
                "position": 5,
                "product_id": "B08BX7FV5L",
                "sponsored": false,
                "is_prime": true,
                "kindle_unlimited": false,
                "is_amazon_fresh": false,
                "is_whole_foods_market": false,
                "is_climate_pledge_friendly": false,
                "is_carousel": false,
                "thumbnail": "https://m.media-amazon.com/images/I/61uE03cRsyS._AC_UL320_.jpg",
                "title": "Fire HD 10 tablet, 10.1\", 1080p Full HD, 32 GB, latest model (2021 release), Black",
                "link": "/Fire-HD-10-tablet/dp/B08BX7FV5L/ref=lp_2102313011_1_5",
                "price": "$149.99",
                "currency": "$",
                "rating": {
                    "rating": "4.6 out of 5 stars",
                    "total_ratings": 54236,
                    "link": "/Fire-HD-10-tablet/dp/B08BX7FV5L/ref=lp_2102313011_1_5#customerReviews"
                },
                "shipping_details": [
                    "Get it as soon as Sun, Jan 30",
                    "FREE Shipping by Amazon"
                ]
            },
            {
                "position": 6,
                "product_id": "B08B495319",
                "sponsored": false,
                "is_prime": true,
                "kindle_unlimited": false,
                "is_amazon_fresh": false,
                "is_whole_foods_market": false,
                "is_climate_pledge_friendly": false,
                "is_carousel": false,
                "thumbnail": "https://m.media-amazon.com/images/I/51N5CsWCIBL._AC_UL320_.jpg",
                "title": "Introducing Kindle Paperwhite Signature Edition (32 GB) – With a 6.8\" display, wireless charging, and auto-adjusting front light – Without Ads",
                "link": "/Introducing-kindle-paperwhite-Signature-Edition/dp/B08B495319/ref=lp_2102313011_1_6",
                "price": "$189.99",
                "currency": "$",
                "rating": {
                    "rating": "4.7 out of 5 stars",
                    "total_ratings": 1315,
                    "link": "/Introducing-kindle-paperwhite-Signature-Edition/dp/B08B495319/ref=lp_2102313011_1_6#customerReviews"
                },
                "shipping_details": [
                    "Get it as soon as Sun, Jan 30",
                    "FREE Shipping by Amazon"
                ]
            },
            {
                "position": 7,
                "product_id": "B089DR29T6",
                "sponsored": false,
                "is_prime": true,
                "kindle_unlimited": false,
                "is_amazon_fresh": false,
                "is_whole_foods_market": false,
                "is_climate_pledge_friendly": false,
                "is_carousel": false,
                "thumbnail": "https://m.media-amazon.com/images/I/41couS+UODL._AC_UL320_.jpg",
                "title": "Amazon Smart Plug, Works with Alexa – A Certified for Humans Device",
                "link": "/Amazon-smart-plug-works-with-Alexa/dp/B089DR29T6/ref=lp_2102313011_1_7",
                "price": "$24.99",
                "currency": "$",
                "rating": {
                    "rating": "4.7 out of 5 stars",
                    "total_ratings": 476334,
                    "link": "/Amazon-smart-plug-works-with-Alexa/dp/B089DR29T6/ref=lp_2102313011_1_7#customerReviews"
                },
                "bestseller": {
                    "link": "/gp/bestsellers/hi/6291368011/ref=sr_bs_6_6291368011_1",
                    "category": "in Electrical Outlet Switches"
                },
                "shipping_details": [
                    "Get it as soon as Sun, Jan 30",
                    "FREE Shipping on orders over $25 shipped by Amazon"
                ]
            },
            {
                "position": 8,
                "product_id": "B07FKR6KXF",
                "sponsored": false,
                "is_prime": true,
                "kindle_unlimited": false,
                "is_amazon_fresh": false,
                "is_whole_foods_market": false,
                "is_climate_pledge_friendly": false,
                "is_carousel": false,
                "thumbnail": "https://m.media-amazon.com/images/I/71POuqajw1L._AC_UL320_.jpg",
                "title": "Fire 7 tablet, 7\" display, 16 GB, latest model (2019 release), Black",
                "link": "/Fire-Tablet-7/dp/B07FKR6KXF/ref=lp_2102313011_1_8",
                "price": "$49.99",
                "currency": "$",
                "rating": {
                    "rating": "4.4 out of 5 stars",
                    "total_ratings": 222853,
                    "link": "/Fire-Tablet-7/dp/B07FKR6KXF/ref=lp_2102313011_1_8#customerReviews"
                },
                "shipping_details": [
                    "Get it as soon as Sun, Jan 30",
                    "FREE Shipping by Amazon"
                ]
            },
            {
                "position": 9,
                "product_id": "B085M66LH1",
                "sponsored": false,
                "is_prime": true,
                "kindle_unlimited": false,
                "is_amazon_fresh": false,
                "is_whole_foods_market": false,
                "is_climate_pledge_friendly": false,
                "is_carousel": false,
                "thumbnail": "https://m.media-amazon.com/images/I/71b9icxgIgL._AC_UL320_.jpg",
                "title": "Echo Dot (4th Gen) | Smart speaker with clock and Alexa | Twilight Blue",
                "link": "/Echo-Dot-With-Clock-4th-Gen/dp/B085M66LH1/ref=lp_2102313011_1_9",
                "price": "$59.99",
                "currency": "$",
                "rating": {
                    "rating": "4.8 out of 5 stars",
                    "total_ratings": 147295,
                    "link": "/Echo-Dot-With-Clock-4th-Gen/dp/B085M66LH1/ref=lp_2102313011_1_9#customerReviews"
                },
                "bestseller": {
                    "link": "/gp/bestsellers/home-garden/3734911/ref=sr_bs_8_3734911_1",
                    "category": "in Alarm Clocks"
                },
                "shipping_details": [
                    "Get it as soon as Sun, Jan 30",
                    "FREE Shipping by Amazon"
                ]
            },
            {
                "position": 10,
                "product_id": "B07WQ1VH72",
                "sponsored": false,
                "is_prime": true,
                "kindle_unlimited": false,
                "is_amazon_fresh": false,
                "is_whole_foods_market": false,
                "is_climate_pledge_friendly": false,
                "is_carousel": false,
                "thumbnail": "https://m.media-amazon.com/images/I/71MPAn7oA+L._AC_UL320_.jpg",
                "title": "Fire HD 8 tablet, 8\" HD display, 32 GB, latest model (2020 release), designed for portable entertainment, Twilight Blue",
                "link": "/Fire-HD-8-tablet/dp/B07WQ1VH72/ref=lp_2102313011_1_10",
                "price": "$89.99",
                "currency": "$",
                "rating": {
                    "rating": "4.6 out of 5 stars",
                    "total_ratings": 134850,
                    "link": "/Fire-HD-8-tablet/dp/B07WQ1VH72/ref=lp_2102313011_1_10#customerReviews"
                },
                "shipping_details": [
                    "Get it as soon as Sun, Jan 30",
                    "FREE Shipping by Amazon"
                ]
            },
            {
                "position": 11,
                "product_id": "B07YNLBS7R",
                "sponsored": false,
                "is_prime": true,
                "kindle_unlimited": false,
                "is_amazon_fresh": false,
                "is_whole_foods_market": false,
                "is_climate_pledge_friendly": false,
                "is_carousel": false,
                "thumbnail": "https://m.media-amazon.com/images/I/51Da2Z+FTFL._AC_UL320_.jpg",
                "title": "Fire TV Stick Lite with Alexa Voice Remote Lite (no TV controls), HD streaming device",
                "link": "/fire-tv-stick-lite/dp/B07YNLBS7R/ref=lp_2102313011_1_11",
                "price": "$18.99",
                "currency": "$",
                "price_raw": "$29.99",
                "rating": {
                    "rating": "4.7 out of 5 stars",
                    "total_ratings": 215386,
                    "link": "/fire-tv-stick-lite/dp/B07YNLBS7R/ref=lp_2102313011_1_11#customerReviews"
                },
                "deal": "Limited time deal",
                "shipping_details": [
                    "Get it as soon as Sun, Jan 30",
                    "FREE Shipping on orders over $25 shipped by Amazon"
                ]
            },
            {
                "position": 12,
                "product_id": "B07XJ8C8F5",
                "sponsored": false,
                "is_prime": true,
                "kindle_unlimited": false,
                "is_amazon_fresh": false,
                "is_whole_foods_market": false,
                "is_climate_pledge_friendly": false,
                "is_carousel": false,
                "thumbnail": "https://m.media-amazon.com/images/I/714Rq4k05UL._AC_UL320_.jpg",
                "title": "Echo Dot (4th Gen, 2020 release) | Smart speaker with Alexa | Charcoal",
                "link": "/all-new-Echo-Dot/dp/B07XJ8C8F5/ref=lp_2102313011_1_12",
                "price": "$49.99",
                "currency": "$",
                "rating": {
                    "rating": "4.7 out of 5 stars",
                    "total_ratings": 398903,
                    "link": "/all-new-Echo-Dot/dp/B07XJ8C8F5/ref=lp_2102313011_1_12#customerReviews"
                },
                "shipping_details": [
                    "Get it as soon as Sun, Jan 30",
                    "FREE Shipping by Amazon"
                ]
            }
        ],
        "categories": [
            {
                "link": "/dp/B078NSDFSB/ref=s9_acss_bw_cg_devicecp_1a1_w?pf_rd_m=ATVPDKIKX0DER&pf_rd_s=merchandised-search-6&pf_rd_r=TS8CE3QMHM9ZKAVYXAAP&pf_rd_t=101&pf_rd_p=778f5814-1932-40e5-b2a7-8777cc3586e4&pf_rd_i=2102313011",
                "title": "Amazon Astro",
                "thumbnail": "https://images-na.ssl-images-amazon.com/images/G/01/kindle/journeys/MDVhNzI5MWMt/MDVhNzI5MWMt-Y2Q1ODUxZDQt-w640.jpeg"
            },
            {
                "link": "/b/ref=ods_dcp_echo_img/ref=s9_acss_bw_cg_devicecp_1b1_w?ie=UTF8&node=9818047011&pf_rd_m=ATVPDKIKX0DER&pf_rd_s=merchandised-search-6&pf_rd_r=TS8CE3QMHM9ZKAVYXAAP&pf_rd_t=101&pf_rd_p=778f5814-1932-40e5-b2a7-8777cc3586e4&pf_rd_i=2102313011",
                "title": "Echo & Alexa Devices",
                "thumbnail": "https://images-na.ssl-images-amazon.com/images/G/01/kindle/journeys/MDVhNzI5MWMt/MDVhNzI5MWMt-OWQ3NThhODAt-w640.jpeg"
            },
            {
                "link": "/dp/B09DWNZQYM/ref=s9_acss_bw_cg_devicecp_1c1_w?pf_rd_m=ATVPDKIKX0DER&pf_rd_s=merchandised-search-6&pf_rd_r=TS8CE3QMHM9ZKAVYXAAP&pf_rd_t=101&pf_rd_p=778f5814-1932-40e5-b2a7-8777cc3586e4&pf_rd_i=2102313011",
                "title": "Amazon Glow",
                "thumbnail": "https://images-na.ssl-images-amazon.com/images/G/01/kindle/journeys/MDVhNzI5MWMt/MDVhNzI5MWMt-YjEzMWIzZjYt-w640.jpeg"
            },
            {
                "link": "/b/ref=s9_acss_bw_cg_devicecp_3a1_w?node=23568130011&pf_rd_m=ATVPDKIKX0DER&pf_rd_s=merchandised-search-6&pf_rd_r=TS8CE3QMHM9ZKAVYXAAP&pf_rd_t=101&pf_rd_p=778f5814-1932-40e5-b2a7-8777cc3586e4&pf_rd_i=2102313011",
                "title": "Halo Health & Wellness bands",
                "thumbnail": "https://images-na.ssl-images-amazon.com/images/G/01/kindle/journeys/MDVhNzI5MWMt/MDVhNzI5MWMt-ZTE0NDlmNjQt-w640.jpeg"
            },
            {
                "link": "/b/ref=s9_acss_bw_cg_devicecp_3b1_w?node=17386948011&pf_rd_m=ATVPDKIKX0DER&pf_rd_s=merchandised-search-6&pf_rd_r=TS8CE3QMHM9ZKAVYXAAP&pf_rd_t=101&pf_rd_p=778f5814-1932-40e5-b2a7-8777cc3586e4&pf_rd_i=2102313011",
                "title": "Smart Home devices",
                "thumbnail": "https://images-na.ssl-images-amazon.com/images/G/01/kindle/journeys/MTliYWVlMTUt/Category_tile-640x300.jpg"
            },
            {
                "link": "/b/ref=s9_acss_bw_cg_devicecp_3c1_w?node=17386948011&pf_rd_m=ATVPDKIKX0DER&pf_rd_s=merchandised-search-6&pf_rd_r=TS8CE3QMHM9ZKAVYXAAP&pf_rd_t=101&pf_rd_p=778f5814-1932-40e5-b2a7-8777cc3586e4&pf_rd_i=2102313011",
                "title": "Home Security devices",
                "thumbnail": "https://images-na.ssl-images-amazon.com/images/G/01/kindle/journeys/MDVhNzI5MWMt/MDVhNzI5MWMt-OTFhY2E5YjMt-w640.jpeg"
            },
            {
                "link": "/b/ref=s9_acss_bw_cg_devicecp_5a1_w?node=8521791011&pf_rd_m=ATVPDKIKX0DER&pf_rd_s=merchandised-search-6&pf_rd_r=TS8CE3QMHM9ZKAVYXAAP&pf_rd_t=101&pf_rd_p=778f5814-1932-40e5-b2a7-8777cc3586e4&pf_rd_i=2102313011",
                "title": "Fire TV devices",
                "thumbnail": "https://images-na.ssl-images-amazon.com/images/G/01/kindle/journeys/NmE0MDkzMjkt/NmE0MDkzMjkt-NDMzNTNhYmYt-w640"
            },
            {
                "link": "/b/ref=s9_acss_bw_cg_devicecp_5b1_w?node=6669703011&pf_rd_m=ATVPDKIKX0DER&pf_rd_s=merchandised-search-6&pf_rd_r=TS8CE3QMHM9ZKAVYXAAP&pf_rd_t=101&pf_rd_p=778f5814-1932-40e5-b2a7-8777cc3586e4&pf_rd_i=2102313011",
                "title": "Fire Tablet devices",
                "thumbnail": "https://images-na.ssl-images-amazon.com/images/G/01/kindle/journeys/MDVhNzI5MWMt/MDVhNzI5MWMt-NTk3YzNjM2Ut-w640.jpeg"
            },
            {
                "link": "/b/ref=s9_acss_bw_cg_devicecp_5c1_w?node=6669702011&pf_rd_m=ATVPDKIKX0DER&pf_rd_s=merchandised-search-6&pf_rd_r=TS8CE3QMHM9ZKAVYXAAP&pf_rd_t=101&pf_rd_p=778f5814-1932-40e5-b2a7-8777cc3586e4&pf_rd_i=2102313011",
                "title": "Kindle e-reader devices",
                "thumbnail": "https://images-na.ssl-images-amazon.com/images/G/01/kindle/journeys/MDVhNzI5MWMt/MDVhNzI5MWMt-NzdkODdmNTIt-w640.jpeg"
            },
            {
                "link": "/b/ref=s9_acss_bw_cg_devicecp_7a1_w?node=11851273011&pf_rd_m=ATVPDKIKX0DER&pf_rd_s=merchandised-search-6&pf_rd_r=TS8CE3QMHM9ZKAVYXAAP&pf_rd_t=101&pf_rd_p=778f5814-1932-40e5-b2a7-8777cc3586e4&pf_rd_i=2102313011",
                "title": "Amazon devices deals",
                "thumbnail": "https://images-na.ssl-images-amazon.com/images/G/01/kindle/merch/2019/CXL-969/CSL-969_accesories_V1_640x300.jpg"
            },
            {
                "link": "/b/ref=s9_acss_bw_cg_devicecp_7b1_w?node=8497978011&pf_rd_m=ATVPDKIKX0DER&pf_rd_s=merchandised-search-6&pf_rd_r=TS8CE3QMHM9ZKAVYXAAP&pf_rd_t=101&pf_rd_p=778f5814-1932-40e5-b2a7-8777cc3586e4&pf_rd_i=2102313011",
                "title": "Certified Refurbished Amazon devices",
                "thumbnail": "https://images-na.ssl-images-amazon.com/images/G/01/kindle/journeys/MTVhNjVkNmEt/MTVhNjVkNmEt-MjliYmU1OTAt-w640.jpeg"
            },
            {
                "link": "/b/ref=s9_acss_bw_cg_devicecp_7c1_w?node=9187220011&pf_rd_m=ATVPDKIKX0DER&pf_rd_s=merchandised-search-6&pf_rd_r=TS8CE3QMHM9ZKAVYXAAP&pf_rd_t=101&pf_rd_p=778f5814-1932-40e5-b2a7-8777cc3586e4&pf_rd_i=2102313011",
                "title": "Trade-In program",
                "thumbnail": "https://images-na.ssl-images-amazon.com/images/G/01/kindle/journeys/MTVhNjVkNmEt/MTVhNjVkNmEt-NGU4NDA3NTYt-w640._CB655801900_._SY200_.jpeg"
            },
            {
                "link": "/b/ref=d_devcp_music_img/ref=s9_acss_bw_cg_ADcatD_1a1_w?ie=UTF8&node=14981443011&pf_rd_m=ATVPDKIKX0DER&pf_rd_s=merchandised-search-10&pf_rd_r=TS8CE3QMHM9ZKAVYXAAP&pf_rd_t=101&pf_rd_p=a3aecd05-3515-4240-9bee-2c4515b0989d&pf_rd_i=2102313011",
                "title": "Music",
                "thumbnail": "https://images-na.ssl-images-amazon.com/images/G/01/kindle/merch/2017/Family/CP/product_tile_750x350_desktop_music.jpg"
            },
            {
                "link": "/b/ref=d_devcp_apps_img/ref=s9_acss_bw_cg_ADcatD_1b1_w?ie=UTF8&node=2350149011&pf_rd_m=ATVPDKIKX0DER&pf_rd_s=merchandised-search-10&pf_rd_r=TS8CE3QMHM9ZKAVYXAAP&pf_rd_t=101&pf_rd_p=a3aecd05-3515-4240-9bee-2c4515b0989d&pf_rd_i=2102313011",
                "title": "Apps & Games",
                "thumbnail": "https://images-na.ssl-images-amazon.com/images/G/01/kindle/merch/2017/Family/CP/product_tile_750x350_desktop_apps.jpg"
            },
            {
                "link": "/b/ref=d_devcp_video_img/ref=s9_acss_bw_cg_ADcatD_1c1_w?ie=UTF8&node=2858778011&pf_rd_m=ATVPDKIKX0DER&pf_rd_s=merchandised-search-10&pf_rd_r=TS8CE3QMHM9ZKAVYXAAP&pf_rd_t=101&pf_rd_p=a3aecd05-3515-4240-9bee-2c4515b0989d&pf_rd_i=2102313011",
                "title": "Amazon Video",
                "thumbnail": "https://images-na.ssl-images-amazon.com/images/G/01/kindle/merch/2017/Family/CP/product_tile_750x350_desktop_video.jpg"
            },
            {
                "link": "/b/ref=d_devcp_ebooks_img/ref=s9_acss_bw_cg_ADcatD_1d1_w?ie=UTF8&node=154606011&pf_rd_m=ATVPDKIKX0DER&pf_rd_s=merchandised-search-10&pf_rd_r=TS8CE3QMHM9ZKAVYXAAP&pf_rd_t=101&pf_rd_p=a3aecd05-3515-4240-9bee-2c4515b0989d&pf_rd_i=2102313011",
                "title": "Kindle E-Books",
                "thumbnail": "https://images-na.ssl-images-amazon.com/images/G/01/kindle/merch/2017/Family/CP/product_tile_750x350_desktop_books.jpg"
            },
            {
                "link": "/b/ref=d_devcp_acc_img/ref=s9_acss_bw_cg_ADcatD_1e1_w?ie=UTF8&node=370783011&pf_rd_m=ATVPDKIKX0DER&pf_rd_s=merchandised-search-10&pf_rd_r=TS8CE3QMHM9ZKAVYXAAP&pf_rd_t=101&pf_rd_p=a3aecd05-3515-4240-9bee-2c4515b0989d&pf_rd_i=2102313011",
                "title": "Accessories",
                "thumbnail": "https://images-na.ssl-images-amazon.com/images/G/01/kindle/merch/2017/Family/CP/product_tile_750x350_desktop_accessories.jpg"
            }
        ]
    }
}
Example using category_id = 239225011 with language and delivery country
GET
{{BASE_URL}}/v1?engine=amazon&api_key={{API_KEY}}&type=category&category_id=239225011&hl=es_US&gl=AU
Code to integrate
Json Example
{
    "search_parameters": {
        "amazon_url": "https://www.amazon.com/b?node=239225011",
        "engine": "amazon",
        "amazon_domain": "amazon.com",
        "device": "desktop",
        "type": "category",
        "category_id": "239225011",
        "hl": "es_US",
        "gl": "AU"
    },
    "search_information": {
        "organic_results_state": "Results for exact spelling",
        "total_results": null,
        "query_displayed": ""
    },
    "category_results": {
        "product_results": [
            {
                "position": 1,
                "product_id": "B07FLMNQRG",
                "sponsored": false,
                "is_prime": false,
                "kindle_unlimited": false,
                "is_amazon_fresh": false,
                "is_whole_foods_market": false,
                "is_climate_pledge_friendly": false,
                "is_carousel": false,
                "thumbnail": "https://m.media-amazon.com/images/I/91FTmQZxmtL._AC_UL320_.jpg",
                "title": "Splashin'Kids Tummy Time Premium - colchoneta inflable de agua para bebés y niños pequeños, centro de actividades de ocio perfecto para el crecimiento de la estimulación de tu bebé",
                "link": "/-/es/SplashinKids-Tummy-Time-Premium-estimulaci%C3%B3n/dp/B07FLMNQRG/ref=Oct_d_otopr_239225011?pd_rd_i=B07FLMNQRG&pd_rd_r=20efe5f2-08a0-4a9d-9dda-6475541e5789&pd_rd_w=6Zlgb&pd_rd_wg=lDdn8&pf_rd_p=a1c0ceaa-9fdc-4683-b2d2-2b92e832cb8a&pf_rd_r=DTHGMHRYENTVM091K48P",
                "rating": {
                    "rating": "4.4 de 5 estrellas",
                    "total_ratings": 33718,
                    "link": "/-/es/SplashinKids-Tummy-Time-Premium-estimulaci%C3%B3n/dp/B07FLMNQRG/ref=Oct_d_otopr_239225011?pd_rd_i=B07FLMNQRG&pd_rd_r=20efe5f2-08a0-4a9d-9dda-6475541e5789&pd_rd_w=6Zlgb&pd_rd_wg=lDdn8&pf_rd_p=a1c0ceaa-9fdc-4683-b2d2-2b92e832cb8a&pf_rd_r=DTHGMHRYENTVM091K48P#customerReviews"
                },
                "amazon_choice": {
                    "link": "/-/es/SplashinKids-Tummy-Time-Premium-estimulaci%C3%B3n/dp/B07FLMNQRG/ref=Oct_d_otopr_239225011?pd_rd_i=B07FLMNQRG&pd_rd_r=20efe5f2-08a0-4a9d-9dda-6475541e5789&pd_rd_w=6Zlgb&pd_rd_wg=lDdn8&pf_rd_p=a1c0ceaa-9fdc-4683-b2d2-2b92e832cb8a&pf_rd_r=DTHGMHRYENTVM091K48P"
                }
            },
            {
                "position": 2,
                "product_id": "B0793D9WBY",
                "sponsored": false,
                "is_prime": false,
                "kindle_unlimited": false,
                "is_amazon_fresh": false,
                "is_whole_foods_market": false,
                "is_climate_pledge_friendly": false,
                "is_carousel": false,
                "thumbnail": "https://m.media-amazon.com/images/I/71iWK3H2YGL._AC_UL320_.jpg",
                "title": "Fisher-Price Deluxe Kick 'n Play Juguete de piano para niños, na",
                "extensions": [
                    "3 Piece Set"
                ],
                "link": "/-/es/Fisher-Price-Deluxe-Juguete-piano-ni%C3%B1os/dp/B0793D9WBY/ref=Oct_d_otopr_239225011?pd_rd_i=B0793D9WBY&pd_rd_r=20efe5f2-08a0-4a9d-9dda-6475541e5789&pd_rd_w=6Zlgb&pd_rd_wg=lDdn8&pf_rd_p=a1c0ceaa-9fdc-4683-b2d2-2b92e832cb8a&pf_rd_r=DTHGMHRYENTVM091K48P",
                "bestseller": {
                    "link": "/-/es/gp/bestsellers/baby-products/196609011/ref=sr_bs_1_196609011_1",
                    "category": "en Alfombras de Juego y Gimnasios para Bebé"
                }
            },
            {
                "position": 3,
                "product_id": "B00PTL15D6",
                "sponsored": false,
                "is_prime": false,
                "kindle_unlimited": false,
                "is_amazon_fresh": false,
                "is_whole_foods_market": false,
                "is_climate_pledge_friendly": false,
                "is_carousel": false,
                "thumbnail": "https://m.media-amazon.com/images/I/71gBaaxaOyL._AC_UL320_.jpg",
                "title": "Columpio de balanceo simple de la marca Graco, Abbington",
                "link": "/-/es/Columpio-balanceo-simple-marca-Abbington/dp/B00PTL15D6/ref=Oct_d_otopr_239225011?pd_rd_i=B00PTL15D6&pd_rd_r=20efe5f2-08a0-4a9d-9dda-6475541e5789&pd_rd_w=6Zlgb&pd_rd_wg=lDdn8&pf_rd_p=a1c0ceaa-9fdc-4683-b2d2-2b92e832cb8a&pf_rd_r=DTHGMHRYENTVM091K48P",
                "price": "US$99.99",
                "currency": "US$",
                "rating": {
                    "rating": "4.6 de 5 estrellas",
                    "total_ratings": 18978,
                    "link": "/-/es/Columpio-balanceo-simple-marca-Abbington/dp/B00PTL15D6/ref=Oct_d_otopr_239225011?pd_rd_i=B00PTL15D6&pd_rd_r=20efe5f2-08a0-4a9d-9dda-6475541e5789&pd_rd_w=6Zlgb&pd_rd_wg=lDdn8&pf_rd_p=a1c0ceaa-9fdc-4683-b2d2-2b92e832cb8a&pf_rd_r=DTHGMHRYENTVM091K48P#customerReviews"
                },
                "bestseller": {
                    "link": "/-/es/gp/bestsellers/baby-products/166853011/ref=sr_bs_2_166853011_1",
                    "category": "en Columpios Fijos para Bebé"
                },
                "shipping_details": [
                    "Recíbelo el martes, 15 de febrero",
                    "US$118.63 de envío"
                ]
            },
            {
                "position": 4,
                "product_id": "B07CRSXMW8",
                "sponsored": false,
                "is_prime": false,
                "kindle_unlimited": false,
                "is_amazon_fresh": false,
                "is_whole_foods_market": false,
                "is_climate_pledge_friendly": false,
                "is_carousel": false,
                "thumbnail": "https://m.media-amazon.com/images/I/81U-LLvggsL._AC_UL320_.jpg",
                "title": "VTech caminante de aprendizaje sentado a pie (embalaje libre de frustración), azul",
                "link": "/-/es/caminante-aprendizaje-sentado-embalaje-frustraci%C3%B3n/dp/B07CRSXMW8/ref=Oct_d_otopr_239225011?pd_rd_i=B07CRSXMW8&pd_rd_r=20efe5f2-08a0-4a9d-9dda-6475541e5789&pd_rd_w=6Zlgb&pd_rd_wg=lDdn8&pf_rd_p=a1c0ceaa-9fdc-4683-b2d2-2b92e832cb8a&pf_rd_r=DTHGMHRYENTVM091K48P",
                "price": "US$37.99",
                "currency": "US$",
                "rating": {
                    "rating": "4.8 de 5 estrellas",
                    "total_ratings": 69529,
                    "link": "/-/es/caminante-aprendizaje-sentado-embalaje-frustraci%C3%B3n/dp/B07CRSXMW8/ref=Oct_d_otopr_239225011?pd_rd_i=B07CRSXMW8&pd_rd_r=20efe5f2-08a0-4a9d-9dda-6475541e5789&pd_rd_w=6Zlgb&pd_rd_wg=lDdn8&pf_rd_p=a1c0ceaa-9fdc-4683-b2d2-2b92e832cb8a&pf_rd_r=DTHGMHRYENTVM091K48P#customerReviews"
                },
                "bestseller": {
                    "link": "/-/es/gp/bestsellers/baby-products/322268011/ref=sr_bs_3_322268011_1",
                    "category": "en Andaderas para Bebé"
                },
                "shipping_details": [
                    "Recíbelo el martes, 15 de febrero",
                    "US$62.16 de envío"
                ]
            },
            {
                "position": 5,
                "product_id": "B014D4HHQI",
                "sponsored": false,
                "is_prime": false,
                "kindle_unlimited": false,
                "is_amazon_fresh": false,
                "is_whole_foods_market": false,
                "is_climate_pledge_friendly": false,
                "is_carousel": false,
                "thumbnail": "https://m.media-amazon.com/images/I/816ImZ81wPL._AC_UL320_.jpg",
                "title": "Mecedora para bebés Fisher-Price, Geo Diamonds",
                "extensions": [
                    "1 Count (Pack of 1)"
                ],
                "link": "/-/es/Mecedora-para-beb%C3%A9s-Fisher-Price-Diamonds/dp/B014D4HHQI/ref=Oct_d_otopr_239225011?pd_rd_i=B014D4HHQI&pd_rd_r=20efe5f2-08a0-4a9d-9dda-6475541e5789&pd_rd_w=6Zlgb&pd_rd_wg=lDdn8&pf_rd_p=a1c0ceaa-9fdc-4683-b2d2-2b92e832cb8a&pf_rd_r=DTHGMHRYENTVM091K48P"
            },
            {
                "position": 6,
                "product_id": "B01J94K9OY",
                "sponsored": false,
                "is_prime": false,
                "kindle_unlimited": false,
                "is_amazon_fresh": false,
                "is_whole_foods_market": false,
                "is_climate_pledge_friendly": false,
                "is_carousel": false,
                "thumbnail": "https://m.media-amazon.com/images/I/51xlL39CVaL._AC_UL320_.jpg",
                "title": "Centro de actividades Skip Hop para bebés, con tres estaciones, multifunción, para niños de 4 meses",
                "extensions": [
                    "1 Count (Pack of 1)"
                ],
                "link": "/-/es/Centro-actividades-estaciones-multifunci%C3%B3n-meses/dp/B01J94K9OY/ref=Oct_d_otopr_239225011?pd_rd_i=B01J94K9OY&pd_rd_r=20efe5f2-08a0-4a9d-9dda-6475541e5789&pd_rd_w=6Zlgb&pd_rd_wg=lDdn8&pf_rd_p=a1c0ceaa-9fdc-4683-b2d2-2b92e832cb8a&pf_rd_r=DTHGMHRYENTVM091K48P",
                "price": "US$127.99",
                "currency": "US$",
                "price_raw": "US$142.00",
                "shipping_details": [
                    "Recíbelo el miércoles, 16 de febrero",
                    "US$135.62 de envío"
                ]
            },
            {
                "position": 7,
                "product_id": "B075R8BXXC",
                "sponsored": false,
                "is_prime": false,
                "kindle_unlimited": false,
                "is_amazon_fresh": false,
                "is_whole_foods_market": false,
                "is_climate_pledge_friendly": false,
                "is_carousel": false,
                "thumbnail": "https://m.media-amazon.com/images/I/71IMiRIbRMS._AC_UL320_.jpg",
                "title": "The Play Gym por Lovevery | Esterilla de actividades de desarrollo basada en escenarios para bebés a niños pequeños",
                "extensions": [
                    "1 Count (Pack of 1)"
                ],
                "link": "/-/es/Lovevery-Esterilla-actividades-desarrollo-escenarios/dp/B075R8BXXC/ref=Oct_d_otopr_239225011?pd_rd_i=B075R8BXXC&pd_rd_r=20efe5f2-08a0-4a9d-9dda-6475541e5789&pd_rd_w=6Zlgb&pd_rd_wg=lDdn8&pf_rd_p=a1c0ceaa-9fdc-4683-b2d2-2b92e832cb8a&pf_rd_r=DTHGMHRYENTVM091K48P"
            },
            {
                "position": 8,
                "product_id": "B071ZSFWCG",
                "sponsored": false,
                "is_prime": false,
                "kindle_unlimited": false,
                "is_amazon_fresh": false,
                "is_whole_foods_market": false,
                "is_climate_pledge_friendly": false,
                "is_carousel": false,
                "thumbnail": "https://m.media-amazon.com/images/I/61g0aNqqf4L._AC_UL320_.jpg",
                "title": "Fisher-Price Jumperoo, escaladores de color , talla única",
                "link": "/-/es/Fisher-Price-Jumperoo-escaladores-color-talla/dp/B071ZSFWCG/ref=Oct_d_otopr_239225011?pd_rd_i=B071ZSFWCG&pd_rd_r=20efe5f2-08a0-4a9d-9dda-6475541e5789&pd_rd_w=6Zlgb&pd_rd_wg=lDdn8&pf_rd_p=a1c0ceaa-9fdc-4683-b2d2-2b92e832cb8a&pf_rd_r=DTHGMHRYENTVM091K48P",
                "price": "US$89.99",
                "currency": "US$",
                "price_raw": "US$99.99",
                "rating": {
                    "rating": "4.8 de 5 estrellas",
                    "total_ratings": 11329,
                    "link": "/-/es/Fisher-Price-Jumperoo-escaladores-color-talla/dp/B071ZSFWCG/ref=Oct_d_otopr_239225011?pd_rd_i=B071ZSFWCG&pd_rd_r=20efe5f2-08a0-4a9d-9dda-6475541e5789&pd_rd_w=6Zlgb&pd_rd_wg=lDdn8&pf_rd_p=a1c0ceaa-9fdc-4683-b2d2-2b92e832cb8a&pf_rd_r=DTHGMHRYENTVM091K48P#customerReviews"
                },
                "shipping_details": [
                    "Recíbelo el viernes, 18 de febrero",
                    "US$185.93 de envío"
                ]
            },
            {
                "position": 9,
                "product_id": "B083N5GYYT",
                "sponsored": false,
                "is_prime": false,
                "kindle_unlimited": false,
                "is_amazon_fresh": false,
                "is_whole_foods_market": false,
                "is_climate_pledge_friendly": false,
                "is_carousel": false,
                "thumbnail": "https://m.media-amazon.com/images/I/81olwIG0TML._AC_UL320_.jpg",
                "title": "Regalo Sensory & Learning My Play - Tapete plegable y reversible, impermeable, incluye funda de viaje con correa de transporte, gris, extragrande",
                "link": "/-/es/Regalo-Sensory-Learning-Play-impermeable/dp/B083N5GYYT/ref=Oct_d_otopr_239225011?pd_rd_i=B083N5GYYT&pd_rd_r=20efe5f2-08a0-4a9d-9dda-6475541e5789&pd_rd_w=6Zlgb&pd_rd_wg=lDdn8&pf_rd_p=a1c0ceaa-9fdc-4683-b2d2-2b92e832cb8a&pf_rd_r=DTHGMHRYENTVM091K48P",
                "price": "US$44.99",
                "currency": "US$",
                "price_raw": "US$48.99",
                "rating": {
                    "rating": "4.6 de 5 estrellas",
                    "total_ratings": 4030,
                    "link": "/-/es/Regalo-Sensory-Learning-Play-impermeable/dp/B083N5GYYT/ref=Oct_d_otopr_239225011?pd_rd_i=B083N5GYYT&pd_rd_r=20efe5f2-08a0-4a9d-9dda-6475541e5789&pd_rd_w=6Zlgb&pd_rd_wg=lDdn8&pf_rd_p=a1c0ceaa-9fdc-4683-b2d2-2b92e832cb8a&pf_rd_r=DTHGMHRYENTVM091K48P#customerReviews"
                },
                "shipping_details": [
                    "US$102.17 de envío"
                ]
            },
            {
                "position": 10,
                "product_id": "B00EVLIHWM",
                "sponsored": false,
                "is_prime": false,
                "kindle_unlimited": false,
                "is_amazon_fresh": false,
                "is_whole_foods_market": false,
                "is_climate_pledge_friendly": false,
                "is_carousel": false,
                "thumbnail": "https://m.media-amazon.com/images/I/61HWLx6W3EL._AC_UL320_.jpg",
                "title": "Andadera actividad Safety 1st con sonidos y luces, Dino",
                "extensions": [
                    "1 Count (Pack of 1)"
                ],
                "link": "/-/es/Andadera-actividad-Safety-sonidos-luces/dp/B00EVLIHWM/ref=Oct_d_otopr_239225011?pd_rd_i=B00EVLIHWM&pd_rd_r=20efe5f2-08a0-4a9d-9dda-6475541e5789&pd_rd_w=6Zlgb&pd_rd_wg=lDdn8&pf_rd_p=a1c0ceaa-9fdc-4683-b2d2-2b92e832cb8a&pf_rd_r=DTHGMHRYENTVM091K48P",
                "price": "US$49.99",
                "currency": "US$",
                "shipping_details": [
                    "US$114.33 de envío",
                    "Envío en 2 a 4 semanas."
                ]
            },
            {
                "position": 11,
                "product_id": "B01EUNA0WK",
                "sponsored": false,
                "is_prime": false,
                "kindle_unlimited": false,
                "is_amazon_fresh": false,
                "is_whole_foods_market": false,
                "is_climate_pledge_friendly": false,
                "is_carousel": false,
                "thumbnail": "https://m.media-amazon.com/images/I/81WU1RzFY8L._AC_UL320_.jpg",
                "title": "Baby Einstein Neptune del Océano Discovery Jumper",
                "link": "/-/es/Einstein-Neptune-Oc%C3%A9ano-Discovery-Jumper/dp/B01EUNA0WK/ref=Oct_d_otopr_239225011?pd_rd_i=B01EUNA0WK&pd_rd_r=20efe5f2-08a0-4a9d-9dda-6475541e5789&pd_rd_w=6Zlgb&pd_rd_wg=lDdn8&pf_rd_p=a1c0ceaa-9fdc-4683-b2d2-2b92e832cb8a&pf_rd_r=DTHGMHRYENTVM091K48P",
                "price": "US$99.00",
                "currency": "US$",
                "price_raw": "US$119.99",
                "rating": {
                    "rating": "4.7 de 5 estrellas",
                    "total_ratings": 11110,
                    "link": "/-/es/Einstein-Neptune-Oc%C3%A9ano-Discovery-Jumper/dp/B01EUNA0WK/ref=Oct_d_otopr_239225011?pd_rd_i=B01EUNA0WK&pd_rd_r=20efe5f2-08a0-4a9d-9dda-6475541e5789&pd_rd_w=6Zlgb&pd_rd_wg=lDdn8&pf_rd_p=a1c0ceaa-9fdc-4683-b2d2-2b92e832cb8a&pf_rd_r=DTHGMHRYENTVM091K48P#customerReviews"
                },
                "shipping_details": [
                    "US$152.96 de envío",
                    "Envío en 1 a 2 meses."
                ]
            },
            {
                "position": 12,
                "product_id": "B000LXQVA4",
                "sponsored": false,
                "is_prime": false,
                "kindle_unlimited": false,
                "is_amazon_fresh": false,
                "is_whole_foods_market": false,
                "is_climate_pledge_friendly": false,
                "is_carousel": false,
                "thumbnail": "https://m.media-amazon.com/images/I/7103UuP1lSL._AC_UL320_.jpg",
                "title": "Silla saltarina de la selva tropical, de Fisher-Price",
                "link": "/-/es/Silla-saltarina-selva-tropical-Fisher-Price/dp/B000LXQVA4/ref=Oct_d_otopr_239225011?pd_rd_i=B000LXQVA4&pd_rd_r=20efe5f2-08a0-4a9d-9dda-6475541e5789&pd_rd_w=6Zlgb&pd_rd_wg=lDdn8&pf_rd_p=a1c0ceaa-9fdc-4683-b2d2-2b92e832cb8a&pf_rd_r=DTHGMHRYENTVM091K48P",
                "price": "US$99.99",
                "currency": "US$",
                "price_raw": "US$109.99",
                "rating": {
                    "rating": "4.8 de 5 estrellas",
                    "total_ratings": 16770,
                    "link": "/-/es/Silla-saltarina-selva-tropical-Fisher-Price/dp/B000LXQVA4/ref=Oct_d_otopr_239225011?pd_rd_i=B000LXQVA4&pd_rd_r=20efe5f2-08a0-4a9d-9dda-6475541e5789&pd_rd_w=6Zlgb&pd_rd_wg=lDdn8&pf_rd_p=a1c0ceaa-9fdc-4683-b2d2-2b92e832cb8a&pf_rd_r=DTHGMHRYENTVM091K48P#customerReviews"
                },
                "shipping_details": [
                    "Recíbelo el martes, 15 de febrero",
                    "US$152.68 de envío"
                ]
            },
            {
                "position": 13,
                "product_id": "B07FLMNQRG",
                "sponsored": false,
                "is_prime": false,
                "kindle_unlimited": false,
                "is_amazon_fresh": false,
                "is_whole_foods_market": false,
                "is_climate_pledge_friendly": false,
                "is_carousel": false,
                "thumbnail": "https://m.media-amazon.com/images/I/91FTmQZxmtL._AC_UL320_.jpg",
                "title": "Splashin'Kids Tummy Time Premium - colchoneta inflable de agua para bebés y niños pequeños, centro de actividades de ocio perfecto para el crecimiento de la estimulación de tu bebé",
                "link": "/-/es/SplashinKids-Tummy-Time-Premium-estimulaci%C3%B3n/dp/B07FLMNQRG/ref=Oct_d_obs_239225011?pd_rd_i=B07FLMNQRG&pd_rd_r=20efe5f2-08a0-4a9d-9dda-6475541e5789&pd_rd_w=Gy5Rw&pd_rd_wg=lDdn8&pf_rd_p=3c5771fb-0ffd-47d6-89ff-be36c8545e7b&pf_rd_r=DTHGMHRYENTVM091K48P",
                "rating": {
                    "rating": "4.4 de 5 estrellas",
                    "total_ratings": 33718,
                    "link": "/-/es/SplashinKids-Tummy-Time-Premium-estimulaci%C3%B3n/dp/B07FLMNQRG/ref=Oct_d_obs_239225011?pd_rd_i=B07FLMNQRG&pd_rd_r=20efe5f2-08a0-4a9d-9dda-6475541e5789&pd_rd_w=Gy5Rw&pd_rd_wg=lDdn8&pf_rd_p=3c5771fb-0ffd-47d6-89ff-be36c8545e7b&pf_rd_r=DTHGMHRYENTVM091K48P#customerReviews"
                },
                "amazon_choice": {
                    "link": "/-/es/SplashinKids-Tummy-Time-Premium-estimulaci%C3%B3n/dp/B07FLMNQRG/ref=Oct_d_obs_239225011?pd_rd_i=B07FLMNQRG&pd_rd_r=20efe5f2-08a0-4a9d-9dda-6475541e5789&pd_rd_w=Gy5Rw&pd_rd_wg=lDdn8&pf_rd_p=3c5771fb-0ffd-47d6-89ff-be36c8545e7b&pf_rd_r=DTHGMHRYENTVM091K48P"
                }
            },
            {
                "position": 14,
                "product_id": "B07FG5XQ49",
                "sponsored": false,
                "is_prime": false,
                "kindle_unlimited": false,
                "is_amazon_fresh": false,
                "is_whole_foods_market": false,
                "is_climate_pledge_friendly": false,
                "is_carousel": false,
                "thumbnail": "https://m.media-amazon.com/images/I/71yR2C926oL._AC_UL320_.jpg",
                "title": "Fisher-Price Sit-Me-Up - Asiento de suelo",
                "extensions": [
                    "1 Count (Pack of 1)"
                ],
                "link": "/-/es/Fisher-Price-Sit-Me-Up-Asiento-de-suelo/dp/B07FG5XQ49/ref=Oct_d_obs_239225011?pd_rd_i=B07FG5XQ49&pd_rd_r=20efe5f2-08a0-4a9d-9dda-6475541e5789&pd_rd_w=Gy5Rw&pd_rd_wg=lDdn8&pf_rd_p=3c5771fb-0ffd-47d6-89ff-be36c8545e7b&pf_rd_r=DTHGMHRYENTVM091K48P",
                "price": "US$39.99",
                "currency": "US$",
                "bestseller": {
                    "link": "/-/es/gp/bestsellers/baby-products/166851011/ref=sr_bs_1_166851011_1",
                    "category": "en Bouncers para Bebé"
                },
                "shipping_details": [
                    "Recíbelo el martes, 15 de febrero",
                    "US$53.21 de envío"
                ]
            },
            {
                "position": 15,
                "product_id": "B07XC6YCC5",
                "sponsored": false,
                "is_prime": false,
                "kindle_unlimited": false,
                "is_amazon_fresh": false,
                "is_whole_foods_market": false,
                "is_climate_pledge_friendly": false,
                "is_carousel": false,
                "thumbnail": "https://m.media-amazon.com/images/I/71U7iRz4X+L._AC_UL320_.jpg",
                "title": "Infinno Estera inflable para bebés y niños pequeños para bebés de 3 a 24 meses, fortalece los músculos de tu bebé, portátil",
                "link": "/-/es/inflable-peque%C3%B1os-fortalece-m%C3%BAsculos-port%C3%A1til/dp/B07XC6YCC5/ref=Oct_d_obs_239225011?pd_rd_i=B07XC6YCC5&pd_rd_r=20efe5f2-08a0-4a9d-9dda-6475541e5789&pd_rd_w=Gy5Rw&pd_rd_wg=lDdn8&pf_rd_p=3c5771fb-0ffd-47d6-89ff-be36c8545e7b&pf_rd_r=DTHGMHRYENTVM091K48P",
                "price": "US$15.97",
                "currency": "US$",
                "price_raw": "US$18.97",
                "rating": {
                    "rating": "4.3 de 5 estrellas",
                    "total_ratings": 8892,
                    "link": "/-/es/inflable-peque%C3%B1os-fortalece-m%C3%BAsculos-port%C3%A1til/dp/B07XC6YCC5/ref=Oct_d_obs_239225011?pd_rd_i=B07XC6YCC5&pd_rd_r=20efe5f2-08a0-4a9d-9dda-6475541e5789&pd_rd_w=Gy5Rw&pd_rd_wg=lDdn8&pf_rd_p=3c5771fb-0ffd-47d6-89ff-be36c8545e7b&pf_rd_r=DTHGMHRYENTVM091K48P#customerReviews"
                },
                "coupon": {
                    "badge_text": "Ahorra 20 %",
                    "text": "con cupón",
                    "description": "20 % cupón aplicado al completar la compra"
                },
                "shipping_details": [
                    "Recíbelo el martes, 15 de febrero",
                    "US$13.14 de envío"
                ]
            },
            {
                "position": 16,
                "product_id": "B01MQM7W6M",
                "sponsored": false,
                "is_prime": false,
                "kindle_unlimited": false,
                "is_amazon_fresh": false,
                "is_whole_foods_market": false,
                "is_climate_pledge_friendly": false,
                "is_carousel": false,
                "thumbnail": "https://m.media-amazon.com/images/I/61F1hTo9VjL._AC_UL320_.jpg",
                "title": "Cuna y balancín Sweet Snugapuppy Dreams Cradle n' Swing, color blanco, de la marca Fisher-Price",
                "extensions": [
                    "1 Count (Pack of 1)"
                ],
                "link": "/-/es/balanc%C3%ADn-Snugapuppy-Dreams-Cradle-Fisher-Price/dp/B01MQM7W6M/ref=Oct_d_obs_239225011?pd_rd_i=B01MQM7W6M&pd_rd_r=20efe5f2-08a0-4a9d-9dda-6475541e5789&pd_rd_w=Gy5Rw&pd_rd_wg=lDdn8&pf_rd_p=3c5771fb-0ffd-47d6-89ff-be36c8545e7b&pf_rd_r=DTHGMHRYENTVM091K48P"
            },
            {
                "position": 17,
                "product_id": "B071ZSFWCG",
                "sponsored": false,
                "is_prime": false,
                "kindle_unlimited": false,
                "is_amazon_fresh": false,
                "is_whole_foods_market": false,
                "is_climate_pledge_friendly": false,
                "is_carousel": false,
                "thumbnail": "https://m.media-amazon.com/images/I/61g0aNqqf4L._AC_UL320_.jpg",
                "title": "Fisher-Price Jumperoo, escaladores de color , talla única",
                "link": "/-/es/Fisher-Price-Jumperoo-escaladores-color-talla/dp/B071ZSFWCG/ref=Oct_d_obs_239225011?pd_rd_i=B071ZSFWCG&pd_rd_r=20efe5f2-08a0-4a9d-9dda-6475541e5789&pd_rd_w=Gy5Rw&pd_rd_wg=lDdn8&pf_rd_p=3c5771fb-0ffd-47d6-89ff-be36c8545e7b&pf_rd_r=DTHGMHRYENTVM091K48P",
                "price": "US$89.99",
                "currency": "US$",
                "price_raw": "US$99.99",
                "rating": {
                    "rating": "4.8 de 5 estrellas",
                    "total_ratings": 11329,
                    "link": "/-/es/Fisher-Price-Jumperoo-escaladores-color-talla/dp/B071ZSFWCG/ref=Oct_d_obs_239225011?pd_rd_i=B071ZSFWCG&pd_rd_r=20efe5f2-08a0-4a9d-9dda-6475541e5789&pd_rd_w=Gy5Rw&pd_rd_wg=lDdn8&pf_rd_p=3c5771fb-0ffd-47d6-89ff-be36c8545e7b&pf_rd_r=DTHGMHRYENTVM091K48P#customerReviews"
                },
                "shipping_details": [
                    "Recíbelo el viernes, 18 de febrero",
                    "US$185.93 de envío"
                ]
            },
            {
                "position": 18,
                "product_id": "B07MPCCDM7",
                "sponsored": false,
                "is_prime": false,
                "kindle_unlimited": false,
                "is_amazon_fresh": false,
                "is_whole_foods_market": false,
                "is_climate_pledge_friendly": false,
                "is_carousel": false,
                "thumbnail": "https://m.media-amazon.com/images/I/81uQmTEJRAL._AC_UL320_.jpg",
                "title": "Baby Einstein Esterilla de actividad 4 en 1 Kickin' Tunes de música y lenguaje, gimnasio y piano",
                "extensions": [
                    "10 Piece Set"
                ],
                "link": "/-/es/Einstein-Esterilla-actividad-lenguaje-gimnasio/dp/B07MPCCDM7/ref=Oct_d_obs_239225011?pd_rd_i=B07MPCCDM7&pd_rd_r=20efe5f2-08a0-4a9d-9dda-6475541e5789&pd_rd_w=Gy5Rw&pd_rd_wg=lDdn8&pf_rd_p=3c5771fb-0ffd-47d6-89ff-be36c8545e7b&pf_rd_r=DTHGMHRYENTVM091K48P",
                "price": "US$44.84",
                "currency": "US$",
                "price_raw": "US$59.99",
                "shipping_details": [
                    "US$46.98 de envío",
                    "Envío en 1 a 2 meses."
                ]
            },
            {
                "position": 19,
                "product_id": "B073FVCS6F",
                "sponsored": false,
                "is_prime": false,
                "kindle_unlimited": false,
                "is_amazon_fresh": false,
                "is_whole_foods_market": false,
                "is_climate_pledge_friendly": false,
                "is_carousel": false,
                "thumbnail": "https://m.media-amazon.com/images/I/81eu6u3BKaL._AC_UL320_.jpg",
                "title": "4Moms mamaRoo 4 Asiento de bebé clásico",
                "link": "/-/es/4Moms-mamaRoo-4-Asiento-beb%C3%A9-cl%C3%A1sico/dp/B073FVCS6F/ref=Oct_d_obs_239225011?pd_rd_i=B073FVCS6F&pd_rd_r=20efe5f2-08a0-4a9d-9dda-6475541e5789&pd_rd_w=Gy5Rw&pd_rd_wg=lDdn8&pf_rd_p=3c5771fb-0ffd-47d6-89ff-be36c8545e7b&pf_rd_r=DTHGMHRYENTVM091K48P",
                "rating": {
                    "rating": "4.6 de 5 estrellas",
                    "total_ratings": 6505,
                    "link": "/-/es/4Moms-mamaRoo-4-Asiento-beb%C3%A9-cl%C3%A1sico/dp/B073FVCS6F/ref=Oct_d_obs_239225011?pd_rd_i=B073FVCS6F&pd_rd_r=20efe5f2-08a0-4a9d-9dda-6475541e5789&pd_rd_w=Gy5Rw&pd_rd_wg=lDdn8&pf_rd_p=3c5771fb-0ffd-47d6-89ff-be36c8545e7b&pf_rd_r=DTHGMHRYENTVM091K48P#customerReviews"
                }
            },
            {
                "position": 20,
                "product_id": "B072C7P5MH",
                "sponsored": false,
                "is_prime": false,
                "kindle_unlimited": false,
                "is_amazon_fresh": false,
                "is_whole_foods_market": false,
                "is_climate_pledge_friendly": false,
                "is_carousel": false,
                "thumbnail": "https://m.media-amazon.com/images/I/71z85J+P0kL._AC_UL320_.jpg",
                "title": "Mecedora para infantes Fisher-Price, Rosado",
                "extensions": [
                    "1 Count (Pack of 1)"
                ],
                "link": "/-/es/Mecedora-para-infantes-Fisher-Price-Rosado/dp/B072C7P5MH/ref=Oct_d_obs_239225011?pd_rd_i=B072C7P5MH&pd_rd_r=20efe5f2-08a0-4a9d-9dda-6475541e5789&pd_rd_w=Gy5Rw&pd_rd_wg=lDdn8&pf_rd_p=3c5771fb-0ffd-47d6-89ff-be36c8545e7b&pf_rd_r=DTHGMHRYENTVM091K48P",
                "price": "US$44.99",
                "currency": "US$",
                "shipping_details": [
                    "Recíbelo el martes, 15 de febrero",
                    "US$65.50 de envío"
                ]
            },
            {
                "position": 21,
                "product_id": "B00EVLIHWM",
                "sponsored": false,
                "is_prime": false,
                "kindle_unlimited": false,
                "is_amazon_fresh": false,
                "is_whole_foods_market": false,
                "is_climate_pledge_friendly": false,
                "is_carousel": false,
                "thumbnail": "https://m.media-amazon.com/images/I/61HWLx6W3EL._AC_UL320_.jpg",
                "title": "Andadera actividad Safety 1st con sonidos y luces, Dino",
                "extensions": [
                    "1 Count (Pack of 1)"
                ],
                "link": "/-/es/Andadera-actividad-Safety-sonidos-luces/dp/B00EVLIHWM/ref=Oct_d_obs_239225011?pd_rd_i=B00EVLIHWM&pd_rd_r=20efe5f2-08a0-4a9d-9dda-6475541e5789&pd_rd_w=Gy5Rw&pd_rd_wg=lDdn8&pf_rd_p=3c5771fb-0ffd-47d6-89ff-be36c8545e7b&pf_rd_r=DTHGMHRYENTVM091K48P",
                "price": "US$49.99",
                "currency": "US$",
                "shipping_details": [
                    "US$114.33 de envío",
                    "Envío en 2 a 4 semanas."
                ]
            },
            {
                "position": 22,
                "product_id": "B08G59WRYD",
                "sponsored": false,
                "is_prime": false,
                "kindle_unlimited": false,
                "is_amazon_fresh": false,
                "is_whole_foods_market": false,
                "is_climate_pledge_friendly": false,
                "is_carousel": false,
                "thumbnail": "https://m.media-amazon.com/images/I/61i4i1T+xQL._AC_UL320_.jpg",
                "title": "Nova Baby Swing para bebés - columpio portátil motorizado, altavoz de música Bluetooth con 10 canciones de cuna preestablecidas, mando a distancia, gris - Jool Baby Products",
                "link": "/-/es/Nova-Baby-Swing-para-beb%C3%A9s/dp/B08G59WRYD/ref=Oct_d_obs_239225011?pd_rd_i=B08G59WRYD&pd_rd_r=20efe5f2-08a0-4a9d-9dda-6475541e5789&pd_rd_w=Gy5Rw&pd_rd_wg=lDdn8&pf_rd_p=3c5771fb-0ffd-47d6-89ff-be36c8545e7b&pf_rd_r=DTHGMHRYENTVM091K48P",
                "price": "US$149.99",
                "currency": "US$",
                "rating": {
                    "rating": "4.4 de 5 estrellas",
                    "total_ratings": 1472,
                    "link": "/-/es/Nova-Baby-Swing-para-beb%C3%A9s/dp/B08G59WRYD/ref=Oct_d_obs_239225011?pd_rd_i=B08G59WRYD&pd_rd_r=20efe5f2-08a0-4a9d-9dda-6475541e5789&pd_rd_w=Gy5Rw&pd_rd_wg=lDdn8&pf_rd_p=3c5771fb-0ffd-47d6-89ff-be36c8545e7b&pf_rd_r=DTHGMHRYENTVM091K48P#customerReviews"
                },
                "shipping_details": [
                    "US$130.93 de envío"
                ]
            },
            {
                "position": 23,
                "product_id": "B000LXQVA4",
                "sponsored": false,
                "is_prime": false,
                "kindle_unlimited": false,
                "is_amazon_fresh": false,
                "is_whole_foods_market": false,
                "is_climate_pledge_friendly": false,
                "is_carousel": false,
                "thumbnail": "https://m.media-amazon.com/images/I/7103UuP1lSL._AC_UL320_.jpg",
                "title": "Silla saltarina de la selva tropical, de Fisher-Price",
                "link": "/-/es/Silla-saltarina-selva-tropical-Fisher-Price/dp/B000LXQVA4/ref=Oct_d_obs_239225011?pd_rd_i=B000LXQVA4&pd_rd_r=20efe5f2-08a0-4a9d-9dda-6475541e5789&pd_rd_w=Gy5Rw&pd_rd_wg=lDdn8&pf_rd_p=3c5771fb-0ffd-47d6-89ff-be36c8545e7b&pf_rd_r=DTHGMHRYENTVM091K48P",
                "price": "US$99.99",
                "currency": "US$",
                "price_raw": "US$109.99",
                "rating": {
                    "rating": "4.8 de 5 estrellas",
                    "total_ratings": 16770,
                    "link": "/-/es/Silla-saltarina-selva-tropical-Fisher-Price/dp/B000LXQVA4/ref=Oct_d_obs_239225011?pd_rd_i=B000LXQVA4&pd_rd_r=20efe5f2-08a0-4a9d-9dda-6475541e5789&pd_rd_w=Gy5Rw&pd_rd_wg=lDdn8&pf_rd_p=3c5771fb-0ffd-47d6-89ff-be36c8545e7b&pf_rd_r=DTHGMHRYENTVM091K48P#customerReviews"
                },
                "shipping_details": [
                    "Recíbelo el martes, 15 de febrero",
                    "US$152.68 de envío"
                ]
            },
            {
                "position": 24,
                "product_id": "B073FVCS6F",
                "sponsored": false,
                "is_prime": false,
                "kindle_unlimited": false,
                "is_amazon_fresh": false,
                "is_whole_foods_market": false,
                "is_climate_pledge_friendly": false,
                "is_carousel": false,
                "thumbnail": "https://m.media-amazon.com/images/I/81eu6u3BKaL._AC_UL320_.jpg",
                "title": "4Moms mamaRoo 4 Asiento de bebé clásico",
                "link": "/-/es/4Moms-mamaRoo-4-Asiento-beb%C3%A9-cl%C3%A1sico/dp/B073FVCS6F/ref=Oct_d_omwf_239225011?pd_rd_i=B073FVCS6F&pd_rd_r=20efe5f2-08a0-4a9d-9dda-6475541e5789&pd_rd_w=jtkHB&pd_rd_wg=lDdn8&pf_rd_p=afd99132-fa97-47ae-9a40-def108afd914&pf_rd_r=DTHGMHRYENTVM091K48P",
                "rating": {
                    "rating": "4.6 de 5 estrellas",
                    "total_ratings": 6505,
                    "link": "/-/es/4Moms-mamaRoo-4-Asiento-beb%C3%A9-cl%C3%A1sico/dp/B073FVCS6F/ref=Oct_d_omwf_239225011?pd_rd_i=B073FVCS6F&pd_rd_r=20efe5f2-08a0-4a9d-9dda-6475541e5789&pd_rd_w=jtkHB&pd_rd_wg=lDdn8&pf_rd_p=afd99132-fa97-47ae-9a40-def108afd914&pf_rd_r=DTHGMHRYENTVM091K48P#customerReviews"
                },
                "amazon_choice": {
                    "link": "/-/es/4Moms-mamaRoo-4-Asiento-beb%C3%A9-cl%C3%A1sico/dp/B073FVCS6F/ref=Oct_d_omwf_239225011?pd_rd_i=B073FVCS6F&pd_rd_r=20efe5f2-08a0-4a9d-9dda-6475541e5789&pd_rd_w=jtkHB&pd_rd_wg=lDdn8&pf_rd_p=afd99132-fa97-47ae-9a40-def108afd914&pf_rd_r=DTHGMHRYENTVM091K48P"
                }
            },
            {
                "position": 25,
                "product_id": "B08G59WRYD",
                "sponsored": false,
                "is_prime": false,
                "kindle_unlimited": false,
                "is_amazon_fresh": false,
                "is_whole_foods_market": false,
                "is_climate_pledge_friendly": false,
                "is_carousel": false,
                "thumbnail": "https://m.media-amazon.com/images/I/61i4i1T+xQL._AC_UL320_.jpg",
                "title": "Nova Baby Swing para bebés - columpio portátil motorizado, altavoz de música Bluetooth con 10 canciones de cuna preestablecidas, mando a distancia, gris - Jool Baby Products",
                "link": "/-/es/Nova-Baby-Swing-para-beb%C3%A9s/dp/B08G59WRYD/ref=Oct_d_omwf_239225011?pd_rd_i=B08G59WRYD&pd_rd_r=20efe5f2-08a0-4a9d-9dda-6475541e5789&pd_rd_w=jtkHB&pd_rd_wg=lDdn8&pf_rd_p=afd99132-fa97-47ae-9a40-def108afd914&pf_rd_r=DTHGMHRYENTVM091K48P",
                "price": "US$149.99",
                "currency": "US$",
                "rating": {
                    "rating": "4.4 de 5 estrellas",
                    "total_ratings": 1472,
                    "link": "/-/es/Nova-Baby-Swing-para-beb%C3%A9s/dp/B08G59WRYD/ref=Oct_d_omwf_239225011?pd_rd_i=B08G59WRYD&pd_rd_r=20efe5f2-08a0-4a9d-9dda-6475541e5789&pd_rd_w=jtkHB&pd_rd_wg=lDdn8&pf_rd_p=afd99132-fa97-47ae-9a40-def108afd914&pf_rd_r=DTHGMHRYENTVM091K48P#customerReviews"
                },
                "shipping_details": [
                    "US$130.93 de envío"
                ]
            },
            {
                "position": 26,
                "product_id": "B07V7H6PK9",
                "sponsored": false,
                "is_prime": false,
                "kindle_unlimited": false,
                "is_amazon_fresh": false,
                "is_whole_foods_market": false,
                "is_climate_pledge_friendly": false,
                "is_carousel": false,
                "thumbnail": "https://m.media-amazon.com/images/I/815WO9DPBdL._AC_UL320_.jpg",
                "title": "Infantino pelotero y gimnasio para bebé",
                "extensions": [
                    "1 Count (Pack of 1)"
                ],
                "link": "/-/es/Infantino-pelotero-gimnasio-para-beb%C3%A9/dp/B07V7H6PK9/ref=Oct_d_omwf_239225011?pd_rd_i=B07V7H6PK9&pd_rd_r=20efe5f2-08a0-4a9d-9dda-6475541e5789&pd_rd_w=jtkHB&pd_rd_wg=lDdn8&pf_rd_p=afd99132-fa97-47ae-9a40-def108afd914&pf_rd_r=DTHGMHRYENTVM091K48P",
                "price": "US$59.99",
                "currency": "US$",
                "price_raw": "US$69.99",
                "shipping_details": [
                    "Recíbelo el martes, 15 de febrero",
                    "US$98.29 de envío"
                ]
            },
            {
                "position": 27,
                "product_id": "B01MQM7W6M",
                "sponsored": false,
                "is_prime": false,
                "kindle_unlimited": false,
                "is_amazon_fresh": false,
                "is_whole_foods_market": false,
                "is_climate_pledge_friendly": false,
                "is_carousel": false,
                "thumbnail": "https://m.media-amazon.com/images/I/61F1hTo9VjL._AC_UL320_.jpg",
                "title": "Cuna y balancín Sweet Snugapuppy Dreams Cradle n' Swing, color blanco, de la marca Fisher-Price",
                "extensions": [
                    "1 Count (Pack of 1)"
                ],
                "link": "/-/es/balanc%C3%ADn-Snugapuppy-Dreams-Cradle-Fisher-Price/dp/B01MQM7W6M/ref=Oct_d_omwf_239225011?pd_rd_i=B01MQM7W6M&pd_rd_r=20efe5f2-08a0-4a9d-9dda-6475541e5789&pd_rd_w=jtkHB&pd_rd_wg=lDdn8&pf_rd_p=afd99132-fa97-47ae-9a40-def108afd914&pf_rd_r=DTHGMHRYENTVM091K48P"
            },
            {
                "position": 28,
                "product_id": "B095L52T3Z",
                "sponsored": false,
                "is_prime": false,
                "kindle_unlimited": false,
                "is_amazon_fresh": false,
                "is_whole_foods_market": false,
                "is_climate_pledge_friendly": false,
                "is_carousel": false,
                "thumbnail": "https://m.media-amazon.com/images/I/71ws1dXxfDS._AC_UL320_.jpg",
                "title": "DuetConnect LX Swing and Bouncer de Graco, Redmond",
                "link": "/-/es/DuetConnect-Swing-Bouncer-Graco-Redmond/dp/B095L52T3Z/ref=Oct_d_omwf_239225011?pd_rd_i=B095L52T3Z&pd_rd_r=20efe5f2-08a0-4a9d-9dda-6475541e5789&pd_rd_w=jtkHB&pd_rd_wg=lDdn8&pf_rd_p=afd99132-fa97-47ae-9a40-def108afd914&pf_rd_r=DTHGMHRYENTVM091K48P",
                "price": "US$139.99",
                "currency": "US$",
                "rating": {
                    "rating": "4.6 de 5 estrellas",
                    "total_ratings": 3461,
                    "link": "/-/es/DuetConnect-Swing-Bouncer-Graco-Redmond/dp/B095L52T3Z/ref=Oct_d_omwf_239225011?pd_rd_i=B095L52T3Z&pd_rd_r=20efe5f2-08a0-4a9d-9dda-6475541e5789&pd_rd_w=jtkHB&pd_rd_wg=lDdn8&pf_rd_p=afd99132-fa97-47ae-9a40-def108afd914&pf_rd_r=DTHGMHRYENTVM091K48P#customerReviews"
                },
                "shipping_details": [
                    "Recíbelo el viernes, 18 de febrero",
                    "US$200.58 de envío"
                ]
            },
            {
                "position": 29,
                "product_id": "B01G1JQXMW",
                "sponsored": false,
                "is_prime": false,
                "kindle_unlimited": false,
                "is_amazon_fresh": false,
                "is_whole_foods_market": false,
                "is_climate_pledge_friendly": false,
                "is_carousel": false,
                "thumbnail": "https://m.media-amazon.com/images/I/61AI9Ics63L._AC_UL320_.jpg",
                "title": "Skip Hop Plata Forro Cloud Actividad Gimnasio, Multi",
                "extensions": [
                    "1 Count (Pack of 1)"
                ],
                "link": "/-/es/Plata-Forro-Cloud-Actividad-Gimnasio/dp/B01G1JQXMW/ref=Oct_d_omwf_239225011?pd_rd_i=B01G1JQXMW&pd_rd_r=20efe5f2-08a0-4a9d-9dda-6475541e5789&pd_rd_w=jtkHB&pd_rd_wg=lDdn8&pf_rd_p=afd99132-fa97-47ae-9a40-def108afd914&pf_rd_r=DTHGMHRYENTVM091K48P"
            },
            {
                "position": 30,
                "product_id": "B00MUZVKY8",
                "sponsored": false,
                "is_prime": false,
                "kindle_unlimited": false,
                "is_amazon_fresh": false,
                "is_whole_foods_market": false,
                "is_climate_pledge_friendly": false,
                "is_carousel": false,
                "thumbnail": "https://m.media-amazon.com/images/I/81niSqbcZ-L._AC_UL320_.jpg",
                "title": "American Baby Company Funda protectora impermeable para cuna y niños pequeños, color blanco, para niños y niñas, 52 x 28 x 9 pulgadas (paquete de 1)",
                "link": "/-/es/American-protectora-impermeable-peque%C3%B1os-pulgadas/dp/B00MUZVKY8/ref=Oct_d_oup_239225011?pd_rd_i=B00MUZVKY8&pd_rd_r=20efe5f2-08a0-4a9d-9dda-6475541e5789&pd_rd_w=1svRO&pd_rd_wg=lDdn8&pf_rd_p=df9925ec-908d-4773-8986-9710bd83f4a2&pf_rd_r=DTHGMHRYENTVM091K48P",
                "rating": {
                    "rating": "4.7 de 5 estrellas",
                    "total_ratings": 32428,
                    "link": "/-/es/American-protectora-impermeable-peque%C3%B1os-pulgadas/dp/B00MUZVKY8/ref=Oct_d_oup_239225011?pd_rd_i=B00MUZVKY8&pd_rd_r=20efe5f2-08a0-4a9d-9dda-6475541e5789&pd_rd_w=1svRO&pd_rd_wg=lDdn8&pf_rd_p=df9925ec-908d-4773-8986-9710bd83f4a2&pf_rd_r=DTHGMHRYENTVM091K48P#customerReviews"
                },
                "amazon_choice": {
                    "link": "/-/es/American-protectora-impermeable-peque%C3%B1os-pulgadas/dp/B00MUZVKY8/ref=Oct_d_oup_239225011?pd_rd_i=B00MUZVKY8&pd_rd_r=20efe5f2-08a0-4a9d-9dda-6475541e5789&pd_rd_w=1svRO&pd_rd_wg=lDdn8&pf_rd_p=df9925ec-908d-4773-8986-9710bd83f4a2&pf_rd_r=DTHGMHRYENTVM091K48P"
                }
            },
            {
                "position": 31,
                "product_id": "B0778NPF99",
                "sponsored": false,
                "is_prime": false,
                "kindle_unlimited": false,
                "is_amazon_fresh": false,
                "is_whole_foods_market": false,
                "is_climate_pledge_friendly": false,
                "is_carousel": false,
                "thumbnail": "https://m.media-amazon.com/images/I/71DArnU5+oL._AC_UL320_.jpg",
                "title": "Cubrecambiadores elásticos Brolex, pquete de 2 cubrecambiadores de punto para niñas y niños",
                "extensions": [
                    "2 Count (Pack of 1)"
                ],
                "link": "/-/es/Cubrecambiadores-el%C3%A1sticos-Brolex-pquete-cubrecambiadores/dp/B0778NPF99/ref=Oct_d_oup_239225011?pd_rd_i=B0778NPF99&pd_rd_r=20efe5f2-08a0-4a9d-9dda-6475541e5789&pd_rd_w=1svRO&pd_rd_wg=lDdn8&pf_rd_p=df9925ec-908d-4773-8986-9710bd83f4a2&pf_rd_r=DTHGMHRYENTVM091K48P",
                "bestseller": {
                    "link": "/-/es/gp/bestsellers/baby-products/166761011/ref=sr_bs_1_166761011_1",
                    "category": "en Ropa de Cama para Corralitos"
                }
            },
            {
                "position": 32,
                "product_id": "B07XC6YCC5",
                "sponsored": false,
                "is_prime": false,
                "kindle_unlimited": false,
                "is_amazon_fresh": false,
                "is_whole_foods_market": false,
                "is_climate_pledge_friendly": false,
                "is_carousel": false,
                "thumbnail": "https://m.media-amazon.com/images/I/71U7iRz4X+L._AC_UL320_.jpg",
                "title": "Infinno Estera inflable para bebés y niños pequeños para bebés de 3 a 24 meses, fortalece los músculos de tu bebé, portátil",
                "link": "/-/es/inflable-peque%C3%B1os-fortalece-m%C3%BAsculos-port%C3%A1til/dp/B07XC6YCC5/ref=Oct_d_oup_239225011?pd_rd_i=B07XC6YCC5&pd_rd_r=20efe5f2-08a0-4a9d-9dda-6475541e5789&pd_rd_w=1svRO&pd_rd_wg=lDdn8&pf_rd_p=df9925ec-908d-4773-8986-9710bd83f4a2&pf_rd_r=DTHGMHRYENTVM091K48P",
                "price": "US$15.97",
                "currency": "US$",
                "price_raw": "US$18.97",
                "rating": {
                    "rating": "4.3 de 5 estrellas",
                    "total_ratings": 8892,
                    "link": "/-/es/inflable-peque%C3%B1os-fortalece-m%C3%BAsculos-port%C3%A1til/dp/B07XC6YCC5/ref=Oct_d_oup_239225011?pd_rd_i=B07XC6YCC5&pd_rd_r=20efe5f2-08a0-4a9d-9dda-6475541e5789&pd_rd_w=1svRO&pd_rd_wg=lDdn8&pf_rd_p=df9925ec-908d-4773-8986-9710bd83f4a2&pf_rd_r=DTHGMHRYENTVM091K48P#customerReviews"
                },
                "coupon": {
                    "badge_text": "Ahorra 20 %",
                    "text": "con cupón",
                    "description": "20 % cupón aplicado al completar la compra"
                },
                "shipping_details": [
                    "Recíbelo el martes, 15 de febrero",
                    "US$13.14 de envío"
                ]
            },
            {
                "position": 33,
                "product_id": "B07F24DDRF",
                "sponsored": false,
                "is_prime": false,
                "kindle_unlimited": false,
                "is_amazon_fresh": false,
                "is_whole_foods_market": false,
                "is_climate_pledge_friendly": false,
                "is_carousel": false,
                "thumbnail": "https://m.media-amazon.com/images/I/71+J3S8ZyVL._AC_UL320_.jpg",
                "title": "Bright Starts Puente de puerta de desfile juguetón",
                "extensions": [
                    "1 Count (Pack of 1)"
                ],
                "link": "/-/es/Bright-Starts-Puente-desfile-juguet%C3%B3n/dp/B07F24DDRF/ref=Oct_d_oup_239225011?pd_rd_i=B07F24DDRF&pd_rd_r=20efe5f2-08a0-4a9d-9dda-6475541e5789&pd_rd_w=1svRO&pd_rd_wg=lDdn8&pf_rd_p=df9925ec-908d-4773-8986-9710bd83f4a2&pf_rd_r=DTHGMHRYENTVM091K48P"
            },
            {
                "position": 34,
                "product_id": "B083LDH47W",
                "sponsored": false,
                "is_prime": false,
                "kindle_unlimited": false,
                "is_amazon_fresh": false,
                "is_whole_foods_market": false,
                "is_climate_pledge_friendly": false,
                "is_carousel": false,
                "thumbnail": "https://m.media-amazon.com/images/I/81U9aFV8DFL._AC_UL320_.jpg",
                "title": "Hitituto Esterilla de agua inflable para bebé, centro de actividades para bebés de 3 a 24 meses, regalos de bebé para niños y niñas",
                "link": "/-/es/Hitituto-Esterilla-inflable-actividades-regalos/dp/B083LDH47W/ref=Oct_d_oup_239225011?pd_rd_i=B083LDH47W&pd_rd_r=20efe5f2-08a0-4a9d-9dda-6475541e5789&pd_rd_w=1svRO&pd_rd_wg=lDdn8&pf_rd_p=df9925ec-908d-4773-8986-9710bd83f4a2&pf_rd_r=DTHGMHRYENTVM091K48P",
                "price": "US$14.87",
                "currency": "US$",
                "price_raw": "US$18.99",
                "rating": {
                    "rating": "4.3 de 5 estrellas",
                    "total_ratings": 3648,
                    "link": "/-/es/Hitituto-Esterilla-inflable-actividades-regalos/dp/B083LDH47W/ref=Oct_d_oup_239225011?pd_rd_i=B083LDH47W&pd_rd_r=20efe5f2-08a0-4a9d-9dda-6475541e5789&pd_rd_w=1svRO&pd_rd_wg=lDdn8&pf_rd_p=df9925ec-908d-4773-8986-9710bd83f4a2&pf_rd_r=DTHGMHRYENTVM091K48P#customerReviews"
                },
                "coupon": {
                    "badge_text": "Ahorra US$2.00",
                    "text": "con cupón",
                    "description": "US$2.00 cupón aplicado al completar la compra"
                },
                "shipping_details": [
                    "Recíbelo el martes, 15 de febrero",
                    "US$13.21 de envío"
                ]
            },
            {
                "position": 35,
                "product_id": "B07PZS12TS",
                "sponsored": false,
                "is_prime": false,
                "kindle_unlimited": false,
                "is_amazon_fresh": false,
                "is_whole_foods_market": false,
                "is_climate_pledge_friendly": false,
                "is_carousel": false,
                "thumbnail": "https://m.media-amazon.com/images/I/61Gk9IF50KL._AC_UL320_.jpg",
                "title": "Protector de colchón para Pack n Play impermeable, paquete acolchado de alta calidad y sábana de juego/cubierta de sábanas de 39 x 27 pulgadas, se adapta a colchón plegable y de corral, mini cuna, color gris",
                "link": "/-/es/Protector-impermeable-acolchado-cubierta-pulgadas/dp/B07PZS12TS/ref=Oct_d_oup_239225011?pd_rd_i=B07PZS12TS&pd_rd_r=20efe5f2-08a0-4a9d-9dda-6475541e5789&pd_rd_w=1svRO&pd_rd_wg=lDdn8&pf_rd_p=df9925ec-908d-4773-8986-9710bd83f4a2&pf_rd_r=DTHGMHRYENTVM091K48P",
                "rating": {
                    "rating": "4.8 de 5 estrellas",
                    "total_ratings": 2567,
                    "link": "/-/es/Protector-impermeable-acolchado-cubierta-pulgadas/dp/B07PZS12TS/ref=Oct_d_oup_239225011?pd_rd_i=B07PZS12TS&pd_rd_r=20efe5f2-08a0-4a9d-9dda-6475541e5789&pd_rd_w=1svRO&pd_rd_wg=lDdn8&pf_rd_p=df9925ec-908d-4773-8986-9710bd83f4a2&pf_rd_r=DTHGMHRYENTVM091K48P#customerReviews"
                }
            },
            {
                "position": 36,
                "product_id": "B01DGIKD1I",
                "sponsored": false,
                "is_prime": false,
                "kindle_unlimited": false,
                "is_amazon_fresh": false,
                "is_whole_foods_market": false,
                "is_climate_pledge_friendly": false,
                "is_carousel": false,
                "thumbnail": "https://m.media-amazon.com/images/I/51wz0XJk2HL._AC_UL320_.jpg",
                "title": "Little Tikes 2 en 1 Snug 'n Secure Swing, rosa",
                "link": "/-/es/Little-Tikes-Snug-Secure-Swing/dp/B01DGIKD1I/ref=Oct_d_oup_239225011?pd_rd_i=B01DGIKD1I&pd_rd_r=20efe5f2-08a0-4a9d-9dda-6475541e5789&pd_rd_w=1svRO&pd_rd_wg=lDdn8&pf_rd_p=df9925ec-908d-4773-8986-9710bd83f4a2&pf_rd_r=DTHGMHRYENTVM091K48P",
                "price": "US$22.19",
                "currency": "US$",
                "price_raw": "US$26.99",
                "rating": {
                    "rating": "4.9 de 5 estrellas",
                    "total_ratings": 10880,
                    "link": "/-/es/Little-Tikes-Snug-Secure-Swing/dp/B01DGIKD1I/ref=Oct_d_oup_239225011?pd_rd_i=B01DGIKD1I&pd_rd_r=20efe5f2-08a0-4a9d-9dda-6475541e5789&pd_rd_w=1svRO&pd_rd_wg=lDdn8&pf_rd_p=df9925ec-908d-4773-8986-9710bd83f4a2&pf_rd_r=DTHGMHRYENTVM091K48P#customerReviews"
                },
                "shipping_details": [
                    "Recíbelo el martes, 15 de febrero",
                    "US$109.81 de envío"
                ]
            },
            {
                "position": 37,
                "product_id": "B07TYRD14S",
                "sponsored": false,
                "is_prime": false,
                "kindle_unlimited": false,
                "is_amazon_fresh": false,
                "is_whole_foods_market": false,
                "is_climate_pledge_friendly": false,
                "is_carousel": false,
                "thumbnail": "https://m.media-amazon.com/images/I/51ANKYqCrAL._AC_UL320_.jpg",
                "title": "JunNeng Mochila con cojín de protección para la cabeza del bebé, mariposa",
                "link": "/-/es/JunNeng-Mochila-protecci%C3%B3n-cabeza-mariposa/dp/B07TYRD14S/ref=Oct_d_oup_239225011?pd_rd_i=B07TYRD14S&pd_rd_r=20efe5f2-08a0-4a9d-9dda-6475541e5789&pd_rd_w=1svRO&pd_rd_wg=lDdn8&pf_rd_p=df9925ec-908d-4773-8986-9710bd83f4a2&pf_rd_r=DTHGMHRYENTVM091K48P",
                "price": "US$15.99",
                "currency": "US$",
                "rating": {
                    "rating": "4.5 de 5 estrellas",
                    "total_ratings": 4294,
                    "link": "/-/es/JunNeng-Mochila-protecci%C3%B3n-cabeza-mariposa/dp/B07TYRD14S/ref=Oct_d_oup_239225011?pd_rd_i=B07TYRD14S&pd_rd_r=20efe5f2-08a0-4a9d-9dda-6475541e5789&pd_rd_w=1svRO&pd_rd_wg=lDdn8&pf_rd_p=df9925ec-908d-4773-8986-9710bd83f4a2&pf_rd_r=DTHGMHRYENTVM091K48P#customerReviews"
                },
                "shipping_details": [
                    "Recíbelo el martes, 15 de febrero",
                    "US$19.65 de envío"
                ]
            },
            {
                "position": 38,
                "product_id": "B08ZYBJK3L",
                "sponsored": false,
                "is_prime": false,
                "kindle_unlimited": false,
                "is_amazon_fresh": false,
                "is_whole_foods_market": false,
                "is_climate_pledge_friendly": false,
                "is_carousel": false,
                "thumbnail": "https://m.media-amazon.com/images/I/71pU0WyDRaL._AC_UL320_.jpg",
                "title": "SEPHIX Divertida alfombrilla de tiempo de barriga para bebé, la mejor idea de regalo",
                "link": "/-/es/acu%C3%A1tico-acostarse-actividades-Montessori-desarrollo/dp/B08ZYBJK3L/ref=Oct_d_oup_239225011?pd_rd_i=B08ZYBJK3L&pd_rd_r=20efe5f2-08a0-4a9d-9dda-6475541e5789&pd_rd_w=1svRO&pd_rd_wg=lDdn8&pf_rd_p=df9925ec-908d-4773-8986-9710bd83f4a2&pf_rd_r=DTHGMHRYENTVM091K48P",
                "price": "US$14.99",
                "currency": "US$",
                "price_raw": "US$15.99",
                "rating": {
                    "rating": "4.3 de 5 estrellas",
                    "total_ratings": 683,
                    "link": "/-/es/acu%C3%A1tico-acostarse-actividades-Montessori-desarrollo/dp/B08ZYBJK3L/ref=Oct_d_oup_239225011?pd_rd_i=B08ZYBJK3L&pd_rd_r=20efe5f2-08a0-4a9d-9dda-6475541e5789&pd_rd_w=1svRO&pd_rd_wg=lDdn8&pf_rd_p=df9925ec-908d-4773-8986-9710bd83f4a2&pf_rd_r=DTHGMHRYENTVM091K48P#customerReviews"
                },
                "coupon": {
                    "badge_text": "Ahorra 20 %",
                    "text": "con cupón (talles/colores limitados)",
                    "description": "20 % cupón aplicado al completar la compra"
                },
                "shipping_details": [
                    "Recíbelo el martes, 15 de febrero",
                    "US$12.80 de envío"
                ]
            },
            {
                "position": 39,
                "product_id": "B07PVFBVHS",
                "sponsored": false,
                "is_prime": false,
                "kindle_unlimited": false,
                "is_amazon_fresh": false,
                "is_whole_foods_market": false,
                "is_climate_pledge_friendly": false,
                "is_carousel": false,
                "thumbnail": "https://m.media-amazon.com/images/I/51ws-vgLLAL._AC_UL320_.jpg",
                "title": "Sábanas de cuna",
                "link": "/-/es/795042291553-S%C3%A1banas-de-cuna/dp/B07PVFBVHS/ref=Oct_d_oup_239225011?pd_rd_i=B07PVFBVHS&pd_rd_r=20efe5f2-08a0-4a9d-9dda-6475541e5789&pd_rd_w=1svRO&pd_rd_wg=lDdn8&pf_rd_p=df9925ec-908d-4773-8986-9710bd83f4a2&pf_rd_r=DTHGMHRYENTVM091K48P",
                "rating": {
                    "rating": "4.7 de 5 estrellas",
                    "total_ratings": 5519,
                    "link": "/-/es/795042291553-S%C3%A1banas-de-cuna/dp/B07PVFBVHS/ref=Oct_d_oup_239225011?pd_rd_i=B07PVFBVHS&pd_rd_r=20efe5f2-08a0-4a9d-9dda-6475541e5789&pd_rd_w=1svRO&pd_rd_wg=lDdn8&pf_rd_p=df9925ec-908d-4773-8986-9710bd83f4a2&pf_rd_r=DTHGMHRYENTVM091K48P#customerReviews"
                }
            },
            {
                "position": 40,
                "product_id": "B08HGZSXCG",
                "sponsored": false,
                "is_prime": false,
                "kindle_unlimited": false,
                "is_amazon_fresh": false,
                "is_whole_foods_market": false,
                "is_climate_pledge_friendly": false,
                "is_carousel": false,
                "thumbnail": "https://m.media-amazon.com/images/I/712LsSbqesS._AC_UL320_.jpg",
                "title": "BUNMO - Juguetes sensoriales y cuerdas elásticas texturizadas y juguetes súper sensoriales. Juguetes para ansiedad para adultos y niños. Ideal para rellenar calcetines y calcetines para adolescentes - Paquete de 6",
                "extensions": [
                    "6 Count (Pack of 1)"
                ],
                "link": "/-/es/BUNMO-sensoriales-texturizadas-sensoriales-adolescentes/dp/B08HGZSXCG/ref=Oct_d_oup_239225011?pd_rd_i=B08HGZSXCG&pd_rd_r=20efe5f2-08a0-4a9d-9dda-6475541e5789&pd_rd_w=1svRO&pd_rd_wg=lDdn8&pf_rd_p=df9925ec-908d-4773-8986-9710bd83f4a2&pf_rd_r=DTHGMHRYENTVM091K48P",
                "price": "US$9.99",
                "currency": "US$",
                "price_raw": "US$11.99",
                "shipping_details": [
                    "Recíbelo el martes, 15 de febrero",
                    "US$12.80 de envío"
                ]
            },
            {
                "position": 41,
                "product_id": "B081N1W716",
                "sponsored": false,
                "is_prime": false,
                "kindle_unlimited": false,
                "is_amazon_fresh": false,
                "is_whole_foods_market": false,
                "is_climate_pledge_friendly": false,
                "is_carousel": false,
                "thumbnail": "https://m.media-amazon.com/images/I/419BaQ0KnTL._AC_UL320_.jpg",
                "title": "Watolt Arnés de mano para caminar para bebé, ayuda para caminar, cinturón de asistente para niños pequeños, ayuda al bebé a caminar, herramienta de entrenamiento para niños de 7 a 24 meses",
                "link": "/-/es/cintur%C3%B3n-asistente-peque%C3%B1os-herramienta-entrenamiento/dp/B081N1W716/ref=Oct_d_oup_239225011?pd_rd_i=B081N1W716&pd_rd_r=20efe5f2-08a0-4a9d-9dda-6475541e5789&pd_rd_w=1svRO&pd_rd_wg=lDdn8&pf_rd_p=df9925ec-908d-4773-8986-9710bd83f4a2&pf_rd_r=DTHGMHRYENTVM091K48P",
                "price": "US$16.99",
                "currency": "US$",
                "price_raw": "US$20.00",
                "rating": {
                    "rating": "4.3 de 5 estrellas",
                    "total_ratings": 2921,
                    "link": "/-/es/cintur%C3%B3n-asistente-peque%C3%B1os-herramienta-entrenamiento/dp/B081N1W716/ref=Oct_d_oup_239225011?pd_rd_i=B081N1W716&pd_rd_r=20efe5f2-08a0-4a9d-9dda-6475541e5789&pd_rd_w=1svRO&pd_rd_wg=lDdn8&pf_rd_p=df9925ec-908d-4773-8986-9710bd83f4a2&pf_rd_r=DTHGMHRYENTVM091K48P#customerReviews"
                },
                "shipping_details": [
                    "Recíbelo el martes, 15 de febrero",
                    "US$20.66 de envío"
                ]
            },
            {
                "position": 42,
                "product_id": "B09F2TM4G4",
                "sponsored": false,
                "is_prime": false,
                "kindle_unlimited": false,
                "is_amazon_fresh": false,
                "is_whole_foods_market": false,
                "is_climate_pledge_friendly": false,
                "is_carousel": false,
                "thumbnail": "https://m.media-amazon.com/images/I/71emFWHvTNL._AC_UL320_.jpg",
                "title": "gebra Esterilla de agua para bebé, divertido centro de actividades de juego, regalos con espejo y sonajero para bebés de 0, 3, 6, 9 meses, recién nacidos, niños y niñas",
                "link": "/-/es/Esterilla-divertido-actividades-regalos-sonajero/dp/B09F2TM4G4/ref=Oct_d_onr_239225011?pd_rd_i=B09F2TM4G4&pd_rd_r=20efe5f2-08a0-4a9d-9dda-6475541e5789&pd_rd_w=v619Z&pd_rd_wg=lDdn8&pf_rd_p=342b1c97-2f0a-46f4-a9e5-422abb201110&pf_rd_r=DTHGMHRYENTVM091K48P",
                "price": "US$24.99",
                "currency": "US$",
                "rating": {
                    "rating": "4.7 de 5 estrellas",
                    "total_ratings": 46,
                    "link": "/-/es/Esterilla-divertido-actividades-regalos-sonajero/dp/B09F2TM4G4/ref=Oct_d_onr_239225011?pd_rd_i=B09F2TM4G4&pd_rd_r=20efe5f2-08a0-4a9d-9dda-6475541e5789&pd_rd_w=v619Z&pd_rd_wg=lDdn8&pf_rd_p=342b1c97-2f0a-46f4-a9e5-422abb201110&pf_rd_r=DTHGMHRYENTVM091K48P#customerReviews"
                },
                "amazon_choice": {
                    "link": "/-/es/Esterilla-divertido-actividades-regalos-sonajero/dp/B09F2TM4G4/ref=Oct_d_onr_239225011?pd_rd_i=B09F2TM4G4&pd_rd_r=20efe5f2-08a0-4a9d-9dda-6475541e5789&pd_rd_w=v619Z&pd_rd_wg=lDdn8&pf_rd_p=342b1c97-2f0a-46f4-a9e5-422abb201110&pf_rd_r=DTHGMHRYENTVM091K48P"
                },
                "shipping_details": [
                    "Recíbelo el martes, 15 de febrero",
                    "US$15.09 de envío"
                ]
            },
            {
                "position": 43,
                "product_id": "B09GNQ9YXJ",
                "sponsored": false,
                "is_prime": false,
                "kindle_unlimited": false,
                "is_amazon_fresh": false,
                "is_whole_foods_market": false,
                "is_climate_pledge_friendly": false,
                "is_carousel": false,
                "thumbnail": "https://m.media-amazon.com/images/I/71QFRjiOV+L._AC_UL320_.jpg",
                "title": "Infinno Tummy Time - Alfombrilla de agua para bebés y niños pequeños, actividades de desarrollo temprano, juguetes sensoriales regalos para bebés de 3, 6, 9, 12 meses",
                "link": "/-/es/Infinno-Tummy-Time-Alfombrilla-actividades/dp/B09GNQ9YXJ/ref=Oct_d_onr_239225011?pd_rd_i=B09GNQ9YXJ&pd_rd_r=20efe5f2-08a0-4a9d-9dda-6475541e5789&pd_rd_w=v619Z&pd_rd_wg=lDdn8&pf_rd_p=342b1c97-2f0a-46f4-a9e5-422abb201110&pf_rd_r=DTHGMHRYENTVM091K48P",
                "price": "US$14.97",
                "currency": "US$",
                "price_raw": "US$20.99",
                "rating": {
                    "rating": "4.7 de 5 estrellas",
                    "total_ratings": 9,
                    "link": "/-/es/Infinno-Tummy-Time-Alfombrilla-actividades/dp/B09GNQ9YXJ/ref=Oct_d_onr_239225011?pd_rd_i=B09GNQ9YXJ&pd_rd_r=20efe5f2-08a0-4a9d-9dda-6475541e5789&pd_rd_w=v619Z&pd_rd_wg=lDdn8&pf_rd_p=342b1c97-2f0a-46f4-a9e5-422abb201110&pf_rd_r=DTHGMHRYENTVM091K48P#customerReviews"
                },
                "coupon": {
                    "badge_text": "Ahorra 50 %",
                    "text": "con cupón",
                    "description": "50 % cupón aplicado al completar la compra"
                },
                "shipping_details": [
                    "Recíbelo el martes, 15 de febrero",
                    "US$13.14 de envío"
                ]
            },
            {
                "position": 44,
                "product_id": "B09BVGJYTX",
                "sponsored": false,
                "is_prime": false,
                "kindle_unlimited": false,
                "is_amazon_fresh": false,
                "is_whole_foods_market": false,
                "is_climate_pledge_friendly": false,
                "is_carousel": false,
                "thumbnail": "https://m.media-amazon.com/images/I/71ojrVoE4CL._AC_UL320_.jpg",
                "title": "WAYPLUS Alfombrilla de juego para bebé, extra grande y gruesa, reversible, duradera, de espuma XPE impermeable con borde de cubierta de tela, antideslizante, suave, para bebés y niños pequeños",
                "link": "/-/es/Alfombrilla-reversible-duradera-impermeable-antideslizante/dp/B09BVGJYTX/ref=Oct_d_onr_239225011?pd_rd_i=B09BVGJYTX&pd_rd_r=20efe5f2-08a0-4a9d-9dda-6475541e5789&pd_rd_w=v619Z&pd_rd_wg=lDdn8&pf_rd_p=342b1c97-2f0a-46f4-a9e5-422abb201110&pf_rd_r=DTHGMHRYENTVM091K48P",
                "price": "US$69.99",
                "currency": "US$",
                "price_raw": "US$99.00",
                "rating": {
                    "rating": "4.7 de 5 estrellas",
                    "total_ratings": 23,
                    "link": "/-/es/Alfombrilla-reversible-duradera-impermeable-antideslizante/dp/B09BVGJYTX/ref=Oct_d_onr_239225011?pd_rd_i=B09BVGJYTX&pd_rd_r=20efe5f2-08a0-4a9d-9dda-6475541e5789&pd_rd_w=v619Z&pd_rd_wg=lDdn8&pf_rd_p=342b1c97-2f0a-46f4-a9e5-422abb201110&pf_rd_r=DTHGMHRYENTVM091K48P#customerReviews"
                },
                "shipping_details": [
                    "Recíbelo el martes, 15 de febrero",
                    "US$92.14 de envío"
                ]
            },
            {
                "position": 45,
                "product_id": "B09N7RC86F",
                "sponsored": false,
                "is_prime": false,
                "kindle_unlimited": false,
                "is_amazon_fresh": false,
                "is_whole_foods_market": false,
                "is_climate_pledge_friendly": false,
                "is_carousel": false,
                "thumbnail": "https://m.media-amazon.com/images/I/71HuyP3gbmL._AC_UL320_.jpg",
                "title": "Summer SuperSeat 4 en 1, rosa",
                "link": "/-/es/Summer-SuperSeat-rosa/dp/B09N7RC86F/ref=Oct_d_onr_239225011?pd_rd_i=B09N7RC86F&pd_rd_r=20efe5f2-08a0-4a9d-9dda-6475541e5789&pd_rd_w=v619Z&pd_rd_wg=lDdn8&pf_rd_p=342b1c97-2f0a-46f4-a9e5-422abb201110&pf_rd_r=DTHGMHRYENTVM091K48P",
                "rating": {
                    "rating": "4.5 de 5 estrellas",
                    "total_ratings": 8779,
                    "link": "/-/es/Summer-SuperSeat-rosa/dp/B09N7RC86F/ref=Oct_d_onr_239225011?pd_rd_i=B09N7RC86F&pd_rd_r=20efe5f2-08a0-4a9d-9dda-6475541e5789&pd_rd_w=v619Z&pd_rd_wg=lDdn8&pf_rd_p=342b1c97-2f0a-46f4-a9e5-422abb201110&pf_rd_r=DTHGMHRYENTVM091K48P#customerReviews"
                }
            },
            {
                "position": 46,
                "product_id": "B09CH8JKTJ",
                "sponsored": false,
                "is_prime": false,
                "kindle_unlimited": false,
                "is_amazon_fresh": false,
                "is_whole_foods_market": false,
                "is_climate_pledge_friendly": false,
                "is_carousel": false,
                "thumbnail": "https://m.media-amazon.com/images/I/711T7a5DjPL._AC_UL320_.jpg",
                "title": "Preneo Parque plegable para bebés, bolígrafos de juego para bebés y niños, con 4 anillos de tracción y 1 caja de almacenamiento, grandes juegos para una fácil instalación y almacenamiento, seguridad de material y estabilidad.",
                "link": "/-/es/bol%C3%ADgrafos-almacenamiento-instalaci%C3%B3n-seguridad-estabilidad/dp/B09CH8JKTJ/ref=Oct_d_onr_239225011?pd_rd_i=B09CH8JKTJ&pd_rd_r=20efe5f2-08a0-4a9d-9dda-6475541e5789&pd_rd_w=v619Z&pd_rd_wg=lDdn8&pf_rd_p=342b1c97-2f0a-46f4-a9e5-422abb201110&pf_rd_r=DTHGMHRYENTVM091K48P",
                "price": "US$178.99",
                "currency": "US$",
                "price_raw": "US$199.99",
                "rating": {
                    "rating": "4.0 de 5 estrellas",
                    "total_ratings": 8,
                    "link": "/-/es/bol%C3%ADgrafos-almacenamiento-instalaci%C3%B3n-seguridad-estabilidad/dp/B09CH8JKTJ/ref=Oct_d_onr_239225011?pd_rd_i=B09CH8JKTJ&pd_rd_r=20efe5f2-08a0-4a9d-9dda-6475541e5789&pd_rd_w=v619Z&pd_rd_wg=lDdn8&pf_rd_p=342b1c97-2f0a-46f4-a9e5-422abb201110&pf_rd_r=DTHGMHRYENTVM091K48P#customerReviews"
                },
                "shipping_details": [
                    "US$148.80 de envío"
                ]
            },
            {
                "position": 47,
                "product_id": "B09MWHG3ZT",
                "sponsored": false,
                "is_prime": false,
                "kindle_unlimited": false,
                "is_amazon_fresh": false,
                "is_whole_foods_market": false,
                "is_climate_pledge_friendly": false,
                "is_carousel": false,
                "thumbnail": "https://m.media-amazon.com/images/I/91YcksZ9qnL._AC_UL320_.jpg",
                "title": "Graco Pack 'n Play On The Go Playard, Kaden",
                "link": "/-/es/Graco-Pack-Play-Playard-Kaden/dp/B09MWHG3ZT/ref=Oct_d_onr_239225011?pd_rd_i=B09MWHG3ZT&pd_rd_r=20efe5f2-08a0-4a9d-9dda-6475541e5789&pd_rd_w=v619Z&pd_rd_wg=lDdn8&pf_rd_p=342b1c97-2f0a-46f4-a9e5-422abb201110&pf_rd_r=DTHGMHRYENTVM091K48P",
                "price": "US$74.99",
                "currency": "US$",
                "shipping_details": [
                    "US$99.71 de envío"
                ]
            },
            {
                "position": 48,
                "product_id": "B09HGSMFPB",
                "sponsored": false,
                "is_prime": false,
                "kindle_unlimited": false,
                "is_amazon_fresh": false,
                "is_whole_foods_market": false,
                "is_climate_pledge_friendly": false,
                "is_carousel": false,
                "thumbnail": "https://m.media-amazon.com/images/I/71-9sGthiSL._AC_UL320_.jpg",
                "title": "VOCH GALA Esterilla de agua para bebés de 3, 6, 9, 12 meses, para bebés",
                "link": "/-/es/VOCH-GALA-Esterilla-beb%C3%A9s-meses/dp/B09HGSMFPB/ref=Oct_d_onr_239225011?pd_rd_i=B09HGSMFPB&pd_rd_r=20efe5f2-08a0-4a9d-9dda-6475541e5789&pd_rd_w=v619Z&pd_rd_wg=lDdn8&pf_rd_p=342b1c97-2f0a-46f4-a9e5-422abb201110&pf_rd_r=DTHGMHRYENTVM091K48P",
                "price": "US$9.99",
                "currency": "US$",
                "price_raw": "US$18.99",
                "shipping_details": [
                    "Recíbelo el martes, 15 de febrero",
                    "US$13.37 de envío"
                ]
            },
            {
                "position": 49,
                "product_id": "B09JZC4NXP",
                "sponsored": false,
                "is_prime": false,
                "kindle_unlimited": false,
                "is_amazon_fresh": false,
                "is_whole_foods_market": false,
                "is_climate_pledge_friendly": false,
                "is_carousel": false,
                "thumbnail": "https://m.media-amazon.com/images/I/61hOYurGW3L._AC_UL320_.jpg",
                "title": "Kiki Babies - Auriculares con cancelación de ruido, para bebés y recién nacidos, reducción de ruido, incluye funda y bolsa de toallitas de viaje, juego de regalo de ducha",
                "link": "/-/es/Kiki-Babies-Auriculares-cancelaci%C3%B3n-reducci%C3%B3n/dp/B09JZC4NXP/ref=Oct_d_onr_239225011?pd_rd_i=B09JZC4NXP&pd_rd_r=20efe5f2-08a0-4a9d-9dda-6475541e5789&pd_rd_w=v619Z&pd_rd_wg=lDdn8&pf_rd_p=342b1c97-2f0a-46f4-a9e5-422abb201110&pf_rd_r=DTHGMHRYENTVM091K48P"
            },
            {
                "position": 50,
                "product_id": "B09JP9FFK4",
                "sponsored": false,
                "is_prime": false,
                "kindle_unlimited": false,
                "is_amazon_fresh": false,
                "is_whole_foods_market": false,
                "is_climate_pledge_friendly": false,
                "is_carousel": false,
                "thumbnail": "https://m.media-amazon.com/images/I/71HDUsFp5hL._AC_UL320_.jpg",
                "title": "BABYBJÖRN Bouncer Bliss, marco gris claro, algodón, edredón pétalo, gris claro",
                "link": "/-/es/BABYBJ%C3%96RN-Bouncer-algod%C3%B3n-edred%C3%B3n-p%C3%A9talo/dp/B09JP9FFK4/ref=Oct_d_onr_239225011?pd_rd_i=B09JP9FFK4&pd_rd_r=20efe5f2-08a0-4a9d-9dda-6475541e5789&pd_rd_w=v619Z&pd_rd_wg=lDdn8&pf_rd_p=342b1c97-2f0a-46f4-a9e5-422abb201110&pf_rd_r=DTHGMHRYENTVM091K48P",
                "price": "US$199.99",
                "currency": "US$",
                "rating": {
                    "rating": "5.0 de 5 estrellas",
                    "total_ratings": 1,
                    "link": "/-/es/BABYBJ%C3%96RN-Bouncer-algod%C3%B3n-edred%C3%B3n-p%C3%A9talo/dp/B09JP9FFK4/ref=Oct_d_onr_239225011?pd_rd_i=B09JP9FFK4&pd_rd_r=20efe5f2-08a0-4a9d-9dda-6475541e5789&pd_rd_w=v619Z&pd_rd_wg=lDdn8&pf_rd_p=342b1c97-2f0a-46f4-a9e5-422abb201110&pf_rd_r=DTHGMHRYENTVM091K48P#customerReviews"
                },
                "shipping_details": [
                    "Recíbelo el martes, 22 de febrero",
                    "US$82.88 de envío",
                    "Solo queda(n) 3 en stock (hay más unidades en camino)."
                ]
            },
            {
                "position": 51,
                "product_id": "B09JPD5RFH",
                "sponsored": false,
                "is_prime": false,
                "kindle_unlimited": false,
                "is_amazon_fresh": false,
                "is_whole_foods_market": false,
                "is_climate_pledge_friendly": false,
                "is_carousel": false,
                "thumbnail": "https://m.media-amazon.com/images/I/71NV2tAVOiL._AC_UL320_.jpg",
                "title": "BABYBJÖRN Bouncer Bliss, marco gris claro, algodón, colcha de pétalos, rosa polvoriento",
                "link": "/-/es/BABYBJ%C3%96RN-Bouncer-algod%C3%B3n-p%C3%A9talos-polvoriento/dp/B09JPD5RFH/ref=Oct_d_onr_239225011?pd_rd_i=B09JPD5RFH&pd_rd_r=20efe5f2-08a0-4a9d-9dda-6475541e5789&pd_rd_w=v619Z&pd_rd_wg=lDdn8&pf_rd_p=342b1c97-2f0a-46f4-a9e5-422abb201110&pf_rd_r=DTHGMHRYENTVM091K48P",
                "rating": {
                    "rating": "5.0 de 5 estrellas",
                    "total_ratings": 1,
                    "link": "/-/es/BABYBJ%C3%96RN-Bouncer-algod%C3%B3n-p%C3%A9talos-polvoriento/dp/B09JPD5RFH/ref=Oct_d_onr_239225011?pd_rd_i=B09JPD5RFH&pd_rd_r=20efe5f2-08a0-4a9d-9dda-6475541e5789&pd_rd_w=v619Z&pd_rd_wg=lDdn8&pf_rd_p=342b1c97-2f0a-46f4-a9e5-422abb201110&pf_rd_r=DTHGMHRYENTVM091K48P#customerReviews"
                }
            },
            {
                "position": 52,
                "product_id": "B09NSZH9BK",
                "sponsored": false,
                "is_prime": false,
                "kindle_unlimited": false,
                "is_amazon_fresh": false,
                "is_whole_foods_market": false,
                "is_climate_pledge_friendly": false,
                "is_carousel": false,
                "thumbnail": "https://m.media-amazon.com/images/I/61oSNBU2cLL._AC_UL320_.jpg",
                "title": "Parque de juegos para bebés, para interiores y exteriores, parque de juegos para niños, parque de juegos para bebés, parque de juegos para bebés, 79 x 59 pulgadas (gris)",
                "link": "/-/es/Parque-juegos-interiores-exteriores-pulgadas/dp/B09NSZH9BK/ref=Oct_d_onr_239225011?pd_rd_i=B09NSZH9BK&pd_rd_r=20efe5f2-08a0-4a9d-9dda-6475541e5789&pd_rd_w=v619Z&pd_rd_wg=lDdn8&pf_rd_p=342b1c97-2f0a-46f4-a9e5-422abb201110&pf_rd_r=DTHGMHRYENTVM091K48P",
                "rating": {
                    "rating": "4.6 de 5 estrellas",
                    "total_ratings": 4,
                    "link": "/-/es/Parque-juegos-interiores-exteriores-pulgadas/dp/B09NSZH9BK/ref=Oct_d_onr_239225011?pd_rd_i=B09NSZH9BK&pd_rd_r=20efe5f2-08a0-4a9d-9dda-6475541e5789&pd_rd_w=v619Z&pd_rd_wg=lDdn8&pf_rd_p=342b1c97-2f0a-46f4-a9e5-422abb201110&pf_rd_r=DTHGMHRYENTVM091K48P#customerReviews"
                }
            },
            {
                "position": 53,
                "product_id": "B09JPDGT91",
                "sponsored": false,
                "is_prime": false,
                "kindle_unlimited": false,
                "is_amazon_fresh": false,
                "is_whole_foods_market": false,
                "is_climate_pledge_friendly": false,
                "is_carousel": false,
                "thumbnail": "https://m.media-amazon.com/images/I/71HdfhdLHcL._AC_UL320_.jpg",
                "title": "BABYBJÖRN Bouncer Bliss, marco gris oscuro, algodón, edredón pétalo, antracita",
                "link": "/-/es/BABYBJ%C3%96RN-Bouncer-algod%C3%B3n-edred%C3%B3n-antracita/dp/B09JPDGT91/ref=Oct_d_onr_239225011?pd_rd_i=B09JPDGT91&pd_rd_r=20efe5f2-08a0-4a9d-9dda-6475541e5789&pd_rd_w=v619Z&pd_rd_wg=lDdn8&pf_rd_p=342b1c97-2f0a-46f4-a9e5-422abb201110&pf_rd_r=DTHGMHRYENTVM091K48P",
                "price": "US$199.99",
                "currency": "US$",
                "rating": {
                    "rating": "4.8 de 5 estrellas",
                    "total_ratings": 6,
                    "link": "/-/es/BABYBJ%C3%96RN-Bouncer-algod%C3%B3n-edred%C3%B3n-antracita/dp/B09JPDGT91/ref=Oct_d_onr_239225011?pd_rd_i=B09JPDGT91&pd_rd_r=20efe5f2-08a0-4a9d-9dda-6475541e5789&pd_rd_w=v619Z&pd_rd_wg=lDdn8&pf_rd_p=342b1c97-2f0a-46f4-a9e5-422abb201110&pf_rd_r=DTHGMHRYENTVM091K48P#customerReviews"
                },
                "shipping_details": [
                    "US$82.60 de envío",
                    "Solo queda(n) 1 en stock (hay más unidades en camino)."
                ]
            },
            {
                "position": 54,
                "product_id": "B07FG5XQ49",
                "sponsored": false,
                "is_prime": false,
                "kindle_unlimited": false,
                "is_amazon_fresh": false,
                "is_whole_foods_market": false,
                "is_climate_pledge_friendly": false,
                "is_carousel": false,
                "thumbnail": "https://m.media-amazon.com/images/I/71yR2C926oL._AC_UL320_.jpg",
                "title": "Fisher-Price Sit-Me-Up - Asiento de suelo",
                "extensions": [
                    "1 Count (Pack of 1)"
                ],
                "link": "/-/es/Fisher-Price-Sit-Me-Up-Asiento-de-suelo/dp/B07FG5XQ49/ref=Oct_d_omg_239225011?pd_rd_i=B07FG5XQ49&pd_rd_r=20efe5f2-08a0-4a9d-9dda-6475541e5789&pd_rd_w=WSAao&pd_rd_wg=lDdn8&pf_rd_p=39fd78d4-d63b-4e12-9137-a6bbe3c5450b&pf_rd_r=DTHGMHRYENTVM091K48P",
                "price": "US$39.99",
                "currency": "US$",
                "bestseller": {
                    "link": "/-/es/gp/bestsellers/baby-products/166851011/ref=sr_bs_0_166851011_1",
                    "category": "en Bouncers para Bebé"
                },
                "shipping_details": [
                    "Recíbelo el martes, 15 de febrero",
                    "US$53.21 de envío"
                ]
            },
            {
                "position": 55,
                "product_id": "B07MPCCDM7",
                "sponsored": false,
                "is_prime": false,
                "kindle_unlimited": false,
                "is_amazon_fresh": false,
                "is_whole_foods_market": false,
                "is_climate_pledge_friendly": false,
                "is_carousel": false,
                "thumbnail": "https://m.media-amazon.com/images/I/81uQmTEJRAL._AC_UL320_.jpg",
                "title": "Baby Einstein Esterilla de actividad 4 en 1 Kickin' Tunes de música y lenguaje, gimnasio y piano",
                "extensions": [
                    "10 Piece Set"
                ],
                "link": "/-/es/Einstein-Esterilla-actividad-lenguaje-gimnasio/dp/B07MPCCDM7/ref=Oct_d_omg_239225011?pd_rd_i=B07MPCCDM7&pd_rd_r=20efe5f2-08a0-4a9d-9dda-6475541e5789&pd_rd_w=WSAao&pd_rd_wg=lDdn8&pf_rd_p=39fd78d4-d63b-4e12-9137-a6bbe3c5450b&pf_rd_r=DTHGMHRYENTVM091K48P",
                "price": "US$44.84",
                "currency": "US$",
                "price_raw": "US$59.99",
                "shipping_details": [
                    "US$46.98 de envío",
                    "Envío en 1 a 2 meses."
                ]
            },
            {
                "position": 56,
                "product_id": "B072C7P5MH",
                "sponsored": false,
                "is_prime": false,
                "kindle_unlimited": false,
                "is_amazon_fresh": false,
                "is_whole_foods_market": false,
                "is_climate_pledge_friendly": false,
                "is_carousel": false,
                "thumbnail": "https://m.media-amazon.com/images/I/71z85J+P0kL._AC_UL320_.jpg",
                "title": "Mecedora para infantes Fisher-Price, Rosado",
                "extensions": [
                    "1 Count (Pack of 1)"
                ],
                "link": "/-/es/Mecedora-para-infantes-Fisher-Price-Rosado/dp/B072C7P5MH/ref=Oct_d_omg_239225011?pd_rd_i=B072C7P5MH&pd_rd_r=20efe5f2-08a0-4a9d-9dda-6475541e5789&pd_rd_w=WSAao&pd_rd_wg=lDdn8&pf_rd_p=39fd78d4-d63b-4e12-9137-a6bbe3c5450b&pf_rd_r=DTHGMHRYENTVM091K48P",
                "price": "US$44.99",
                "currency": "US$",
                "shipping_details": [
                    "Recíbelo el martes, 15 de febrero",
                    "US$65.50 de envío"
                ]
            },
            {
                "position": 57,
                "product_id": "B00H8MSC0S",
                "sponsored": false,
                "is_prime": false,
                "kindle_unlimited": false,
                "is_amazon_fresh": false,
                "is_whole_foods_market": false,
                "is_climate_pledge_friendly": false,
                "is_carousel": false,
                "thumbnail": "https://m.media-amazon.com/images/I/71MiwiSdq9L._AC_UL320_.jpg",
                "title": "DuetConnect LX Swing and Bouncer de Graco",
                "extensions": [
                    "1 Count (Pack of 1)"
                ],
                "link": "/-/es/DuetConnect-LX-Swing-Bouncer-Graco/dp/B00H8MSC0S/ref=Oct_d_omg_239225011?pd_rd_i=B00H8MSC0S&pd_rd_r=20efe5f2-08a0-4a9d-9dda-6475541e5789&pd_rd_w=WSAao&pd_rd_wg=lDdn8&pf_rd_p=39fd78d4-d63b-4e12-9137-a6bbe3c5450b&pf_rd_r=DTHGMHRYENTVM091K48P",
                "price": "US$139.99",
                "currency": "US$",
                "shipping_details": [
                    "Recíbelo el martes, 15 de febrero",
                    "US$193.92 de envío"
                ]
            },
            {
                "position": 58,
                "product_id": "B08PV2TJ5L",
                "sponsored": false,
                "is_prime": false,
                "kindle_unlimited": false,
                "is_amazon_fresh": false,
                "is_whole_foods_market": false,
                "is_climate_pledge_friendly": false,
                "is_carousel": false,
                "thumbnail": "https://m.media-amazon.com/images/I/619Sm0NyzwL._AC_UL320_.jpg",
                "title": "little dove Esterilla de juego para bebés y niños con diseño de arco iris para recién nacidos, para actividades de desarrollo basadas en escenarios, gimnasio para niños de 0 a 3, 6, 9, 12 meses con 7 juguetes",
                "extensions": [
                    "1 Count (Pack of 1)"
                ],
                "link": "/-/es/Esterilla-actividades-desarrollo-escenarios-gimnasio/dp/B08PV2TJ5L/ref=Oct_d_omg_239225011?pd_rd_i=B08PV2TJ5L&pd_rd_r=20efe5f2-08a0-4a9d-9dda-6475541e5789&pd_rd_w=WSAao&pd_rd_wg=lDdn8&pf_rd_p=39fd78d4-d63b-4e12-9137-a6bbe3c5450b&pf_rd_r=DTHGMHRYENTVM091K48P",
                "price": "US$51.99",
                "currency": "US$",
                "shipping_details": [
                    "Recíbelo el martes, 15 de febrero",
                    "US$54.49 de envío"
                ]
            },
            {
                "position": 59,
                "product_id": "B016DAWD3W",
                "sponsored": false,
                "is_prime": false,
                "kindle_unlimited": false,
                "is_amazon_fresh": false,
                "is_whole_foods_market": false,
                "is_climate_pledge_friendly": false,
                "is_carousel": false,
                "thumbnail": "https://m.media-amazon.com/images/I/81T23msFuIL._AC_UL320_.jpg",
                "title": "Silla mecedora Balance Soft de Babybjorn, Gris oscuro",
                "extensions": [
                    "1 Count (Pack of 1)"
                ],
                "link": "/-/es/Silla-mecedora-Balance-Babybjorn-oscuro/dp/B016DAWD3W/ref=Oct_d_omg_239225011?pd_rd_i=B016DAWD3W&pd_rd_r=20efe5f2-08a0-4a9d-9dda-6475541e5789&pd_rd_w=WSAao&pd_rd_wg=lDdn8&pf_rd_p=39fd78d4-d63b-4e12-9137-a6bbe3c5450b&pf_rd_r=DTHGMHRYENTVM091K48P",
                "price": "US$199.99",
                "currency": "US$",
                "price_raw": "US$219.95",
                "shipping_details": [
                    "Recíbelo el martes, 15 de febrero",
                    "US$90.95 de envío",
                    "Solo queda(n) 8 en stock (hay más unidades en camino)."
                ]
            },
            {
                "position": 60,
                "product_id": "B07QDPBLDV",
                "sponsored": false,
                "is_prime": false,
                "kindle_unlimited": false,
                "is_amazon_fresh": false,
                "is_whole_foods_market": false,
                "is_climate_pledge_friendly": false,
                "is_carousel": false,
                "thumbnail": "https://m.media-amazon.com/images/I/81cZjt35KWL._AC_UL320_.jpg",
                "title": "Infantino Alfombra de lujo 4 en 1 para gimnasio y juegos, tropical, incluye juguetes enlazables, mono musical, espejo y almohada reforzada, para recién nacidos, bebés y niños pequeños",
                "link": "/-/es/Infantino-Alfombra-gimnasio-enlazables-reforzada/dp/B07QDPBLDV/ref=Oct_d_omg_239225011?pd_rd_i=B07QDPBLDV&pd_rd_r=20efe5f2-08a0-4a9d-9dda-6475541e5789&pd_rd_w=WSAao&pd_rd_wg=lDdn8&pf_rd_p=39fd78d4-d63b-4e12-9137-a6bbe3c5450b&pf_rd_r=DTHGMHRYENTVM091K48P",
                "rating": {
                    "rating": "4.8 de 5 estrellas",
                    "total_ratings": 1793,
                    "link": "/-/es/Infantino-Alfombra-gimnasio-enlazables-reforzada/dp/B07QDPBLDV/ref=Oct_d_omg_239225011?pd_rd_i=B07QDPBLDV&pd_rd_r=20efe5f2-08a0-4a9d-9dda-6475541e5789&pd_rd_w=WSAao&pd_rd_wg=lDdn8&pf_rd_p=39fd78d4-d63b-4e12-9137-a6bbe3c5450b&pf_rd_r=DTHGMHRYENTVM091K48P#customerReviews"
                }
            },
            {
                "position": 61,
                "product_id": "B00KHR7TPK",
                "sponsored": false,
                "is_prime": false,
                "kindle_unlimited": false,
                "is_amazon_fresh": false,
                "is_whole_foods_market": false,
                "is_climate_pledge_friendly": false,
                "is_carousel": false,
                "thumbnail": "https://m.media-amazon.com/images/I/812rrdyJiYL._AC_UL320_.jpg",
                "title": "Silla de juegos Bright Starts, talla única , Rojo",
                "link": "/-/es/Silla-juegos-Bright-Starts-talla/dp/B00KHR7TPK/ref=Oct_d_orecs_239225011?pd_rd_i=B00KHR7TPK&pd_rd_r=20efe5f2-08a0-4a9d-9dda-6475541e5789&pd_rd_w=kTUwJ&pd_rd_wg=lDdn8&pf_rd_p=680fa6ed-9536-4edc-b836-bd2656712510&pf_rd_r=DTHGMHRYENTVM091K48P",
                "rating": {
                    "rating": "4.6 de 5 estrellas",
                    "total_ratings": 4721,
                    "link": "/-/es/Silla-juegos-Bright-Starts-talla/dp/B00KHR7TPK/ref=Oct_d_orecs_239225011?pd_rd_i=B00KHR7TPK&pd_rd_r=20efe5f2-08a0-4a9d-9dda-6475541e5789&pd_rd_w=kTUwJ&pd_rd_wg=lDdn8&pf_rd_p=680fa6ed-9536-4edc-b836-bd2656712510&pf_rd_r=DTHGMHRYENTVM091K48P#customerReviews"
                },
                "amazon_choice": {
                    "link": "/-/es/Silla-juegos-Bright-Starts-talla/dp/B00KHR7TPK/ref=Oct_d_orecs_239225011?pd_rd_i=B00KHR7TPK&pd_rd_r=20efe5f2-08a0-4a9d-9dda-6475541e5789&pd_rd_w=kTUwJ&pd_rd_wg=lDdn8&pf_rd_p=680fa6ed-9536-4edc-b836-bd2656712510&pf_rd_r=DTHGMHRYENTVM091K48P"
                }
            },
            {
                "position": 62,
                "product_id": "B00DQEKHUA",
                "sponsored": false,
                "is_prime": false,
                "kindle_unlimited": false,
                "is_amazon_fresh": false,
                "is_whole_foods_market": false,
                "is_climate_pledge_friendly": false,
                "is_carousel": false,
                "thumbnail": "https://m.media-amazon.com/images/I/91EEePDfZ1L._AC_UL320_.jpg",
                "title": "ProSource - Tapete de espuma para niños con formas, colores o números y alfabetos, 36 azulejos, 12 x 12 pulgadas y 24 bordes",
                "link": "/-/es/Alfabeto-n%C3%BAmeros-36-baldosas-bordes-Prosource/dp/B00DQEKHUA/ref=Oct_d_orecs_239225011?pd_rd_i=B00DQEKHUA&pd_rd_r=20efe5f2-08a0-4a9d-9dda-6475541e5789&pd_rd_w=kTUwJ&pd_rd_wg=lDdn8&pf_rd_p=680fa6ed-9536-4edc-b836-bd2656712510&pf_rd_r=DTHGMHRYENTVM091K48P",
                "price": "US$29.99",
                "currency": "US$",
                "rating": {
                    "rating": "4.6 de 5 estrellas",
                    "total_ratings": 4541,
                    "link": "/-/es/Alfabeto-n%C3%BAmeros-36-baldosas-bordes-Prosource/dp/B00DQEKHUA/ref=Oct_d_orecs_239225011?pd_rd_i=B00DQEKHUA&pd_rd_r=20efe5f2-08a0-4a9d-9dda-6475541e5789&pd_rd_w=kTUwJ&pd_rd_wg=lDdn8&pf_rd_p=680fa6ed-9536-4edc-b836-bd2656712510&pf_rd_r=DTHGMHRYENTVM091K48P#customerReviews"
                },
                "shipping_details": [
                    "Recíbelo el martes, 15 de febrero",
                    "US$79.30 de envío"
                ]
            },
            {
                "position": 63,
                "product_id": "B08M1NQQ5J",
                "sponsored": false,
                "is_prime": false,
                "kindle_unlimited": false,
                "is_amazon_fresh": false,
                "is_whole_foods_market": false,
                "is_climate_pledge_friendly": false,
                "is_carousel": false,
                "thumbnail": "https://m.media-amazon.com/images/I/81NbjsTLdtL._AC_UL320_.jpg",
                "title": "Munchkin Columpio ligero con Bluetooth para bebé con balanceo natural en 5 rangos de movimiento, incluye control remoto",
                "link": "/-/es/Munchkin-Columpio-Bluetooth-balanceo-movimiento/dp/B08M1NQQ5J/ref=Oct_d_orecs_239225011?pd_rd_i=B08M1NQQ5J&pd_rd_r=20efe5f2-08a0-4a9d-9dda-6475541e5789&pd_rd_w=kTUwJ&pd_rd_wg=lDdn8&pf_rd_p=680fa6ed-9536-4edc-b836-bd2656712510&pf_rd_r=DTHGMHRYENTVM091K48P",
                "rating": {
                    "rating": "4.5 de 5 estrellas",
                    "total_ratings": 1271,
                    "link": "/-/es/Munchkin-Columpio-Bluetooth-balanceo-movimiento/dp/B08M1NQQ5J/ref=Oct_d_orecs_239225011?pd_rd_i=B08M1NQQ5J&pd_rd_r=20efe5f2-08a0-4a9d-9dda-6475541e5789&pd_rd_w=kTUwJ&pd_rd_wg=lDdn8&pf_rd_p=680fa6ed-9536-4edc-b836-bd2656712510&pf_rd_r=DTHGMHRYENTVM091K48P#customerReviews"
                }
            },
            {
                "position": 64,
                "product_id": "B00AO084CW",
                "sponsored": false,
                "is_prime": false,
                "kindle_unlimited": false,
                "is_amazon_fresh": false,
                "is_whole_foods_market": false,
                "is_climate_pledge_friendly": false,
                "is_carousel": false,
                "thumbnail": "https://m.media-amazon.com/images/I/81EMu0JMVBL._AC_UL320_.jpg",
                "title": "Columpio y mecedora Duetsoothe de Graco, Winslet",
                "link": "/-/es/Columpio-mecedora-Duetsoothe-Graco-Winslet/dp/B00AO084CW/ref=Oct_d_orecs_239225011?pd_rd_i=B00AO084CW&pd_rd_r=20efe5f2-08a0-4a9d-9dda-6475541e5789&pd_rd_w=kTUwJ&pd_rd_wg=lDdn8&pf_rd_p=680fa6ed-9536-4edc-b836-bd2656712510&pf_rd_r=DTHGMHRYENTVM091K48P",
                "price": "US$159.99",
                "currency": "US$",
                "rating": {
                    "rating": "4.6 de 5 estrellas",
                    "total_ratings": 9294,
                    "link": "/-/es/Columpio-mecedora-Duetsoothe-Graco-Winslet/dp/B00AO084CW/ref=Oct_d_orecs_239225011?pd_rd_i=B00AO084CW&pd_rd_r=20efe5f2-08a0-4a9d-9dda-6475541e5789&pd_rd_w=kTUwJ&pd_rd_wg=lDdn8&pf_rd_p=680fa6ed-9536-4edc-b836-bd2656712510&pf_rd_r=DTHGMHRYENTVM091K48P#customerReviews"
                },
                "shipping_details": [
                    "Recíbelo el viernes, 18 de febrero",
                    "US$193.41 de envío"
                ]
            },
            {
                "position": 65,
                "product_id": "B00O8RQYGU",
                "sponsored": false,
                "is_prime": false,
                "kindle_unlimited": false,
                "is_amazon_fresh": false,
                "is_whole_foods_market": false,
                "is_climate_pledge_friendly": false,
                "is_carousel": false,
                "thumbnail": "https://m.media-amazon.com/images/I/61eaGBxTHcL._AC_UL320_.jpg",
                "title": "Evenflo Exersaucer - Puente saltador para puerta",
                "link": "/-/es/Evenflo-Exersaucer-Puente-saltador-puerta/dp/B00O8RQYGU/ref=Oct_d_orecs_239225011?pd_rd_i=B00O8RQYGU&pd_rd_r=20efe5f2-08a0-4a9d-9dda-6475541e5789&pd_rd_w=kTUwJ&pd_rd_wg=lDdn8&pf_rd_p=680fa6ed-9536-4edc-b836-bd2656712510&pf_rd_r=DTHGMHRYENTVM091K48P",
                "price": "US$35.99",
                "currency": "US$",
                "rating": {
                    "rating": "4.5 de 5 estrellas",
                    "total_ratings": 10343,
                    "link": "/-/es/Evenflo-Exersaucer-Puente-saltador-puerta/dp/B00O8RQYGU/ref=Oct_d_orecs_239225011?pd_rd_i=B00O8RQYGU&pd_rd_r=20efe5f2-08a0-4a9d-9dda-6475541e5789&pd_rd_w=kTUwJ&pd_rd_wg=lDdn8&pf_rd_p=680fa6ed-9536-4edc-b836-bd2656712510&pf_rd_r=DTHGMHRYENTVM091K48P#customerReviews"
                },
                "bestseller": {
                    "link": "/-/es/gp/bestsellers/baby-products/166852011/ref=sr_bs_4_166852011_1",
                    "category": "en Saltarines de Puerta para Bebé"
                },
                "shipping_details": [
                    "US$23.67 de envío",
                    "Solo queda(n) 1 en stock (hay más unidades en camino)."
                ]
            },
            {
                "position": 66,
                "product_id": "B07FLMNQRG",
                "sponsored": false,
                "is_prime": false,
                "kindle_unlimited": false,
                "is_amazon_fresh": false,
                "is_whole_foods_market": false,
                "is_climate_pledge_friendly": false,
                "is_carousel": false,
                "thumbnail": "https://m.media-amazon.com/images/I/91FTmQZxmtL._AC_UL320_.jpg",
                "title": "Splashin'Kids Tummy Time Premium - colchoneta inflable de agua para bebés y niños pequeños, centro de actividades de ocio perfecto para el crecimiento de la estimulación de tu bebé",
                "link": "/-/es/SplashinKids-Tummy-Time-Premium-estimulaci%C3%B3n/dp/B07FLMNQRG/ref=lp_239225011_1_1",
                "price": "US$39.99",
                "currency": "US$",
                "price_raw": "US$18.97",
                "rating": {
                    "rating": "4.4 de 5 estrellas",
                    "total_ratings": 33718,
                    "link": "/-/es/SplashinKids-Tummy-Time-Premium-estimulaci%C3%B3n/dp/B07FLMNQRG/ref=lp_239225011_1_1#customerReviews"
                },
                "amazon_choice": {
                    "link": "/-/es/SplashinKids-Tummy-Time-Premium-estimulaci%C3%B3n/dp/B07FLMNQRG/ref=lp_239225011_1_1"
                },
                "bestseller": {
                    "link": "/-/es/gp/bestsellers/baby-products/196609011/ref=sr_bs_1_196609011_1",
                    "category": "en Alfombras de Juego y Gimnasios para Bebé"
                },
                "coupon": {
                    "badge_text": "Ahorra 20 %",
                    "text": "con cupón",
                    "description": "20 % cupón aplicado al completar la compra"
                },
                "shipping_details": [
                    "Recíbelo el martes, 15 de febrero",
                    "US$53.21 de envío",
                    "Recíbelo el martes, 15 de febrero",
                    "US$118.63 de envío",
                    "Recíbelo el martes, 15 de febrero",
                    "US$62.16 de envío",
                    "Recíbelo el martes, 15 de febrero",
                    "US$13.14 de envío",
                    "Recíbelo el miércoles, 16 de febrero",
                    "US$135.62 de envío"
                ]
            },
            {
                "position": 67,
                "product_id": "B07FLMNQRG",
                "sponsored": false,
                "is_prime": false,
                "kindle_unlimited": false,
                "is_amazon_fresh": false,
                "is_whole_foods_market": false,
                "is_climate_pledge_friendly": false,
                "is_carousel": false,
                "thumbnail": "https://m.media-amazon.com/images/I/91FTmQZxmtL._AC_UL320_.jpg",
                "title": "Splashin'Kids Tummy Time Premium - colchoneta inflable de agua para bebés y niños pequeños, centro de actividades de ocio perfecto para el crecimiento de la estimulación de tu bebé",
                "link": "/-/es/SplashinKids-Tummy-Time-Premium-estimulaci%C3%B3n/dp/B07FLMNQRG/ref=lp_239225011_1_1",
                "rating": {
                    "rating": "4.4 de 5 estrellas",
                    "total_ratings": 33718,
                    "link": "/-/es/SplashinKids-Tummy-Time-Premium-estimulaci%C3%B3n/dp/B07FLMNQRG/ref=lp_239225011_1_1#customerReviews"
                },
                "amazon_choice": {
                    "link": "/-/es/SplashinKids-Tummy-Time-Premium-estimulaci%C3%B3n/dp/B07FLMNQRG/ref=lp_239225011_1_1"
                }
            },
            {
                "position": 68,
                "product_id": "B0793D9WBY",
                "sponsored": false,
                "is_prime": false,
                "kindle_unlimited": false,
                "is_amazon_fresh": false,
                "is_whole_foods_market": false,
                "is_climate_pledge_friendly": false,
                "is_carousel": false,
                "thumbnail": "https://m.media-amazon.com/images/I/71iWK3H2YGL._AC_UL320_.jpg",
                "title": "Fisher-Price Deluxe Kick 'n Play Juguete de piano para niños, na",
                "extensions": [
                    "3 Piece Set"
                ],
                "link": "/-/es/Fisher-Price-Deluxe-Juguete-piano-ni%C3%B1os/dp/B0793D9WBY/ref=lp_239225011_1_2",
                "bestseller": {
                    "link": "/-/es/gp/bestsellers/baby-products/196609011/ref=sr_bs_1_196609011_1",
                    "category": "en Alfombras de Juego y Gimnasios para Bebé"
                }
            },
            {
                "position": 69,
                "product_id": "B07FG5XQ49",
                "sponsored": false,
                "is_prime": false,
                "kindle_unlimited": false,
                "is_amazon_fresh": false,
                "is_whole_foods_market": false,
                "is_climate_pledge_friendly": false,
                "is_carousel": false,
                "thumbnail": "https://m.media-amazon.com/images/I/71yR2C926oL._AC_UL320_.jpg",
                "title": "Fisher-Price Sit-Me-Up - Asiento de suelo",
                "extensions": [
                    "1 Count (Pack of 1)"
                ],
                "link": "/-/es/Fisher-Price-Sit-Me-Up-Asiento-de-suelo/dp/B07FG5XQ49/ref=lp_239225011_1_3",
                "price": "US$39.99",
                "currency": "US$",
                "bestseller": {
                    "link": "/-/es/gp/bestsellers/baby-products/166851011/ref=sr_bs_2_166851011_1",
                    "category": "en Bouncers para Bebé"
                },
                "shipping_details": [
                    "Recíbelo el martes, 15 de febrero",
                    "US$53.21 de envío"
                ]
            },
            {
                "position": 70,
                "product_id": "B00MUZVKY8",
                "sponsored": false,
                "is_prime": false,
                "kindle_unlimited": false,
                "is_amazon_fresh": false,
                "is_whole_foods_market": false,
                "is_climate_pledge_friendly": false,
                "is_carousel": false,
                "thumbnail": "https://m.media-amazon.com/images/I/81niSqbcZ-L._AC_UL320_.jpg",
                "title": "American Baby Company Funda protectora impermeable para cuna y niños pequeños, color blanco, para niños y niñas, 52 x 28 x 9 pulgadas (paquete de 1)",
                "link": "/-/es/American-protectora-impermeable-peque%C3%B1os-pulgadas/dp/B00MUZVKY8/ref=lp_239225011_1_4",
                "rating": {
                    "rating": "4.7 de 5 estrellas",
                    "total_ratings": 32428,
                    "link": "/-/es/American-protectora-impermeable-peque%C3%B1os-pulgadas/dp/B00MUZVKY8/ref=lp_239225011_1_4#customerReviews"
                }
            },
            {
                "position": 71,
                "product_id": "B00PTL15D6",
                "sponsored": false,
                "is_prime": false,
                "kindle_unlimited": false,
                "is_amazon_fresh": false,
                "is_whole_foods_market": false,
                "is_climate_pledge_friendly": false,
                "is_carousel": false,
                "thumbnail": "https://m.media-amazon.com/images/I/71gBaaxaOyL._AC_UL320_.jpg",
                "title": "Columpio de balanceo simple de la marca Graco, Abbington",
                "link": "/-/es/Columpio-balanceo-simple-marca-Abbington/dp/B00PTL15D6/ref=lp_239225011_1_5",
                "price": "US$99.99",
                "currency": "US$",
                "rating": {
                    "rating": "4.6 de 5 estrellas",
                    "total_ratings": 18978,
                    "link": "/-/es/Columpio-balanceo-simple-marca-Abbington/dp/B00PTL15D6/ref=lp_239225011_1_5#customerReviews"
                },
                "bestseller": {
                    "link": "/-/es/gp/bestsellers/baby-products/166853011/ref=sr_bs_4_166853011_1",
                    "category": "en Columpios Fijos para Bebé"
                },
                "shipping_details": [
                    "Recíbelo el martes, 15 de febrero",
                    "US$118.63 de envío"
                ]
            },
            {
                "position": 72,
                "product_id": "B0778NPF99",
                "sponsored": false,
                "is_prime": false,
                "kindle_unlimited": false,
                "is_amazon_fresh": false,
                "is_whole_foods_market": false,
                "is_climate_pledge_friendly": false,
                "is_carousel": false,
                "thumbnail": "https://m.media-amazon.com/images/I/71DArnU5+oL._AC_UL320_.jpg",
                "title": "Cubrecambiadores elásticos Brolex, pquete de 2 cubrecambiadores de punto para niñas y niños",
                "extensions": [
                    "2 Count (Pack of 1)"
                ],
                "link": "/-/es/Cubrecambiadores-el%C3%A1sticos-Brolex-pquete-cubrecambiadores/dp/B0778NPF99/ref=lp_239225011_1_6",
                "bestseller": {
                    "link": "/-/es/gp/bestsellers/baby-products/166761011/ref=sr_bs_5_166761011_1",
                    "category": "en Ropa de Cama para Corralitos"
                }
            },
            {
                "position": 73,
                "product_id": "B07CRSXMW8",
                "sponsored": false,
                "is_prime": false,
                "kindle_unlimited": false,
                "is_amazon_fresh": false,
                "is_whole_foods_market": false,
                "is_climate_pledge_friendly": false,
                "is_carousel": false,
                "thumbnail": "https://m.media-amazon.com/images/I/81U-LLvggsL._AC_UL320_.jpg",
                "title": "VTech caminante de aprendizaje sentado a pie (embalaje libre de frustración), azul",
                "link": "/-/es/caminante-aprendizaje-sentado-embalaje-frustraci%C3%B3n/dp/B07CRSXMW8/ref=lp_239225011_1_7",
                "price": "US$37.99",
                "currency": "US$",
                "rating": {
                    "rating": "4.8 de 5 estrellas",
                    "total_ratings": 69529,
                    "link": "/-/es/caminante-aprendizaje-sentado-embalaje-frustraci%C3%B3n/dp/B07CRSXMW8/ref=lp_239225011_1_7#customerReviews"
                },
                "bestseller": {
                    "link": "/-/es/gp/bestsellers/baby-products/322268011/ref=sr_bs_6_322268011_1",
                    "category": "en Andaderas para Bebé"
                },
                "shipping_details": [
                    "Recíbelo el martes, 15 de febrero",
                    "US$62.16 de envío"
                ]
            },
            {
                "position": 74,
                "product_id": "B07XC6YCC5",
                "sponsored": false,
                "is_prime": false,
                "kindle_unlimited": false,
                "is_amazon_fresh": false,
                "is_whole_foods_market": false,
                "is_climate_pledge_friendly": false,
                "is_carousel": false,
                "thumbnail": "https://m.media-amazon.com/images/I/71U7iRz4X+L._AC_UL320_.jpg",
                "title": "Infinno Estera inflable para bebés y niños pequeños para bebés de 3 a 24 meses, fortalece los músculos de tu bebé, portátil",
                "link": "/-/es/inflable-peque%C3%B1os-fortalece-m%C3%BAsculos-port%C3%A1til/dp/B07XC6YCC5/ref=lp_239225011_1_8",
                "price": "US$15.97",
                "currency": "US$",
                "price_raw": "US$18.97",
                "rating": {
                    "rating": "4.3 de 5 estrellas",
                    "total_ratings": 8892,
                    "link": "/-/es/inflable-peque%C3%B1os-fortalece-m%C3%BAsculos-port%C3%A1til/dp/B07XC6YCC5/ref=lp_239225011_1_8#customerReviews"
                },
                "coupon": {
                    "badge_text": "Ahorra 20 %",
                    "text": "con cupón",
                    "description": "20 % cupón aplicado al completar la compra"
                },
                "shipping_details": [
                    "Recíbelo el martes, 15 de febrero",
                    "US$13.14 de envío"
                ]
            },
            {
                "position": 75,
                "product_id": "B014D4HHQI",
                "sponsored": false,
                "is_prime": false,
                "kindle_unlimited": false,
                "is_amazon_fresh": false,
                "is_whole_foods_market": false,
                "is_climate_pledge_friendly": false,
                "is_carousel": false,
                "thumbnail": "https://m.media-amazon.com/images/I/816ImZ81wPL._AC_UL320_.jpg",
                "title": "Mecedora para bebés Fisher-Price, Geo Diamonds",
                "extensions": [
                    "1 Count (Pack of 1)"
                ],
                "link": "/-/es/Mecedora-para-beb%C3%A9s-Fisher-Price-Diamonds/dp/B014D4HHQI/ref=lp_239225011_1_9"
            },
            {
                "position": 76,
                "product_id": "B01J94K9OY",
                "sponsored": false,
                "is_prime": false,
                "kindle_unlimited": false,
                "is_amazon_fresh": false,
                "is_whole_foods_market": false,
                "is_climate_pledge_friendly": false,
                "is_carousel": false,
                "thumbnail": "https://m.media-amazon.com/images/I/51xlL39CVaL._AC_UL320_.jpg",
                "title": "Centro de actividades Skip Hop para bebés, con tres estaciones, multifunción, para niños de 4 meses",
                "extensions": [
                    "1 Count (Pack of 1)"
                ],
                "link": "/-/es/Centro-actividades-estaciones-multifunci%C3%B3n-meses/dp/B01J94K9OY/ref=lp_239225011_1_10",
                "price": "US$127.99",
                "currency": "US$",
                "price_raw": "US$142.00",
                "shipping_details": [
                    "Recíbelo el miércoles, 16 de febrero",
                    "US$135.62 de envío"
                ]
            },
            {
                "position": 77,
                "product_id": "B075R8BXXC",
                "sponsored": false,
                "is_prime": false,
                "kindle_unlimited": false,
                "is_amazon_fresh": false,
                "is_whole_foods_market": false,
                "is_climate_pledge_friendly": false,
                "is_carousel": false,
                "thumbnail": "https://m.media-amazon.com/images/I/71IMiRIbRMS._AC_UL320_.jpg",
                "title": "The Play Gym por Lovevery | Esterilla de actividades de desarrollo basada en escenarios para bebés a niños pequeños",
                "extensions": [
                    "1 Count (Pack of 1)"
                ],
                "link": "/-/es/Lovevery-Esterilla-actividades-desarrollo-escenarios/dp/B075R8BXXC/ref=lp_239225011_1_11"
            },
            {
                "position": 78,
                "product_id": "B073FVCS6F",
                "sponsored": false,
                "is_prime": false,
                "kindle_unlimited": false,
                "is_amazon_fresh": false,
                "is_whole_foods_market": false,
                "is_climate_pledge_friendly": false,
                "is_carousel": false,
                "thumbnail": "https://m.media-amazon.com/images/I/81eu6u3BKaL._AC_UL320_.jpg",
                "title": "4Moms mamaRoo 4 Asiento de bebé clásico",
                "link": "/-/es/4Moms-mamaRoo-4-Asiento-beb%C3%A9-cl%C3%A1sico/dp/B073FVCS6F/ref=lp_239225011_1_12",
                "rating": {
                    "rating": "4.6 de 5 estrellas",
                    "total_ratings": 6505,
                    "link": "/-/es/4Moms-mamaRoo-4-Asiento-beb%C3%A9-cl%C3%A1sico/dp/B073FVCS6F/ref=lp_239225011_1_12#customerReviews"
                }
            }
        ],
        "categories": [
            {
                "link": "/-/es/b/?node=196609011&ref_=Oct_d_odnav_d_239225011_0&pd_rd_w=MeP1H&pf_rd_p=0f6f8a08-29ea-497e-8cb4-0ccf91422740&pf_rd_r=DTHGMHRYENTVM091K48P&pd_rd_r=20efe5f2-08a0-4a9d-9dda-6475541e5789&pd_rd_wg=lDdn8",
                "title": "Alfombras de Juego y Gimnasios",
                "thumbnail": "https://images-na.ssl-images-amazon.com/images/I/51EGrRxXHmL._AC._SR120,120.jpg"
            },
            {
                "link": "/-/es/b/?node=166850011&ref_=Oct_d_odnav_d_239225011_1&pd_rd_w=MeP1H&pf_rd_p=0f6f8a08-29ea-497e-8cb4-0ccf91422740&pf_rd_r=DTHGMHRYENTVM091K48P&pd_rd_r=20efe5f2-08a0-4a9d-9dda-6475541e5789&pd_rd_wg=lDdn8",
                "title": "Columpios, Saltarines y Bouncers",
                "thumbnail": "https://images-na.ssl-images-amazon.com/images/I/41D4aVsv6RL._AC._SR120,120.jpg"
            },
            {
                "link": "/-/es/b/?node=322268011&ref_=Oct_d_odnav_d_239225011_2&pd_rd_w=MeP1H&pf_rd_p=0f6f8a08-29ea-497e-8cb4-0ccf91422740&pf_rd_r=DTHGMHRYENTVM091K48P&pd_rd_r=20efe5f2-08a0-4a9d-9dda-6475541e5789&pd_rd_wg=lDdn8",
                "title": "Andaderas",
                "thumbnail": "https://images-na.ssl-images-amazon.com/images/I/51q3J-fd5fL._AC._SR120,120.jpg"
            },
            {
                "link": "/-/es/b/?node=166761011&ref_=Oct_d_odnav_d_239225011_3&pd_rd_w=MeP1H&pf_rd_p=0f6f8a08-29ea-497e-8cb4-0ccf91422740&pf_rd_r=DTHGMHRYENTVM091K48P&pd_rd_r=20efe5f2-08a0-4a9d-9dda-6475541e5789&pd_rd_wg=lDdn8",
                "title": "Ropa de Cama para Corrales",
                "thumbnail": "https://images-na.ssl-images-amazon.com/images/I/31ca17pNC9L._AC._SR120,120.jpg"
            },
            {
                "link": "/-/es/b/?_encoding=UTF8&node=21315185011&bbn=165796011&ref_=Oct_d_odnav_d_239225011_4&pd_rd_w=MeP1H&pf_rd_p=0f6f8a08-29ea-497e-8cb4-0ccf91422740&pf_rd_r=DTHGMHRYENTVM091K48P&pd_rd_r=20efe5f2-08a0-4a9d-9dda-6475541e5789&pd_rd_wg=lDdn8",
                "title": "Centros de Actividades",
                "thumbnail": "https://images-na.ssl-images-amazon.com/images/I/512zuttR6-L._AC._SR120,120.jpg"
            },
            {
                "link": "/-/es/b/?node=723032011&ref_=Oct_d_odnav_d_239225011_5&pd_rd_w=MeP1H&pf_rd_p=0f6f8a08-29ea-497e-8cb4-0ccf91422740&pf_rd_r=DTHGMHRYENTVM091K48P&pd_rd_r=20efe5f2-08a0-4a9d-9dda-6475541e5789&pd_rd_wg=lDdn8",
                "title": "Asientos y Sillones de Piso",
                "thumbnail": "https://images-na.ssl-images-amazon.com/images/I/41dL3EACQcL._AC._SR120,120.jpg"
            }
        ]
    }
}