API Parameters
Searchdata Parameters
The engine of the API. Needs to be set to google_trends for this request.
Custom date interval or choose from one of the predefined values: now 1-H, now 4-H, now 1-d, now 7-d, today 1-m, today 3-m, today 5-y, all.
The category ID for your query.
The region for your query.
Google Trends API examples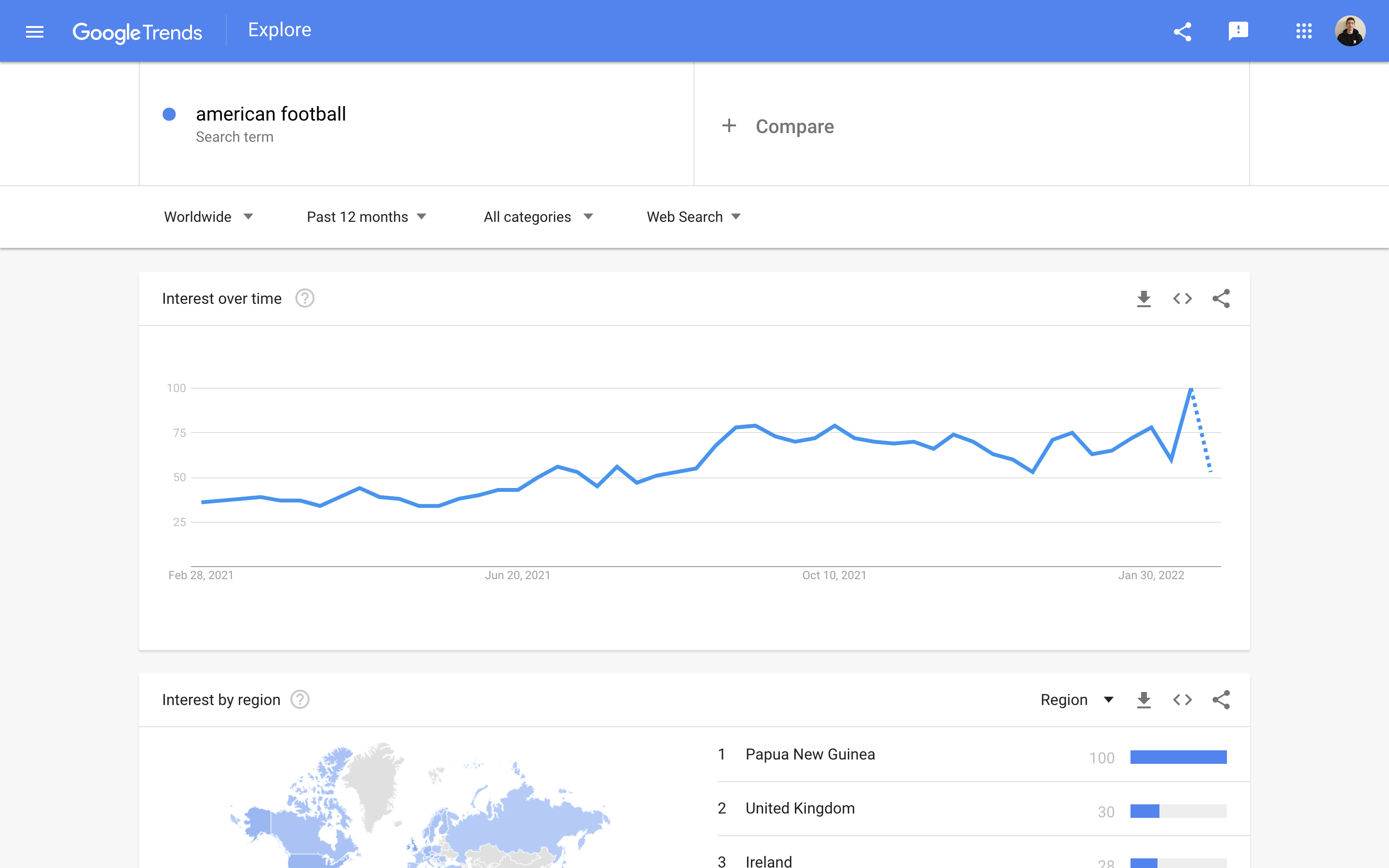 GET
https://api.searchdata.io/v1?engine=google_trends&api_key=YOUR_API_KEY&geo=US&q=american%20football&date=2021-01-01%202022-01-01
Code to integrate
Json Example
{
    "search_parameters": {
        "google_trends_url": "https://trends.google.com/trends/explore?q=american%20football&geo=US&date=2021-01-01%202022-01-01",
        "engine": "google_trends",
        "google_trends_domain": "google.com",
        "device": "desktop",
        "q": "american football",
        "geo": "US",
        "date": "2021-01-01 2022-01-01"
    },
    "search_information": {
        "organic_results_state": "Results for exact spelling",
        "query_displayed": "american football"
    },
    "results": {
        "interest_over_time": [
            {
                "time": "1609632000",
                "formattedTime": "Jan 3 – 9, 2021",
                "formattedAxisTime": "Jan 3, 2021",
                "value": [
                    47
                ],
                "hasData": [
                    true
                ],
                "formattedValue": [
                    "47"
                ]
            },
            {
                "time": "1610236800",
                "formattedTime": "Jan 10 – 16, 2021",
                "formattedAxisTime": "Jan 10, 2021",
                "value": [
                    44
                ],
                "hasData": [
                    true
                ],
                "formattedValue": [
                    "44"
                ]
            },
            {
                "time": "1610841600",
                "formattedTime": "Jan 17 – 23, 2021",
                "formattedAxisTime": "Jan 17, 2021",
                "value": [
                    47
                ],
                "hasData": [
                    true
                ],
                "formattedValue": [
                    "47"
                ]
            },
            {
                "time": "1611446400",
                "formattedTime": "Jan 24 – 30, 2021",
                "formattedAxisTime": "Jan 24, 2021",
                "value": [
                    48
                ],
                "hasData": [
                    true
                ],
                "formattedValue": [
                    "48"
                ]
            },
            {
                "time": "1612051200",
                "formattedTime": "Jan 31 – Feb 6, 2021",
                "formattedAxisTime": "Jan 31, 2021",
                "value": [
                    38
                ],
                "hasData": [
                    true
                ],
                "formattedValue": [
                    "38"
                ]
            },
            {
                "time": "1612656000",
                "formattedTime": "Feb 7 – 13, 2021",
                "formattedAxisTime": "Feb 7, 2021",
                "value": [
                    59
                ],
                "hasData": [
                    true
                ],
                "formattedValue": [
                    "59"
                ]
            },
            {
                "time": "1613260800",
                "formattedTime": "Feb 14 – 20, 2021",
                "formattedAxisTime": "Feb 14, 2021",
                "value": [
                    31
                ],
                "hasData": [
                    true
                ],
                "formattedValue": [
                    "31"
                ]
            },
            {
                "time": "1613865600",
                "formattedTime": "Feb 21 – 27, 2021",
                "formattedAxisTime": "Feb 21, 2021",
                "value": [
                    29
                ],
                "hasData": [
                    true
                ],
                "formattedValue": [
                    "29"
                ]
            },
            {
                "time": "1614470400",
                "formattedTime": "Feb 28 – Mar 6, 2021",
                "formattedAxisTime": "Feb 28, 2021",
                "value": [
                    29
                ],
                "hasData": [
                    true
                ],
                "formattedValue": [
                    "29"
                ]
            },
            {
                "time": "1615075200",
                "formattedTime": "Mar 7 – 13, 2021",
                "formattedAxisTime": "Mar 7, 2021",
                "value": [
                    29
                ],
                "hasData": [
                    true
                ],
                "formattedValue": [
                    "29"
                ]
            },
            {
                "time": "1615680000",
                "formattedTime": "Mar 14 – 20, 2021",
                "formattedAxisTime": "Mar 14, 2021",
                "value": [
                    35
                ],
                "hasData": [
                    true
                ],
                "formattedValue": [
                    "35"
                ]
            },
            {
                "time": "1616284800",
                "formattedTime": "Mar 21 – 27, 2021",
                "formattedAxisTime": "Mar 21, 2021",
                "value": [
                    38
                ],
                "hasData": [
                    true
                ],
                "formattedValue": [
                    "38"
                ]
            },
            {
                "time": "1616889600",
                "formattedTime": "Mar 28 – Apr 3, 2021",
                "formattedAxisTime": "Mar 28, 2021",
                "value": [
                    31
                ],
                "hasData": [
                    true
                ],
                "formattedValue": [
                    "31"
                ]
            },
            {
                "time": "1617494400",
                "formattedTime": "Apr 4 – 10, 2021",
                "formattedAxisTime": "Apr 4, 2021",
                "value": [
                    29
                ],
                "hasData": [
                    true
                ],
                "formattedValue": [
                    "29"
                ]
            },
            {
                "time": "1618099200",
                "formattedTime": "Apr 11 – 17, 2021",
                "formattedAxisTime": "Apr 11, 2021",
                "value": [
                    27
                ],
                "hasData": [
                    true
                ],
                "formattedValue": [
                    "27"
                ]
            },
            {
                "time": "1618704000",
                "formattedTime": "Apr 18 – 24, 2021",
                "formattedAxisTime": "Apr 18, 2021",
                "value": [
                    34
                ],
                "hasData": [
                    true
                ],
                "formattedValue": [
                    "34"
                ]
            },
            {
                "time": "1619308800",
                "formattedTime": "Apr 25 – May 1, 2021",
                "formattedAxisTime": "Apr 25, 2021",
                "value": [
                    38
                ],
                "hasData": [
                    true
                ],
                "formattedValue": [
                    "38"
                ]
            },
            {
                "time": "1619913600",
                "formattedTime": "May 2 – 8, 2021",
                "formattedAxisTime": "May 2, 2021",
                "value": [
                    33
                ],
                "hasData": [
                    true
                ],
                "formattedValue": [
                    "33"
                ]
            },
            {
                "time": "1620518400",
                "formattedTime": "May 9 – 15, 2021",
                "formattedAxisTime": "May 9, 2021",
                "value": [
                    35
                ],
                "hasData": [
                    true
                ],
                "formattedValue": [
                    "35"
                ]
            },
            {
                "time": "1621123200",
                "formattedTime": "May 16 – 22, 2021",
                "formattedAxisTime": "May 16, 2021",
                "value": [
                    28
                ],
                "hasData": [
                    true
                ],
                "formattedValue": [
                    "28"
                ]
            },
            {
                "time": "1621728000",
                "formattedTime": "May 23 – 29, 2021",
                "formattedAxisTime": "May 23, 2021",
                "value": [
                    29
                ],
                "hasData": [
                    true
                ],
                "formattedValue": [
                    "29"
                ]
            },
            {
                "time": "1622332800",
                "formattedTime": "May 30 – Jun 5, 2021",
                "formattedAxisTime": "May 30, 2021",
                "value": [
                    32
                ],
                "hasData": [
                    true
                ],
                "formattedValue": [
                    "32"
                ]
            },
            {
                "time": "1622937600",
                "formattedTime": "Jun 6 – 12, 2021",
                "formattedAxisTime": "Jun 6, 2021",
                "value": [
                    29
                ],
                "hasData": [
                    true
                ],
                "formattedValue": [
                    "29"
                ]
            },
            {
                "time": "1623542400",
                "formattedTime": "Jun 13 – 19, 2021",
                "formattedAxisTime": "Jun 13, 2021",
                "value": [
                    30
                ],
                "hasData": [
                    true
                ],
                "formattedValue": [
                    "30"
                ]
            },
            {
                "time": "1624147200",
                "formattedTime": "Jun 20 – 26, 2021",
                "formattedAxisTime": "Jun 20, 2021",
                "value": [
                    29
                ],
                "hasData": [
                    true
                ],
                "formattedValue": [
                    "29"
                ]
            },
            {
                "time": "1624752000",
                "formattedTime": "Jun 27 – Jul 3, 2021",
                "formattedAxisTime": "Jun 27, 2021",
                "value": [
                    29
                ],
                "hasData": [
                    true
                ],
                "formattedValue": [
                    "29"
                ]
            },
            {
                "time": "1625356800",
                "formattedTime": "Jul 4 – 10, 2021",
                "formattedAxisTime": "Jul 4, 2021",
                "value": [
                    37
                ],
                "hasData": [
                    true
                ],
                "formattedValue": [
                    "37"
                ]
            },
            {
                "time": "1625961600",
                "formattedTime": "Jul 11 – 17, 2021",
                "formattedAxisTime": "Jul 11, 2021",
                "value": [
                    38
                ],
                "hasData": [
                    true
                ],
                "formattedValue": [
                    "38"
                ]
            },
            {
                "time": "1626566400",
                "formattedTime": "Jul 18 – 24, 2021",
                "formattedAxisTime": "Jul 18, 2021",
                "value": [
                    41
                ],
                "hasData": [
                    true
                ],
                "formattedValue": [
                    "41"
                ]
            },
            {
                "time": "1627171200",
                "formattedTime": "Jul 25 – 31, 2021",
                "formattedAxisTime": "Jul 25, 2021",
                "value": [
                    60
                ],
                "hasData": [
                    true
                ],
                "formattedValue": [
                    "60"
                ]
            },
            {
                "time": "1627776000",
                "formattedTime": "Aug 1 – 7, 2021",
                "formattedAxisTime": "Aug 1, 2021",
                "value": [
                    53
                ],
                "hasData": [
                    true
                ],
                "formattedValue": [
                    "53"
                ]
            },
            {
                "time": "1628380800",
                "formattedTime": "Aug 8 – 14, 2021",
                "formattedAxisTime": "Aug 8, 2021",
                "value": [
                    55
                ],
                "hasData": [
                    true
                ],
                "formattedValue": [
                    "55"
                ]
            },
            {
                "time": "1628985600",
                "formattedTime": "Aug 15 – 21, 2021",
                "formattedAxisTime": "Aug 15, 2021",
                "value": [
                    56
                ],
                "hasData": [
                    true
                ],
                "formattedValue": [
                    "56"
                ]
            },
            {
                "time": "1629590400",
                "formattedTime": "Aug 22 – 28, 2021",
                "formattedAxisTime": "Aug 22, 2021",
                "value": [
                    61
                ],
                "hasData": [
                    true
                ],
                "formattedValue": [
                    "61"
                ]
            },
            {
                "time": "1630195200",
                "formattedTime": "Aug 29 – Sep 4, 2021",
                "formattedAxisTime": "Aug 29, 2021",
                "value": [
                    84
                ],
                "hasData": [
                    true
                ],
                "formattedValue": [
                    "84"
                ]
            },
            {
                "time": "1630800000",
                "formattedTime": "Sep 5 – 11, 2021",
                "formattedAxisTime": "Sep 5, 2021",
                "value": [
                    100
                ],
                "hasData": [
                    true
                ],
                "formattedValue": [
                    "100"
                ]
            },
            {
                "time": "1631404800",
                "formattedTime": "Sep 12 – 18, 2021",
                "formattedAxisTime": "Sep 12, 2021",
                "value": [
                    88
                ],
                "hasData": [
                    true
                ],
                "formattedValue": [
                    "88"
                ]
            },
            {
                "time": "1632009600",
                "formattedTime": "Sep 19 – 25, 2021",
                "formattedAxisTime": "Sep 19, 2021",
                "value": [
                    83
                ],
                "hasData": [
                    true
                ],
                "formattedValue": [
                    "83"
                ]
            },
            {
                "time": "1632614400",
                "formattedTime": "Sep 26 – Oct 2, 2021",
                "formattedAxisTime": "Sep 26, 2021",
                "value": [
                    74
                ],
                "hasData": [
                    true
                ],
                "formattedValue": [
                    "74"
                ]
            },
            {
                "time": "1633219200",
                "formattedTime": "Oct 3 – 9, 2021",
                "formattedAxisTime": "Oct 3, 2021",
                "value": [
                    75
                ],
                "hasData": [
                    true
                ],
                "formattedValue": [
                    "75"
                ]
            },
            {
                "time": "1633824000",
                "formattedTime": "Oct 10 – 16, 2021",
                "formattedAxisTime": "Oct 10, 2021",
                "value": [
                    76
                ],
                "hasData": [
                    true
                ],
                "formattedValue": [
                    "76"
                ]
            },
            {
                "time": "1634428800",
                "formattedTime": "Oct 17 – 23, 2021",
                "formattedAxisTime": "Oct 17, 2021",
                "value": [
                    75
                ],
                "hasData": [
                    true
                ],
                "formattedValue": [
                    "75"
                ]
            },
            {
                "time": "1635033600",
                "formattedTime": "Oct 24 – 30, 2021",
                "formattedAxisTime": "Oct 24, 2021",
                "value": [
                    74
                ],
                "hasData": [
                    true
                ],
                "formattedValue": [
                    "74"
                ]
            },
            {
                "time": "1635638400",
                "formattedTime": "Oct 31 – Nov 6, 2021",
                "formattedAxisTime": "Oct 31, 2021",
                "value": [
                    70
                ],
                "hasData": [
                    true
                ],
                "formattedValue": [
                    "70"
                ]
            },
            {
                "time": "1636243200",
                "formattedTime": "Nov 7 – 13, 2021",
                "formattedAxisTime": "Nov 7, 2021",
                "value": [
                    74
                ],
                "hasData": [
                    true
                ],
                "formattedValue": [
                    "74"
                ]
            },
            {
                "time": "1636848000",
                "formattedTime": "Nov 14 – 20, 2021",
                "formattedAxisTime": "Nov 14, 2021",
                "value": [
                    72
                ],
                "hasData": [
                    true
                ],
                "formattedValue": [
                    "72"
                ]
            },
            {
                "time": "1637452800",
                "formattedTime": "Nov 21 – 27, 2021",
                "formattedAxisTime": "Nov 21, 2021",
                "value": [
                    88
                ],
                "hasData": [
                    true
                ],
                "formattedValue": [
                    "88"
                ]
            },
            {
                "time": "1638057600",
                "formattedTime": "Nov 28 – Dec 4, 2021",
                "formattedAxisTime": "Nov 28, 2021",
                "value": [
                    77
                ],
                "hasData": [
                    true
                ],
                "formattedValue": [
                    "77"
                ]
            },
            {
                "time": "1638662400",
                "formattedTime": "Dec 5 – 11, 2021",
                "formattedAxisTime": "Dec 5, 2021",
                "value": [
                    70
                ],
                "hasData": [
                    true
                ],
                "formattedValue": [
                    "70"
                ]
            },
            {
                "time": "1639267200",
                "formattedTime": "Dec 12 – 18, 2021",
                "formattedAxisTime": "Dec 12, 2021",
                "value": [
                    66
                ],
                "hasData": [
                    true
                ],
                "formattedValue": [
                    "66"
                ]
            },
            {
                "time": "1639872000",
                "formattedTime": "Dec 19 – 25, 2021",
                "formattedAxisTime": "Dec 19, 2021",
                "value": [
                    59
                ],
                "hasData": [
                    true
                ],
                "formattedValue": [
                    "59"
                ]
            },
            {
                "time": "1640476800",
                "formattedTime": "Dec 26, 2021 – Jan 1, 2022",
                "formattedAxisTime": "Dec 26, 2021",
                "value": [
                    83
                ],
                "hasData": [
                    true
                ],
                "formattedValue": [
                    "83"
                ]
            }
        ],
        "interest_by_subregion": [
            {
                "geoCode": "US-IA",
                "geoName": "Iowa",
                "value": [
                    100
                ],
                "formattedValue": [
                    "100"
                ],
                "maxValueIndex": 0,
                "hasData": [
                    true
                ]
            },
            {
                "geoCode": "US-NE",
                "geoName": "Nebraska",
                "value": [
                    99
                ],
                "formattedValue": [
                    "99"
                ],
                "maxValueIndex": 0,
                "hasData": [
                    true
                ]
            },
            {
                "geoCode": "US-AL",
                "geoName": "Alabama",
                "value": [
                    97
                ],
                "formattedValue": [
                    "97"
                ],
                "maxValueIndex": 0,
                "hasData": [
                    true
                ]
            },
            {
                "geoCode": "US-UT",
                "geoName": "Utah",
                "value": [
                    91
                ],
                "formattedValue": [
                    "91"
                ],
                "maxValueIndex": 0,
                "hasData": [
                    true
                ]
            },
            {
                "geoCode": "US-OK",
                "geoName": "Oklahoma",
                "value": [
                    89
                ],
                "formattedValue": [
                    "89"
                ],
                "maxValueIndex": 0,
                "hasData": [
                    true
                ]
            },
            {
                "geoCode": "US-SD",
                "geoName": "South Dakota",
                "value": [
                    84
                ],
                "formattedValue": [
                    "84"
                ],
                "maxValueIndex": 0,
                "hasData": [
                    true
                ]
            },
            {
                "geoCode": "US-ND",
                "geoName": "North Dakota",
                "value": [
                    81
                ],
                "formattedValue": [
                    "81"
                ],
                "maxValueIndex": 0,
                "hasData": [
                    true
                ]
            },
            {
                "geoCode": "US-WV",
                "geoName": "West Virginia",
                "value": [
                    81
                ],
                "formattedValue": [
                    "81"
                ],
                "maxValueIndex": 0,
                "hasData": [
                    true
                ]
            },
            {
                "geoCode": "US-MS",
                "geoName": "Mississippi",
                "value": [
                    80
                ],
                "formattedValue": [
                    "80"
                ],
                "maxValueIndex": 0,
                "hasData": [
                    true
                ]
            },
            {
                "geoCode": "US-KS",
                "geoName": "Kansas",
                "value": [
                    78
                ],
                "formattedValue": [
                    "78"
                ],
                "maxValueIndex": 0,
                "hasData": [
                    true
                ]
            },
            {
                "geoCode": "US-SC",
                "geoName": "South Carolina",
                "value": [
                    77
                ],
                "formattedValue": [
                    "77"
                ],
                "maxValueIndex": 0,
                "hasData": [
                    true
                ]
            },
            {
                "geoCode": "US-AR",
                "geoName": "Arkansas",
                "value": [
                    77
                ],
                "formattedValue": [
                    "77"
                ],
                "maxValueIndex": 0,
                "hasData": [
                    true
                ]
            },
            {
                "geoCode": "US-OH",
                "geoName": "Ohio",
                "value": [
                    76
                ],
                "formattedValue": [
                    "76"
                ],
                "maxValueIndex": 0,
                "hasData": [
                    true
                ]
            },
            {
                "geoCode": "US-GA",
                "geoName": "Georgia",
                "value": [
                    74
                ],
                "formattedValue": [
                    "74"
                ],
                "maxValueIndex": 0,
                "hasData": [
                    true
                ]
            },
            {
                "geoCode": "US-LA",
                "geoName": "Louisiana",
                "value": [
                    73
                ],
                "formattedValue": [
                    "73"
                ],
                "maxValueIndex": 0,
                "hasData": [
                    true
                ]
            },
            {
                "geoCode": "US-TN",
                "geoName": "Tennessee",
                "value": [
                    72
                ],
                "formattedValue": [
                    "72"
                ],
                "maxValueIndex": 0,
                "hasData": [
                    true
                ]
            },
            {
                "geoCode": "US-VA",
                "geoName": "Virginia",
                "value": [
                    71
                ],
                "formattedValue": [
                    "71"
                ],
                "maxValueIndex": 0,
                "hasData": [
                    true
                ]
            },
            {
                "geoCode": "US-MD",
                "geoName": "Maryland",
                "value": [
                    70
                ],
                "formattedValue": [
                    "70"
                ],
                "maxValueIndex": 0,
                "hasData": [
                    true
                ]
            },
            {
                "geoCode": "US-DC",
                "geoName": "District of Columbia",
                "value": [
                    68
                ],
                "formattedValue": [
                    "68"
                ],
                "maxValueIndex": 0,
                "hasData": [
                    true
                ]
            },
            {
                "geoCode": "US-KY",
                "geoName": "Kentucky",
                "value": [
                    67
                ],
                "formattedValue": [
                    "67"
                ],
                "maxValueIndex": 0,
                "hasData": [
                    true
                ]
            },
            {
                "geoCode": "US-TX",
                "geoName": "Texas",
                "value": [
                    66
                ],
                "formattedValue": [
                    "66"
                ],
                "maxValueIndex": 0,
                "hasData": [
                    true
                ]
            },
            {
                "geoCode": "US-PA",
                "geoName": "Pennsylvania",
                "value": [
                    66
                ],
                "formattedValue": [
                    "66"
                ],
                "maxValueIndex": 0,
                "hasData": [
                    true
                ]
            },
            {
                "geoCode": "US-NC",
                "geoName": "North Carolina",
                "value": [
                    66
                ],
                "formattedValue": [
                    "66"
                ],
                "maxValueIndex": 0,
                "hasData": [
                    true
                ]
            },
            {
                "geoCode": "US-MO",
                "geoName": "Missouri",
                "value": [
                    66
                ],
                "formattedValue": [
                    "66"
                ],
                "maxValueIndex": 0,
                "hasData": [
                    true
                ]
            },
            {
                "geoCode": "US-IN",
                "geoName": "Indiana",
                "value": [
                    66
                ],
                "formattedValue": [
                    "66"
                ],
                "maxValueIndex": 0,
                "hasData": [
                    true
                ]
            },
            {
                "geoCode": "US-AZ",
                "geoName": "Arizona",
                "value": [
                    64
                ],
                "formattedValue": [
                    "64"
                ],
                "maxValueIndex": 0,
                "hasData": [
                    true
                ]
            },
            {
                "geoCode": "US-MI",
                "geoName": "Michigan",
                "value": [
                    64
                ],
                "formattedValue": [
                    "64"
                ],
                "maxValueIndex": 0,
                "hasData": [
                    true
                ]
            },
            {
                "geoCode": "US-CT",
                "geoName": "Connecticut",
                "value": [
                    63
                ],
                "formattedValue": [
                    "63"
                ],
                "maxValueIndex": 0,
                "hasData": [
                    true
                ]
            },
            {
                "geoCode": "US-FL",
                "geoName": "Florida",
                "value": [
                    63
                ],
                "formattedValue": [
                    "63"
                ],
                "maxValueIndex": 0,
                "hasData": [
                    true
                ]
            },
            {
                "geoCode": "US-WI",
                "geoName": "Wisconsin",
                "value": [
                    63
                ],
                "formattedValue": [
                    "63"
                ],
                "maxValueIndex": 0,
                "hasData": [
                    true
                ]
            },
            {
                "geoCode": "US-NV",
                "geoName": "Nevada",
                "value": [
                    63
                ],
                "formattedValue": [
                    "63"
                ],
                "maxValueIndex": 0,
                "hasData": [
                    true
                ]
            },
            {
                "geoCode": "US-MA",
                "geoName": "Massachusetts",
                "value": [
                    62
                ],
                "formattedValue": [
                    "62"
                ],
                "maxValueIndex": 0,
                "hasData": [
                    true
                ]
            },
            {
                "geoCode": "US-MN",
                "geoName": "Minnesota",
                "value": [
                    61
                ],
                "formattedValue": [
                    "61"
                ],
                "maxValueIndex": 0,
                "hasData": [
                    true
                ]
            },
            {
                "geoCode": "US-NM",
                "geoName": "New Mexico",
                "value": [
                    61
                ],
                "formattedValue": [
                    "61"
                ],
                "maxValueIndex": 0,
                "hasData": [
                    true
                ]
            },
            {
                "geoCode": "US-CO",
                "geoName": "Colorado",
                "value": [
                    60
                ],
                "formattedValue": [
                    "60"
                ],
                "maxValueIndex": 0,
                "hasData": [
                    true
                ]
            },
            {
                "geoCode": "US-IL",
                "geoName": "Illinois",
                "value": [
                    60
                ],
                "formattedValue": [
                    "60"
                ],
                "maxValueIndex": 0,
                "hasData": [
                    true
                ]
            },
            {
                "geoCode": "US-DE",
                "geoName": "Delaware",
                "value": [
                    60
                ],
                "formattedValue": [
                    "60"
                ],
                "maxValueIndex": 0,
                "hasData": [
                    true
                ]
            },
            {
                "geoCode": "US-OR",
                "geoName": "Oregon",
                "value": [
                    59
                ],
                "formattedValue": [
                    "59"
                ],
                "maxValueIndex": 0,
                "hasData": [
                    true
                ]
            },
            {
                "geoCode": "US-NJ",
                "geoName": "New Jersey",
                "value": [
                    58
                ],
                "formattedValue": [
                    "58"
                ],
                "maxValueIndex": 0,
                "hasData": [
                    true
                ]
            },
            {
                "geoCode": "US-WY",
                "geoName": "Wyoming",
                "value": [
                    58
                ],
                "formattedValue": [
                    "58"
                ],
                "maxValueIndex": 0,
                "hasData": [
                    true
                ]
            },
            {
                "geoCode": "US-VT",
                "geoName": "Vermont",
                "value": [
                    57
                ],
                "formattedValue": [
                    "57"
                ],
                "maxValueIndex": 0,
                "hasData": [
                    true
                ]
            },
            {
                "geoCode": "US-ID",
                "geoName": "Idaho",
                "value": [
                    57
                ],
                "formattedValue": [
                    "57"
                ],
                "maxValueIndex": 0,
                "hasData": [
                    true
                ]
            },
            {
                "geoCode": "US-RI",
                "geoName": "Rhode Island",
                "value": [
                    55
                ],
                "formattedValue": [
                    "55"
                ],
                "maxValueIndex": 0,
                "hasData": [
                    true
                ]
            },
            {
                "geoCode": "US-HI",
                "geoName": "Hawaii",
                "value": [
                    55
                ],
                "formattedValue": [
                    "55"
                ],
                "maxValueIndex": 0,
                "hasData": [
                    true
                ]
            },
            {
                "geoCode": "US-WA",
                "geoName": "Washington",
                "value": [
                    54
                ],
                "formattedValue": [
                    "54"
                ],
                "maxValueIndex": 0,
                "hasData": [
                    true
                ]
            },
            {
                "geoCode": "US-NH",
                "geoName": "New Hampshire",
                "value": [
                    54
                ],
                "formattedValue": [
                    "54"
                ],
                "maxValueIndex": 0,
                "hasData": [
                    true
                ]
            },
            {
                "geoCode": "US-CA",
                "geoName": "California",
                "value": [
                    53
                ],
                "formattedValue": [
                    "53"
                ],
                "maxValueIndex": 0,
                "hasData": [
                    true
                ]
            },
            {
                "geoCode": "US-AK",
                "geoName": "Alaska",
                "value": [
                    51
                ],
                "formattedValue": [
                    "51"
                ],
                "maxValueIndex": 0,
                "hasData": [
                    true
                ]
            },
            {
                "geoCode": "US-ME",
                "geoName": "Maine",
                "value": [
                    49
                ],
                "formattedValue": [
                    "49"
                ],
                "maxValueIndex": 0,
                "hasData": [
                    true
                ]
            },
            {
                "geoCode": "US-NY",
                "geoName": "New York",
                "value": [
                    46
                ],
                "formattedValue": [
                    "46"
                ],
                "maxValueIndex": 0,
                "hasData": [
                    true
                ]
            },
            {
                "geoCode": "US-MT",
                "geoName": "Montana",
                "value": [
                    45
                ],
                "formattedValue": [
                    "45"
                ],
                "maxValueIndex": 0,
                "hasData": [
                    true
                ]
            }
        ],
        "related_topics": {
            "top": [
                {
                    "topic": {
                        "mid": "/m/0jm_",
                        "title": "American football",
                        "type": "Sports"
                    },
                    "value": 100,
                    "formattedValue": "100",
                    "hasData": true,
                    "link": "/trends/explore?q=/m/0jm_&date=2021-01-01+2022-01-01&geo=US"
                },
                {
                    "topic": {
                        "mid": "/m/02vx4",
                        "title": "Football",
                        "type": "Sports"
                    },
                    "value": 41,
                    "formattedValue": "41",
                    "hasData": true,
                    "link": "/trends/explore?q=/m/02vx4&date=2021-01-01+2022-01-01&geo=US"
                },
                {
                    "topic": {
                        "mid": "/m/01__t",
                        "title": "Canadian football",
                        "type": "Sports"
                    },
                    "value": 27,
                    "formattedValue": "27",
                    "hasData": true,
                    "link": "/trends/explore?q=/m/01__t&date=2021-01-01+2022-01-01&geo=US"
                },
                {
                    "topic": {
                        "mid": "/m/09c7w0",
                        "title": "United States",
                        "type": "Country in North America"
                    },
                    "value": 17,
                    "formattedValue": "17",
                    "hasData": true,
                    "link": "/trends/explore?q=/m/09c7w0&date=2021-01-01+2022-01-01&geo=US"
                },
                {
                    "topic": {
                        "mid": "/m/02vzx9",
                        "title": "Player",
                        "type": "Topic"
                    },
                    "value": 11,
                    "formattedValue": "11",
                    "hasData": true,
                    "link": "/trends/explore?q=/m/02vzx9&date=2021-01-01+2022-01-01&geo=US"
                },
                {
                    "topic": {
                        "mid": "/g/11ghlvspk0",
                        "title": "All American",
                        "type": "Drama series"
                    },
                    "value": 8,
                    "formattedValue": "8",
                    "hasData": true,
                    "link": "/trends/explore?q=/g/11ghlvspk0&date=2021-01-01+2022-01-01&geo=US"
                },
                {
                    "topic": {
                        "mid": "/m/011l78",
                        "title": "Team",
                        "type": "Topic"
                    },
                    "value": 8,
                    "formattedValue": "8",
                    "hasData": true,
                    "link": "/trends/explore?q=/m/011l78&date=2021-01-01+2022-01-01&geo=US"
                },
                {
                    "topic": {
                        "mid": "/m/04q7gbh",
                        "title": "Americans",
                        "type": "People"
                    },
                    "value": 7,
                    "formattedValue": "7",
                    "hasData": true,
                    "link": "/trends/explore?q=/m/04q7gbh&date=2021-01-01+2022-01-01&geo=US"
                },
                {
                    "topic": {
                        "mid": "/m/01zff",
                        "title": "College Football",
                        "type": "Sports league"
                    },
                    "value": 6,
                    "formattedValue": "6",
                    "hasData": true,
                    "link": "/trends/explore?q=/m/01zff&date=2021-01-01+2022-01-01&geo=US"
                },
                {
                    "topic": {
                        "mid": "/m/032vgc",
                        "title": "Sports league",
                        "type": "Topic"
                    },
                    "value": 5,
                    "formattedValue": "5",
                    "hasData": true,
                    "link": "/trends/explore?q=/m/032vgc&date=2021-01-01+2022-01-01&geo=US"
                },
                {
                    "topic": {
                        "mid": "/m/0gl2ny2",
                        "title": "Football player",
                        "type": "Topic"
                    },
                    "value": 5,
                    "formattedValue": "5",
                    "hasData": true,
                    "link": "/trends/explore?q=/m/0gl2ny2&date=2021-01-01+2022-01-01&geo=US"
                },
                {
                    "topic": {
                        "mid": "/m/0z07",
                        "title": "American Airlines",
                        "type": "Airline"
                    },
                    "value": 5,
                    "formattedValue": "5",
                    "hasData": true,
                    "link": "/trends/explore?q=/m/0z07&date=2021-01-01+2022-01-01&geo=US"
                },
                {
                    "topic": {
                        "mid": "/m/0710c2",
                        "title": "College Football All-America Team",
                        "type": "Topic"
                    },
                    "value": 4,
                    "formattedValue": "4",
                    "hasData": true,
                    "link": "/trends/explore?q=/m/0710c2&date=2021-01-01+2022-01-01&geo=US"
                },
                {
                    "topic": {
                        "mid": "/m/036w8x",
                        "title": "All-America",
                        "type": "Topic"
                    },
                    "value": 4,
                    "formattedValue": "4",
                    "hasData": true,
                    "link": "/trends/explore?q=/m/036w8x&date=2021-01-01+2022-01-01&geo=US"
                },
                {
                    "topic": {
                        "mid": "/m/0rpgt_w",
                        "title": "American Athletic Conference",
                        "type": "Athletic conference"
                    },
                    "value": 2,
                    "formattedValue": "2",
                    "hasData": true,
                    "link": "/trends/explore?q=/m/0rpgt_w&date=2021-01-01+2022-01-01&geo=US"
                },
                {
                    "topic": {
                        "mid": "/m/06qhfh",
                        "title": "Athletic conference",
                        "type": "Topic"
                    },
                    "value": 2,
                    "formattedValue": "2",
                    "hasData": true,
                    "link": "/trends/explore?q=/m/06qhfh&date=2021-01-01+2022-01-01&geo=US"
                },
                {
                    "topic": {
                        "mid": "/m/01ns5hb",
                        "title": "American Football",
                        "type": "Band"
                    },
                    "value": 2,
                    "formattedValue": "2",
                    "hasData": true,
                    "link": "/trends/explore?q=/m/01ns5hb&date=2021-01-01+2022-01-01&geo=US"
                },
                {
                    "topic": {
                        "mid": "/m/02y5kn",
                        "title": "Coach",
                        "type": "Sport"
                    },
                    "value": 2,
                    "formattedValue": "2",
                    "hasData": true,
                    "link": "/trends/explore?q=/m/02y5kn&date=2021-01-01+2022-01-01&geo=US"
                },
                {
                    "topic": {
                        "mid": "/m/012hfxch",
                        "title": "NCAA Division I Football Bowl Subdivision",
                        "type": "Division"
                    },
                    "value": 1,
                    "formattedValue": "1",
                    "hasData": true,
                    "link": "/trends/explore?q=/m/012hfxch&date=2021-01-01+2022-01-01&geo=US"
                },
                {
                    "topic": {
                        "mid": "/m/05krk",
                        "title": "The Ohio State University",
                        "type": "Land-grant university in Columbus, Ohio"
                    },
                    "value": 1,
                    "formattedValue": "1",
                    "hasData": true,
                    "link": "/trends/explore?q=/m/05krk&date=2021-01-01+2022-01-01&geo=US"
                },
                {
                    "topic": {
                        "mid": "/g/11j2fmq9r1",
                        "title": "American Underdog: The Kurt Warner Story",
                        "type": "Topic"
                    },
                    "value": 1,
                    "formattedValue": "1",
                    "hasData": true,
                    "link": "/trends/explore?q=/g/11j2fmq9r1&date=2021-01-01+2022-01-01&geo=US"
                },
                {
                    "topic": {
                        "mid": "/m/057xkj_",
                        "title": "Cincinnati Bearcats football",
                        "type": "Football team"
                    },
                    "value": 1,
                    "formattedValue": "1",
                    "hasData": true,
                    "link": "/trends/explore?q=/m/057xkj_&date=2021-01-01+2022-01-01&geo=US"
                },
                {
                    "topic": {
                        "mid": "/m/07kbp5",
                        "title": "Georgia Bulldogs football",
                        "type": "Football team"
                    },
                    "value": 1,
                    "formattedValue": "1",
                    "hasData": true,
                    "link": "/trends/explore?q=/m/07kbp5&date=2021-01-01+2022-01-01&geo=US"
                },
                {
                    "topic": {
                        "mid": "/m/02hvh6f",
                        "title": "Football coach",
                        "type": "Profession"
                    },
                    "value": 0,
                    "formattedValue": "<1",
                    "hasData": true,
                    "link": "/trends/explore?q=/m/02hvh6f&date=2021-01-01+2022-01-01&geo=US"
                }
            ],
            "rising": [
                {
                    "topic": {
                        "mid": "/g/11j2fmq9r1",
                        "title": "American Underdog: The Kurt Warner Story",
                        "type": "Topic"
                    },
                    "value": 60100,
                    "formattedValue": "Breakout",
                    "link": "/trends/explore?q=/g/11j2fmq9r1&date=2021-01-01+2022-01-01&geo=US"
                },
                {
                    "topic": {
                        "mid": "/m/0ggq0m",
                        "title": "Classical music",
                        "type": "Organization type"
                    },
                    "value": 1650,
                    "formattedValue": "+1,650%",
                    "link": "/trends/explore?q=/m/0ggq0m&date=2021-01-01+2022-01-01&geo=US"
                },
                {
                    "topic": {
                        "mid": "/m/01c72t",
                        "title": "Composer",
                        "type": "Topic"
                    },
                    "value": 700,
                    "formattedValue": "+700%",
                    "link": "/trends/explore?q=/m/01c72t&date=2021-01-01+2022-01-01&geo=US"
                },
                {
                    "topic": {
                        "mid": "/g/11ls1c9kn9",
                        "title": "2021 NCAA Division I FBS football season",
                        "type": "Sports league season"
                    },
                    "value": 550,
                    "formattedValue": "+550%",
                    "link": "/trends/explore?q=/g/11ls1c9kn9&date=2021-01-01+2022-01-01&geo=US"
                },
                {
                    "topic": {
                        "mid": "/m/0z07",
                        "title": "American Airlines",
                        "type": "Airline"
                    },
                    "value": 200,
                    "formattedValue": "+200%",
                    "link": "/trends/explore?q=/m/0z07&date=2021-01-01+2022-01-01&geo=US"
                },
                {
                    "topic": {
                        "mid": "/m/036bzt",
                        "title": "Football at the Summer Olympics",
                        "type": "Topic"
                    },
                    "value": 130,
                    "formattedValue": "+130%",
                    "link": "/trends/explore?q=/m/036bzt&date=2021-01-01+2022-01-01&geo=US"
                },
                {
                    "topic": {
                        "mid": "/m/057xkj_",
                        "title": "Cincinnati Bearcats football",
                        "type": "Football team"
                    },
                    "value": 120,
                    "formattedValue": "+120%",
                    "link": "/trends/explore?q=/m/057xkj_&date=2021-01-01+2022-01-01&geo=US"
                },
                {
                    "topic": {
                        "mid": "/m/0ft5vs",
                        "title": "Michigan State Spartans football",
                        "type": "American football team"
                    },
                    "value": 110,
                    "formattedValue": "+110%",
                    "link": "/trends/explore?q=/m/0ft5vs&date=2021-01-01+2022-01-01&geo=US"
                },
                {
                    "topic": {
                        "mid": "/m/02hvh6f",
                        "title": "Football coach",
                        "type": "Profession"
                    },
                    "value": 110,
                    "formattedValue": "+110%",
                    "link": "/trends/explore?q=/m/02hvh6f&date=2021-01-01+2022-01-01&geo=US"
                },
                {
                    "topic": {
                        "mid": "/m/0js17",
                        "title": "All-America Football Conference",
                        "type": "League"
                    },
                    "value": 100,
                    "formattedValue": "+100%",
                    "link": "/trends/explore?q=/m/0js17&date=2021-01-01+2022-01-01&geo=US"
                },
                {
                    "topic": {
                        "mid": "/m/0h8b0",
                        "title": "American League",
                        "type": "League"
                    },
                    "value": 100,
                    "formattedValue": "+100%",
                    "link": "/trends/explore?q=/m/0h8b0&date=2021-01-01+2022-01-01&geo=US"
                },
                {
                    "topic": {
                        "mid": "/m/03ttn0",
                        "title": "Iowa Hawkeyes football",
                        "type": "American football team"
                    },
                    "value": 70,
                    "formattedValue": "+70%",
                    "link": "/trends/explore?q=/m/03ttn0&date=2021-01-01+2022-01-01&geo=US"
                },
                {
                    "topic": {
                        "mid": "/m/03d9cxv",
                        "title": "American Pie",
                        "type": "Film series"
                    },
                    "value": 60,
                    "formattedValue": "+60%",
                    "link": "/trends/explore?q=/m/03d9cxv&date=2021-01-01+2022-01-01&geo=US"
                },
                {
                    "topic": {
                        "mid": "/m/0rpgt_w",
                        "title": "American Athletic Conference",
                        "type": "Athletic conference"
                    },
                    "value": 60,
                    "formattedValue": "+60%",
                    "link": "/trends/explore?q=/m/0rpgt_w&date=2021-01-01+2022-01-01&geo=US"
                },
                {
                    "topic": {
                        "mid": "/m/0267d1n",
                        "title": "Thursday Night Football",
                        "type": "TV series"
                    },
                    "value": 60,
                    "formattedValue": "+60%",
                    "link": "/trends/explore?q=/m/0267d1n&date=2021-01-01+2022-01-01&geo=US"
                },
                {
                    "topic": {
                        "mid": "/m/07kbp5",
                        "title": "Georgia Bulldogs football",
                        "type": "Football team"
                    },
                    "value": 50,
                    "formattedValue": "+50%",
                    "link": "/trends/explore?q=/m/07kbp5&date=2021-01-01+2022-01-01&geo=US"
                },
                {
                    "topic": {
                        "mid": "/m/05krk",
                        "title": "The Ohio State University",
                        "type": "Land-grant university in Columbus, Ohio"
                    },
                    "value": 50,
                    "formattedValue": "+50%",
                    "link": "/trends/explore?q=/m/05krk&date=2021-01-01+2022-01-01&geo=US"
                },
                {
                    "topic": {
                        "mid": "/g/11btxmy2_9",
                        "title": "American Athletic Conference Football Championship Game",
                        "type": "Sports league championship"
                    },
                    "value": 50,
                    "formattedValue": "+50%",
                    "link": "/trends/explore?q=/g/11btxmy2_9&date=2021-01-01+2022-01-01&geo=US"
                },
                {
                    "topic": {
                        "mid": "/m/06qhfh",
                        "title": "Athletic conference",
                        "type": "Topic"
                    },
                    "value": 40,
                    "formattedValue": "+40%",
                    "link": "/trends/explore?q=/m/06qhfh&date=2021-01-01+2022-01-01&geo=US"
                }
            ]
        },
        "related_queries": {
            "top": [
                {
                    "query": "all american",
                    "value": 100,
                    "formattedValue": "100",
                    "hasData": true,
                    "link": "/trends/explore?q=all+american&date=2021-01-01+2022-01-01&geo=US"
                },
                {
                    "query": "all american football",
                    "value": 100,
                    "formattedValue": "100",
                    "hasData": true,
                    "link": "/trends/explore?q=all+american+football&date=2021-01-01+2022-01-01&geo=US"
                },
                {
                    "query": "american football team",
                    "value": 45,
                    "formattedValue": "45",
                    "hasData": true,
                    "link": "/trends/explore?q=american+football+team&date=2021-01-01+2022-01-01&geo=US"
                },
                {
                    "query": "college football",
                    "value": 44,
                    "formattedValue": "44",
                    "hasData": true,
                    "link": "/trends/explore?q=college+football&date=2021-01-01+2022-01-01&geo=US"
                },
                {
                    "query": "what is american football",
                    "value": 40,
                    "formattedValue": "40",
                    "hasData": true,
                    "link": "/trends/explore?q=what+is+american+football&date=2021-01-01+2022-01-01&geo=US"
                },
                {
                    "query": "american football player",
                    "value": 35,
                    "formattedValue": "35",
                    "hasData": true,
                    "link": "/trends/explore?q=american+football+player&date=2021-01-01+2022-01-01&geo=US"
                },
                {
                    "query": "nfl football",
                    "value": 33,
                    "formattedValue": "33",
                    "hasData": true,
                    "link": "/trends/explore?q=nfl+football&date=2021-01-01+2022-01-01&geo=US"
                },
                {
                    "query": "american conference football",
                    "value": 31,
                    "formattedValue": "31",
                    "hasData": true,
                    "link": "/trends/explore?q=american+conference+football&date=2021-01-01+2022-01-01&geo=US"
                },
                {
                    "query": "american conference",
                    "value": 31,
                    "formattedValue": "31",
                    "hasData": true,
                    "link": "/trends/explore?q=american+conference&date=2021-01-01+2022-01-01&geo=US"
                },
                {
                    "query": "football players",
                    "value": 30,
                    "formattedValue": "30",
                    "hasData": true,
                    "link": "/trends/explore?q=football+players&date=2021-01-01+2022-01-01&geo=US"
                },
                {
                    "query": "american football players",
                    "value": 30,
                    "formattedValue": "30",
                    "hasData": true,
                    "link": "/trends/explore?q=american+football+players&date=2021-01-01+2022-01-01&geo=US"
                },
                {
                    "query": "american football game",
                    "value": 30,
                    "formattedValue": "30",
                    "hasData": true,
                    "link": "/trends/explore?q=american+football+game&date=2021-01-01+2022-01-01&geo=US"
                },
                {
                    "query": "american football league",
                    "value": 28,
                    "formattedValue": "28",
                    "hasData": true,
                    "link": "/trends/explore?q=american+football+league&date=2021-01-01+2022-01-01&geo=US"
                },
                {
                    "query": "american airlines",
                    "value": 22,
                    "formattedValue": "22",
                    "hasData": true,
                    "link": "/trends/explore?q=american+airlines&date=2021-01-01+2022-01-01&geo=US"
                },
                {
                    "query": "american university football",
                    "value": 16,
                    "formattedValue": "16",
                    "hasData": true,
                    "link": "/trends/explore?q=american+university+football&date=2021-01-01+2022-01-01&geo=US"
                },
                {
                    "query": "american university",
                    "value": 16,
                    "formattedValue": "16",
                    "hasData": true,
                    "link": "/trends/explore?q=american+university&date=2021-01-01+2022-01-01&geo=US"
                },
                {
                    "query": "american football teams",
                    "value": 14,
                    "formattedValue": "14",
                    "hasData": true,
                    "link": "/trends/explore?q=american+football+teams&date=2021-01-01+2022-01-01&geo=US"
                },
                {
                    "query": "soccer",
                    "value": 13,
                    "formattedValue": "13",
                    "hasData": true,
                    "link": "/trends/explore?q=soccer&date=2021-01-01+2022-01-01&geo=US"
                },
                {
                    "query": "all american football team",
                    "value": 12,
                    "formattedValue": "12",
                    "hasData": true,
                    "link": "/trends/explore?q=all+american+football+team&date=2021-01-01+2022-01-01&geo=US"
                },
                {
                    "query": "american football games",
                    "value": 11,
                    "formattedValue": "11",
                    "hasData": true,
                    "link": "/trends/explore?q=american+football+games&date=2021-01-01+2022-01-01&geo=US"
                },
                {
                    "query": "football games",
                    "value": 11,
                    "formattedValue": "11",
                    "hasData": true,
                    "link": "/trends/explore?q=football+games&date=2021-01-01+2022-01-01&geo=US"
                },
                {
                    "query": "basketball",
                    "value": 11,
                    "formattedValue": "11",
                    "hasData": true,
                    "link": "/trends/explore?q=basketball&date=2021-01-01+2022-01-01&geo=US"
                },
                {
                    "query": "american athletic conference",
                    "value": 8,
                    "formattedValue": "8",
                    "hasData": true,
                    "link": "/trends/explore?q=american+athletic+conference&date=2021-01-01+2022-01-01&geo=US"
                },
                {
                    "query": "american athletic conference football",
                    "value": 8,
                    "formattedValue": "8",
                    "hasData": true,
                    "link": "/trends/explore?q=american+athletic+conference+football&date=2021-01-01+2022-01-01&geo=US"
                },
                {
                    "query": "american flag",
                    "value": 8,
                    "formattedValue": "8",
                    "hasData": true,
                    "link": "/trends/explore?q=american+flag&date=2021-01-01+2022-01-01&geo=US"
                }
            ],
            "rising": [
                {
                    "query": "name a classical composer",
                    "value": 13600,
                    "formattedValue": "Breakout",
                    "link": "/trends/explore?q=name+a+classical+composer&date=2021-01-01+2022-01-01&geo=US"
                },
                {
                    "query": "classical composers",
                    "value": 11900,
                    "formattedValue": "Breakout",
                    "link": "/trends/explore?q=classical+composers&date=2021-01-01+2022-01-01&geo=US"
                },
                {
                    "query": "name a pokemon",
                    "value": 10900,
                    "formattedValue": "Breakout",
                    "link": "/trends/explore?q=name+a+pokemon&date=2021-01-01+2022-01-01&geo=US"
                },
                {
                    "query": "name a brand of tv",
                    "value": 10550,
                    "formattedValue": "Breakout",
                    "link": "/trends/explore?q=name+a+brand+of+tv&date=2021-01-01+2022-01-01&geo=US"
                },
                {
                    "query": "name a type of precipitation",
                    "value": 8500,
                    "formattedValue": "Breakout",
                    "link": "/trends/explore?q=name+a+type+of+precipitation&date=2021-01-01+2022-01-01&geo=US"
                },
                {
                    "query": "name an emergency service",
                    "value": 6800,
                    "formattedValue": "Breakout",
                    "link": "/trends/explore?q=name+an+emergency+service&date=2021-01-01+2022-01-01&geo=US"
                },
                {
                    "query": "american rust",
                    "value": 5450,
                    "formattedValue": "Breakout",
                    "link": "/trends/explore?q=american+rust&date=2021-01-01+2022-01-01&geo=US"
                },
                {
                    "query": "american underdog",
                    "value": 4000,
                    "formattedValue": "+4,000%",
                    "link": "/trends/explore?q=american+underdog&date=2021-01-01+2022-01-01&geo=US"
                },
                {
                    "query": "impeachment american crime story",
                    "value": 3300,
                    "formattedValue": "+3,300%",
                    "link": "/trends/explore?q=impeachment+american+crime+story&date=2021-01-01+2022-01-01&geo=US"
                },
                {
                    "query": "kurt warner",
                    "value": 2050,
                    "formattedValue": "+2,050%",
                    "link": "/trends/explore?q=kurt+warner&date=2021-01-01+2022-01-01&geo=US"
                },
                {
                    "query": "name a position in american football",
                    "value": 1250,
                    "formattedValue": "+1,250%",
                    "link": "/trends/explore?q=name+a+position+in+american+football&date=2021-01-01+2022-01-01&geo=US"
                },
                {
                    "query": "college football all american team 2021",
                    "value": 1200,
                    "formattedValue": "+1,200%",
                    "link": "/trends/explore?q=college+football+all+american+team+2021&date=2021-01-01+2022-01-01&geo=US"
                },
                {
                    "query": "ap all american football 2021",
                    "value": 1050,
                    "formattedValue": "+1,050%",
                    "link": "/trends/explore?q=ap+all+american+football+2021&date=2021-01-01+2022-01-01&geo=US"
                },
                {
                    "query": "2021 all american football team",
                    "value": 900,
                    "formattedValue": "+900%",
                    "link": "/trends/explore?q=2021+all+american+football+team&date=2021-01-01+2022-01-01&geo=US"
                },
                {
                    "query": "all american season 4",
                    "value": 850,
                    "formattedValue": "+850%",
                    "link": "/trends/explore?q=all+american+season+4&date=2021-01-01+2022-01-01&geo=US"
                },
                {
                    "query": "jackson state football",
                    "value": 700,
                    "formattedValue": "+700%",
                    "link": "/trends/explore?q=jackson+state+football&date=2021-01-01+2022-01-01&geo=US"
                },
                {
                    "query": "justin fields",
                    "value": 650,
                    "formattedValue": "+650%",
                    "link": "/trends/explore?q=justin+fields&date=2021-01-01+2022-01-01&geo=US"
                },
                {
                    "query": "utsa football",
                    "value": 450,
                    "formattedValue": "+450%",
                    "link": "/trends/explore?q=utsa+football&date=2021-01-01+2022-01-01&geo=US"
                },
                {
                    "query": "what shape is an american football",
                    "value": 450,
                    "formattedValue": "+450%",
                    "link": "/trends/explore?q=what+shape+is+an+american+football&date=2021-01-01+2022-01-01&geo=US"
                },
                {
                    "query": "all american bowl 2021",
                    "value": 350,
                    "formattedValue": "+350%",
                    "link": "/trends/explore?q=all+american+bowl+2021&date=2021-01-01+2022-01-01&geo=US"
                },
                {
                    "query": "american broadcasting company",
                    "value": 300,
                    "formattedValue": "+300%",
                    "link": "/trends/explore?q=american+broadcasting+company&date=2021-01-01+2022-01-01&geo=US"
                },
                {
                    "query": "american airlines flight status",
                    "value": 250,
                    "formattedValue": "+250%",
                    "link": "/trends/explore?q=american+airlines+flight+status&date=2021-01-01+2022-01-01&geo=US"
                },
                {
                    "query": "american football wetten",
                    "value": 200,
                    "formattedValue": "+200%",
                    "link": "/trends/explore?q=american+football+wetten&date=2021-01-01+2022-01-01&geo=US"
                },
                {
                    "query": "american rivers conference football",
                    "value": 200,
                    "formattedValue": "+200%",
                    "link": "/trends/explore?q=american+rivers+conference+football&date=2021-01-01+2022-01-01&geo=US"
                },
                {
                    "query": "american league playoffs",
                    "value": 190,
                    "formattedValue": "+190%",
                    "link": "/trends/explore?q=american+league+playoffs&date=2021-01-01+2022-01-01&geo=US"
                }
            ]
        }
    }
}