Google Scholar Cite API
Google Scholar Cite API allows a user to scrape the citation results of a Googles Scholar Author search.
Engine: google_scholar_cite
API Parameters
Searchdata Parameters
The engine of the API. Needs to be set to google_scholar_cite for this request.
The device used for your google search. Can be set to desktop, mobile or tablet.
Search Query
The citation that you are searching for (the query).
Google Scholar Cite API examples
Example for q:"FDc6HiktlqEJ"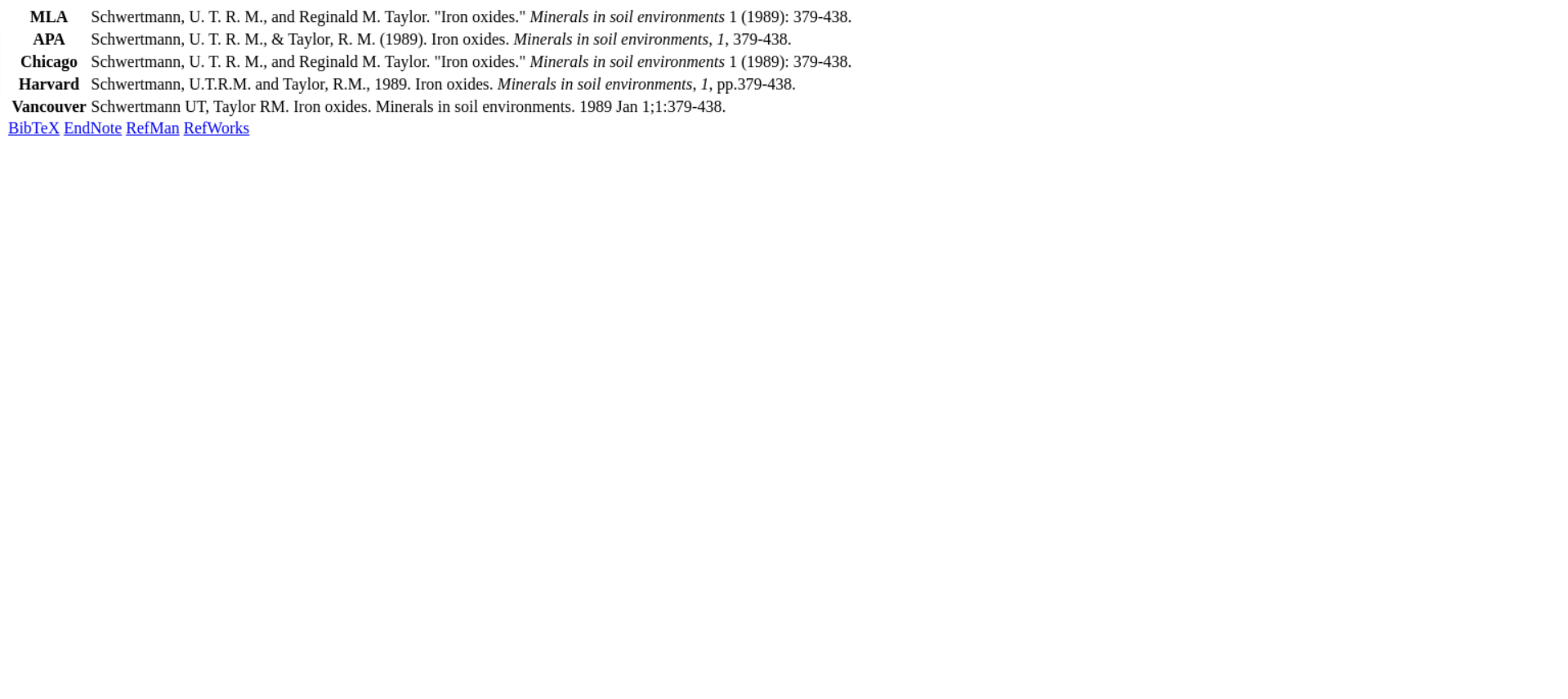 GET
https://api.searchdata.io/v1?engine=google_scholar_cite&api_key=YOUR_API_KEY&q=FDc6HiktlqEJ
Code to integrate
Json Example
{
 "search_parameters": {
  "google_url": "https://scholar.google.com/scholar?q=info:FDc6HiktlqEJ:scholar.google.com&output=cite&sourceid=chrome&ie=UTF-8",
  "engine": "google_scholar_cite",
  "google_domain": "scholar.google.com",
  "device": "desktop",
  "query": "FDc6HiktlqEJ"
 },
 "citations": [
  {
   "title": "MLA",
   "snippet": "Schwertmann, U. T. R. M., and Reginald M. Taylor. \"Iron oxides.\" Minerals in soil environments 1 (1989): 379-438."
  },
  {
   "title": "APA",
   "snippet": "Schwertmann, U. T. R. M., & Taylor, R. M. (1989). Iron oxides. Minerals in soil environments, 1, 379-438."
  },
  {
   "title": "Chicago",
   "snippet": "Schwertmann, U. T. R. M., and Reginald M. Taylor. \"Iron oxides.\" Minerals in soil environments 1 (1989): 379-438."
  },
  {
   "title": "Harvard",
   "snippet": "Schwertmann, U.T.R.M. and Taylor, R.M., 1989. Iron oxides. Minerals in soil environments, 1, pp.379-438."
  },
  {
   "title": "Vancouver",
   "snippet": "Schwertmann UT, Taylor RM. Iron oxides. Minerals in soil environments. 1989 Jan 1;1:379-438."
  }
 ],
 "links": [
  {
   "name": "BibTeX",
   "link": "https://scholar.googleusercontent.com/scholar.bib?q=info:FDc6HiktlqEJ:scholar.google.com/&output=citation&scisdr=CgVZ4FBiGAA:AAGBfm0AAAAAYQvoREOhWGSEQolJxcNMAraGUolUmLw6&scisig=AAGBfm0AAAAAYQvoRP3-8nWDCT-_ICEcbyAKFuUy8_v1&scisf=4&ct=citation&cd=-1&hl=en"
  },
  {
   "name": "EndNote",
   "link": "https://scholar.googleusercontent.com/scholar.enw?q=info:FDc6HiktlqEJ:scholar.google.com/&output=citation&scisdr=CgVZ4FBiGAA:AAGBfm0AAAAAYQvoREOhWGSEQolJxcNMAraGUolUmLw6&scisig=AAGBfm0AAAAAYQvoRP3-8nWDCT-_ICEcbyAKFuUy8_v1&scisf=3&ct=citation&cd=-1&hl=en"
  },
  {
   "name": "RefMan",
   "link": "https://scholar.googleusercontent.com/scholar.ris?q=info:FDc6HiktlqEJ:scholar.google.com/&output=citation&scisdr=CgVZ4FBiGAA:AAGBfm0AAAAAYQvoREOhWGSEQolJxcNMAraGUolUmLw6&scisig=AAGBfm0AAAAAYQvoRP3-8nWDCT-_ICEcbyAKFuUy8_v1&scisf=2&ct=citation&cd=-1&hl=en"
  },
  {
   "name": "RefWorks",
   "link": "https://scholar.googleusercontent.com/scholar.rfw?q=info:FDc6HiktlqEJ:scholar.google.com/&output=citation&scisdr=CgVZ4FBiGAA:AAGBfm0AAAAAYQvoREOhWGSEQolJxcNMAraGUolUmLw6&scisig=AAGBfm0AAAAAYQvoRP3-8nWDCT-_ICEcbyAKFuUy8_v1&scisf=1&ct=citation&cd=-1&hl=en"
  }
 ]
}