Google Jobs API
Google Jobs API allows you to scrape results from a Google Jobs search.
Engine: google_jobs
API Parameters
Searchdata Parameters
The engine of the API. Needs to be set to google_jobs for this request.
The device used for your search. Can be set to desktop, mobile or tablet.
Search Query
The terms that you are searching for (the query).
Geographic Location
Defines where do you want the search to originate from. A list of all the geotargetting locations can be found here
The google encoded location that you want to use for your search.
Localization
Represents the domain from google that you want to use for your search.
Pagination
The offset of the google search results. Represents the number of results that you want to skip.
Google Jobs API examples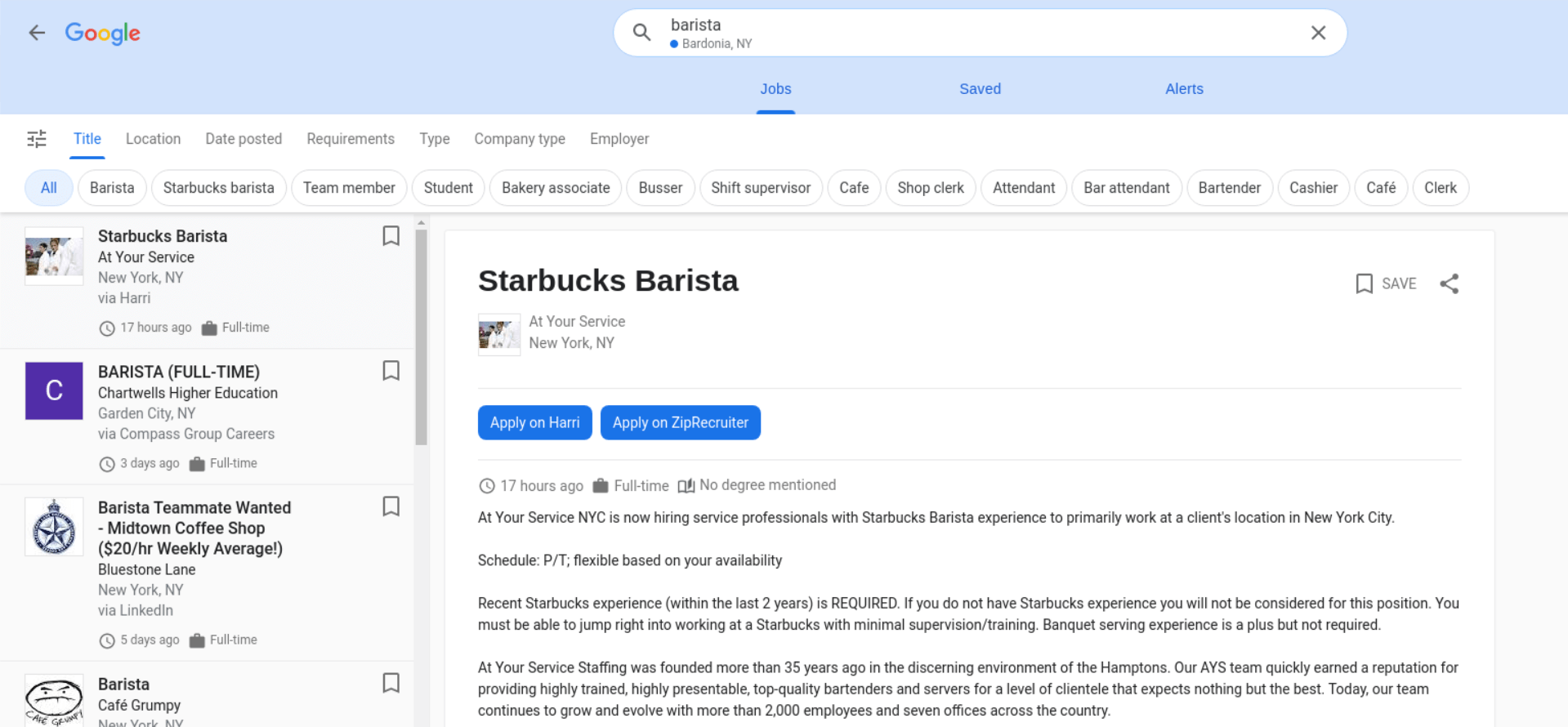 GET
https://api.searchdata.io/v1?engine=google_jobs&api_key=YOUR_API_KEY&q=barista
Code to integrate
Json Example
{
  "search_parameters": {
    "google_jobs_url": "https://www.google.com/search?q=barista&ibp=htl;jobs&hl=en&sourceid=chrome&ie=UTF-8",
    "engine": "google_jobs",
    "google_domain": "google.com",
    "device": "desktop",
    "query": "barista"
  },
  "search_information": {
    "organic_results_state": "Results for exact spelling",
    "total_results": null,
    "time_taken_displayed": null,
    "query_displayed": null
  },
  "google_jobs_results": [
    {
      "title": "Barista",
      "company_name": "Starbucks",
      "location": "New City, NY",
      "via": "via Snagajob",
      "description": "Job Description\n\nBENEFITS\n\nBenefits-eligible partners (employees working 20 or more hours a week) can get a wide range of perks, benefits and assistance.\n\nOne of the amazing benefits is the Starbucks College Achievement Program (SCAP):\n\nIn a first of its kind collaboration with Arizona State University, we're offering all part- and full-time benefits eligible U.S. partners full tuition coverage to earn a bachelor's degree. Partners receive support from a dedicated team of coaches and advisors, 24/7 tutoring on a variety of subjects, and a choice of more than 70 undergraduate degrees through ASU's research driven and top-ranked program, delivered online.\n\nThe Starbucks College Achievement Plan is just one way we're committed to the success of our partners. From growing as a person, as a partner, in your career and in your community – the opportunity is here for you to shape and make your own.\n\nJOB DESCRIPTION: BARISTA\n\nResponsibilities and essential job functions include but are not... limited to the following:\n• Acts with integrity, honesty and knowledge that promote the culture, values and mission of Starbucks.\n• Maintains a calm demeanor during periods of high volume or unusual events to keep store operating to standard and to set a positive example for the shift team.\n• Anticipates customer and store needs by constantly evaluating environment and customers for cues.\n• Communicates information to manager so that the team can respond as necessary to create the Third Place environment during each shift.\n• Assists with new partner training by positively reinforcing successful performance and giving respectful and encouraging coaching as needed.\n• Contributes to positive team environment by recognizing alarms or changes in partner morale and performance and communicating them to the store manager.\n• Delivers legendary customer service to all customers by acting with a customer comes first attitude and connecting with the customer. Discovers and responds to customer needs.\n• Follows Starbucks operational policies and procedures, including those for cash handling and safety and security, to ensure the safety of all partners during each shift.\n• Maintains a clean and organized workspace so that partners can locate resources and product as needed.\n• Provides quality beverages, whole bean, and food products consistently for all customers by adhering to all recipe and presentation standards. Follows health, safety and sanitation guidelines for all products.\n• Recognizes and reinforces individual and team accomplishments by using existing organizational methods.\n• Maintains regular and punctual attendance\n\nJob will be at your nearest Starbucks location\n\nSKILLS\n• Ability to learn quickly\n• Ability to understand and carry out oral and written instructions and request clarification when needed\n• Strong interpersonal skills\n• Ability to work as part of a team\n• Ability to build relationships\n\nQUALIFICATIONS\n\nNo previous experience required.\n• Maintain regular and consistent attendance and punctuality, with or without reasonable accommodation\n• Available to work flexible hours that may include early mornings, evenings, weekends, nights and/or holidays\n• Meet store operating policies and standards, including providing quality beverages and food products, cash handling and store safety and security, with or without reasonable accommodation\n• Engage with and understand our customers, including discovering and responding to customer needs through clear and pleasant communication\n• Comply with a dress code that prohibits displaying tattoos, piercings in excess of two per ear, and unnatural hair colors, such as blue or pink\n• Prepare food and beverages to standard recipes or customized for customers, including recipe changes such as temperature, quantity of ingredients or substituted ingredients\n• Available to perform many different tasks within the store during each shift\n\nABOUT US\n\nWe're not just passionate purveyors of coffee, but everything else that goes with a full and rewarding coffeehouse experience. We also offer a selection of premium teas, fine pastries and other delectable treats to please the taste buds. And the music you hear in store is chosen for its artistry and appeal.\n\nSCAP - Starbucks College Achievement Program\n\nWe know more than 70% of our U.S. partners (employees) are students or aspiring students. We want to help. Supporting our partners' ambitions is the very best investment Starbucks can make. In a first of its kind collaboration with Arizona State University, we're offering all part- and full-time benefits eligible U.S. partners full tuition coverage for every year of college to earn a bachelor's degree. Partners receive support from a dedicated team of coaches and advisors, 24/7 tutoring on a variety of subjects, and a choice of more than 50 undergraduate degrees through ASU's research driven and top-ranked program, delivered online.\n\nThe Starbucks College Achievement Plan is just one way we're committed to the success of our partners. From growing as a person, as a partner, in your career and in your community – the opportunity is here for you to shape and make your own. That's why when you launch your career inspired by human connection and the opportunity to become your personal best, the possibilities are endless.\n\nFUN FACT\n\nWe proudly hire veterans, opportunity youth, and invest in education. Lots of opportunities to grow with Starbucks, from a barista to a manager",
      "extensions": [
        "Over 1 month ago",
        "14 min",
        "Full-time"
      ],
      "job_id": "eyJqb2JfdGl0bGUiOiJCYXJpc3RhIiwiY29tcGFueV9uYW1lIjoiU3RhcmJ1Y2tzIiwiaHRpZG9jaWQiOiJ4WkppWW1sd000Z1FNaHMwQUFBQUFBPT0iLCJxIjoiYmFyaXN0YSJ9",
      "thumbnail": "https://encrypted-tbn0.gstatic.com/images?q=tbn:ANd9GcQgD10HlGCR_tjGLX1AxTaOgTJS-TTXwOkahgCR&s=0"
    },
    {
      "title": "Barista",
      "company_name": "Starbucks",
      "location": "New City, NY",
      "via": "via Snagajob",
      "description": "Job Description\n\nBENEFITS\n\nBenefits-eligible partners (employees working 20 or more hours a week) can get a wide range of perks, benefits and assistance.\n\nOne of the amazing benefits is the Starbucks College Achievement Program (SCAP):\n\nIn a first of its kind collaboration with Arizona State University, we're offering all part- and full-time benefits eligible U.S. partners full tuition coverage to earn a bachelor's degree. Partners receive support from a dedicated team of coaches and advisors, 24/7 tutoring on a variety of subjects, and a choice of more than 70 undergraduate degrees through ASU's research driven and top-ranked program, delivered online.\n\nThe Starbucks College Achievement Plan is just one way we're committed to the success of our partners. From growing as a person, as a partner, in your career and in your community – the opportunity is here for you to shape and make your own.\n\nJOB DESCRIPTION: BARISTA\n\nResponsibilities and essential job functions include but are not... limited to the following:\n• Acts with integrity, honesty and knowledge that promote the culture, values and mission of Starbucks.\n• Maintains a calm demeanor during periods of high volume or unusual events to keep store operating to standard and to set a positive example for the shift team.\n• Anticipates customer and store needs by constantly evaluating environment and customers for cues.\n• Communicates information to manager so that the team can respond as necessary to create the Third Place environment during each shift.\n• Assists with new partner training by positively reinforcing successful performance and giving respectful and encouraging coaching as needed.\n• Contributes to positive team environment by recognizing alarms or changes in partner morale and performance and communicating them to the store manager.\n• Delivers legendary customer service to all customers by acting with a customer comes first attitude and connecting with the customer. Discovers and responds to customer needs.\n• Follows Starbucks operational policies and procedures, including those for cash handling and safety and security, to ensure the safety of all partners during each shift.\n• Maintains a clean and organized workspace so that partners can locate resources and product as needed.\n• Provides quality beverages, whole bean, and food products consistently for all customers by adhering to all recipe and presentation standards. Follows health, safety and sanitation guidelines for all products.\n• Recognizes and reinforces individual and team accomplishments by using existing organizational methods.\n• Maintains regular and punctual attendance\n\nJob will be at your nearest Starbucks location\n\nSKILLS\n• Ability to learn quickly\n• Ability to understand and carry out oral and written instructions and request clarification when needed\n• Strong interpersonal skills\n• Ability to work as part of a team\n• Ability to build relationships\n\nQUALIFICATIONS\n\nNo previous experience required.\n• Maintain regular and consistent attendance and punctuality, with or without reasonable accommodation\n• Available to work flexible hours that may include early mornings, evenings, weekends, nights and/or holidays\n• Meet store operating policies and standards, including providing quality beverages and food products, cash handling and store safety and security, with or without reasonable accommodation\n• Engage with and understand our customers, including discovering and responding to customer needs through clear and pleasant communication\n• Comply with a dress code that prohibits displaying tattoos, piercings in excess of two per ear, and unnatural hair colors, such as blue or pink\n• Prepare food and beverages to standard recipes or customized for customers, including recipe changes such as temperature, quantity of ingredients or substituted ingredients\n• Available to perform many different tasks within the store during each shift\n\nABOUT US\n\nWe're not just passionate purveyors of coffee, but everything else that goes with a full and rewarding coffeehouse experience. We also offer a selection of premium teas, fine pastries and other delectable treats to please the taste buds. And the music you hear in store is chosen for its artistry and appeal.\n\nSCAP - Starbucks College Achievement Program\n\nWe know more than 70% of our U.S. partners (employees) are students or aspiring students. We want to help. Supporting our partners' ambitions is the very best investment Starbucks can make. In a first of its kind collaboration with Arizona State University, we're offering all part- and full-time benefits eligible U.S. partners full tuition coverage for every year of college to earn a bachelor's degree. Partners receive support from a dedicated team of coaches and advisors, 24/7 tutoring on a variety of subjects, and a choice of more than 50 undergraduate degrees through ASU's research driven and top-ranked program, delivered online.\n\nThe Starbucks College Achievement Plan is just one way we're committed to the success of our partners. From growing as a person, as a partner, in your career and in your community – the opportunity is here for you to shape and make your own. That's why when you launch your career inspired by human connection and the opportunity to become your personal best, the possibilities are endless.\n\nFUN FACT\n\nWe proudly hire veterans, opportunity youth, and invest in education. Lots of opportunities to grow with Starbucks, from a barista to a manager",
      "extensions": [
        "Over 1 month ago",
        "14 min",
        "Full-time"
      ],
      "job_id": "eyJqb2JfdGl0bGUiOiJCYXJpc3RhIiwiY29tcGFueV9uYW1lIjoiU3RhcmJ1Y2tzIiwiaHRpZG9jaWQiOiJ4WkppWW1sd000Z1FNaHMwQUFBQUFBPT0iLCJxIjoiYmFyaXN0YSJ9",
      "thumbnail": "https://encrypted-tbn0.gstatic.com/images?q=tbn:ANd9GcQgD10HlGCR_tjGLX1AxTaOgTJS-TTXwOkahgCR&s=0"
    },
    {
      "title": "Barista",
      "company_name": "Starbucks",
      "location": "New City, NY",
      "via": "via Snagajob",
      "description": "Job Description\n\nBENEFITS\n\nBenefits-eligible partners (employees working 20 or more hours a week) can get a wide range of perks, benefits and assistance.\n\nOne of the amazing benefits is the Starbucks College Achievement Program (SCAP):\n\nIn a first of its kind collaboration with Arizona State University, we're offering all part- and full-time benefits eligible U.S. partners full tuition coverage to earn a bachelor's degree. Partners receive support from a dedicated team of coaches and advisors, 24/7 tutoring on a variety of subjects, and a choice of more than 70 undergraduate degrees through ASU's research driven and top-ranked program, delivered online.\n\nThe Starbucks College Achievement Plan is just one way we're committed to the success of our partners. From growing as a person, as a partner, in your career and in your community – the opportunity is here for you to shape and make your own.\n\nJOB DESCRIPTION: BARISTA\n\nResponsibilities and essential job functions include but are not... limited to the following:\n• Acts with integrity, honesty and knowledge that promote the culture, values and mission of Starbucks.\n• Maintains a calm demeanor during periods of high volume or unusual events to keep store operating to standard and to set a positive example for the shift team.\n• Anticipates customer and store needs by constantly evaluating environment and customers for cues.\n• Communicates information to manager so that the team can respond as necessary to create the Third Place environment during each shift.\n• Assists with new partner training by positively reinforcing successful performance and giving respectful and encouraging coaching as needed.\n• Contributes to positive team environment by recognizing alarms or changes in partner morale and performance and communicating them to the store manager.\n• Delivers legendary customer service to all customers by acting with a customer comes first attitude and connecting with the customer. Discovers and responds to customer needs.\n• Follows Starbucks operational policies and procedures, including those for cash handling and safety and security, to ensure the safety of all partners during each shift.\n• Maintains a clean and organized workspace so that partners can locate resources and product as needed.\n• Provides quality beverages, whole bean, and food products consistently for all customers by adhering to all recipe and presentation standards. Follows health, safety and sanitation guidelines for all products.\n• Recognizes and reinforces individual and team accomplishments by using existing organizational methods.\n• Maintains regular and punctual attendance\n\nJob will be at your nearest Starbucks location\n\nSKILLS\n• Ability to learn quickly\n• Ability to understand and carry out oral and written instructions and request clarification when needed\n• Strong interpersonal skills\n• Ability to work as part of a team\n• Ability to build relationships\n\nQUALIFICATIONS\n\nNo previous experience required.\n• Maintain regular and consistent attendance and punctuality, with or without reasonable accommodation\n• Available to work flexible hours that may include early mornings, evenings, weekends, nights and/or holidays\n• Meet store operating policies and standards, including providing quality beverages and food products, cash handling and store safety and security, with or without reasonable accommodation\n• Engage with and understand our customers, including discovering and responding to customer needs through clear and pleasant communication\n• Comply with a dress code that prohibits displaying tattoos, piercings in excess of two per ear, and unnatural hair colors, such as blue or pink\n• Prepare food and beverages to standard recipes or customized for customers, including recipe changes such as temperature, quantity of ingredients or substituted ingredients\n• Available to perform many different tasks within the store during each shift\n\nABOUT US\n\nWe're not just passionate purveyors of coffee, but everything else that goes with a full and rewarding coffeehouse experience. We also offer a selection of premium teas, fine pastries and other delectable treats to please the taste buds. And the music you hear in store is chosen for its artistry and appeal.\n\nSCAP - Starbucks College Achievement Program\n\nWe know more than 70% of our U.S. partners (employees) are students or aspiring students. We want to help. Supporting our partners' ambitions is the very best investment Starbucks can make. In a first of its kind collaboration with Arizona State University, we're offering all part- and full-time benefits eligible U.S. partners full tuition coverage for every year of college to earn a bachelor's degree. Partners receive support from a dedicated team of coaches and advisors, 24/7 tutoring on a variety of subjects, and a choice of more than 50 undergraduate degrees through ASU's research driven and top-ranked program, delivered online.\n\nThe Starbucks College Achievement Plan is just one way we're committed to the success of our partners. From growing as a person, as a partner, in your career and in your community – the opportunity is here for you to shape and make your own. That's why when you launch your career inspired by human connection and the opportunity to become your personal best, the possibilities are endless.\n\nFUN FACT\n\nWe proudly hire veterans, opportunity youth, and invest in education. Lots of opportunities to grow with Starbucks, from a barista to a manager",
      "extensions": [
        "Over 1 month ago",
        "14 min",
        "Full-time"
      ],
      "job_id": "eyJqb2JfdGl0bGUiOiJCYXJpc3RhIiwiY29tcGFueV9uYW1lIjoiU3RhcmJ1Y2tzIiwiaHRpZG9jaWQiOiJ4WkppWW1sd000Z1FNaHMwQUFBQUFBPT0iLCJxIjoiYmFyaXN0YSJ9",
      "thumbnail": "https://encrypted-tbn0.gstatic.com/images?q=tbn:ANd9GcQgD10HlGCR_tjGLX1AxTaOgTJS-TTXwOkahgCR&s=0"
    },
    {
      "title": "Barista",
      "company_name": "Starbucks",
      "location": "New City, NY",
      "via": "via Snagajob",
      "description": "Job Description\n\nBENEFITS\n\nBenefits-eligible partners (employees working 20 or more hours a week) can get a wide range of perks, benefits and assistance.\n\nOne of the amazing benefits is the Starbucks College Achievement Program (SCAP):\n\nIn a first of its kind collaboration with Arizona State University, we're offering all part- and full-time benefits eligible U.S. partners full tuition coverage to earn a bachelor's degree. Partners receive support from a dedicated team of coaches and advisors, 24/7 tutoring on a variety of subjects, and a choice of more than 70 undergraduate degrees through ASU's research driven and top-ranked program, delivered online.\n\nThe Starbucks College Achievement Plan is just one way we're committed to the success of our partners. From growing as a person, as a partner, in your career and in your community – the opportunity is here for you to shape and make your own.\n\nJOB DESCRIPTION: BARISTA\n\nResponsibilities and essential job functions include but are not... limited to the following:\n• Acts with integrity, honesty and knowledge that promote the culture, values and mission of Starbucks.\n• Maintains a calm demeanor during periods of high volume or unusual events to keep store operating to standard and to set a positive example for the shift team.\n• Anticipates customer and store needs by constantly evaluating environment and customers for cues.\n• Communicates information to manager so that the team can respond as necessary to create the Third Place environment during each shift.\n• Assists with new partner training by positively reinforcing successful performance and giving respectful and encouraging coaching as needed.\n• Contributes to positive team environment by recognizing alarms or changes in partner morale and performance and communicating them to the store manager.\n• Delivers legendary customer service to all customers by acting with a customer comes first attitude and connecting with the customer. Discovers and responds to customer needs.\n• Follows Starbucks operational policies and procedures, including those for cash handling and safety and security, to ensure the safety of all partners during each shift.\n• Maintains a clean and organized workspace so that partners can locate resources and product as needed.\n• Provides quality beverages, whole bean, and food products consistently for all customers by adhering to all recipe and presentation standards. Follows health, safety and sanitation guidelines for all products.\n• Recognizes and reinforces individual and team accomplishments by using existing organizational methods.\n• Maintains regular and punctual attendance\n\nJob will be at your nearest Starbucks location\n\nSKILLS\n• Ability to learn quickly\n• Ability to understand and carry out oral and written instructions and request clarification when needed\n• Strong interpersonal skills\n• Ability to work as part of a team\n• Ability to build relationships\n\nQUALIFICATIONS\n\nNo previous experience required.\n• Maintain regular and consistent attendance and punctuality, with or without reasonable accommodation\n• Available to work flexible hours that may include early mornings, evenings, weekends, nights and/or holidays\n• Meet store operating policies and standards, including providing quality beverages and food products, cash handling and store safety and security, with or without reasonable accommodation\n• Engage with and understand our customers, including discovering and responding to customer needs through clear and pleasant communication\n• Comply with a dress code that prohibits displaying tattoos, piercings in excess of two per ear, and unnatural hair colors, such as blue or pink\n• Prepare food and beverages to standard recipes or customized for customers, including recipe changes such as temperature, quantity of ingredients or substituted ingredients\n• Available to perform many different tasks within the store during each shift\n\nABOUT US\n\nWe're not just passionate purveyors of coffee, but everything else that goes with a full and rewarding coffeehouse experience. We also offer a selection of premium teas, fine pastries and other delectable treats to please the taste buds. And the music you hear in store is chosen for its artistry and appeal.\n\nSCAP - Starbucks College Achievement Program\n\nWe know more than 70% of our U.S. partners (employees) are students or aspiring students. We want to help. Supporting our partners' ambitions is the very best investment Starbucks can make. In a first of its kind collaboration with Arizona State University, we're offering all part- and full-time benefits eligible U.S. partners full tuition coverage for every year of college to earn a bachelor's degree. Partners receive support from a dedicated team of coaches and advisors, 24/7 tutoring on a variety of subjects, and a choice of more than 50 undergraduate degrees through ASU's research driven and top-ranked program, delivered online.\n\nThe Starbucks College Achievement Plan is just one way we're committed to the success of our partners. From growing as a person, as a partner, in your career and in your community – the opportunity is here for you to shape and make your own. That's why when you launch your career inspired by human connection and the opportunity to become your personal best, the possibilities are endless.\n\nFUN FACT\n\nWe proudly hire veterans, opportunity youth, and invest in education. Lots of opportunities to grow with Starbucks, from a barista to a manager",
      "extensions": [
        "Over 1 month ago",
        "14 min",
        "Full-time"
      ],
      "job_id": "eyJqb2JfdGl0bGUiOiJCYXJpc3RhIiwiY29tcGFueV9uYW1lIjoiU3RhcmJ1Y2tzIiwiaHRpZG9jaWQiOiJ4WkppWW1sd000Z1FNaHMwQUFBQUFBPT0iLCJxIjoiYmFyaXN0YSJ9",
      "thumbnail": "https://encrypted-tbn0.gstatic.com/images?q=tbn:ANd9GcQgD10HlGCR_tjGLX1AxTaOgTJS-TTXwOkahgCR&s=0"
    },
    {
      "title": "Barista",
      "company_name": "Starbucks",
      "location": "New City, NY",
      "via": "via Snagajob",
      "description": "Job Description\n\nBENEFITS\n\nBenefits-eligible partners (employees working 20 or more hours a week) can get a wide range of perks, benefits and assistance.\n\nOne of the amazing benefits is the Starbucks College Achievement Program (SCAP):\n\nIn a first of its kind collaboration with Arizona State University, we're offering all part- and full-time benefits eligible U.S. partners full tuition coverage to earn a bachelor's degree. Partners receive support from a dedicated team of coaches and advisors, 24/7 tutoring on a variety of subjects, and a choice of more than 70 undergraduate degrees through ASU's research driven and top-ranked program, delivered online.\n\nThe Starbucks College Achievement Plan is just one way we're committed to the success of our partners. From growing as a person, as a partner, in your career and in your community – the opportunity is here for you to shape and make your own.\n\nJOB DESCRIPTION: BARISTA\n\nResponsibilities and essential job functions include but are not... limited to the following:\n• Acts with integrity, honesty and knowledge that promote the culture, values and mission of Starbucks.\n• Maintains a calm demeanor during periods of high volume or unusual events to keep store operating to standard and to set a positive example for the shift team.\n• Anticipates customer and store needs by constantly evaluating environment and customers for cues.\n• Communicates information to manager so that the team can respond as necessary to create the Third Place environment during each shift.\n• Assists with new partner training by positively reinforcing successful performance and giving respectful and encouraging coaching as needed.\n• Contributes to positive team environment by recognizing alarms or changes in partner morale and performance and communicating them to the store manager.\n• Delivers legendary customer service to all customers by acting with a customer comes first attitude and connecting with the customer. Discovers and responds to customer needs.\n• Follows Starbucks operational policies and procedures, including those for cash handling and safety and security, to ensure the safety of all partners during each shift.\n• Maintains a clean and organized workspace so that partners can locate resources and product as needed.\n• Provides quality beverages, whole bean, and food products consistently for all customers by adhering to all recipe and presentation standards. Follows health, safety and sanitation guidelines for all products.\n• Recognizes and reinforces individual and team accomplishments by using existing organizational methods.\n• Maintains regular and punctual attendance\n\nJob will be at your nearest Starbucks location\n\nSKILLS\n• Ability to learn quickly\n• Ability to understand and carry out oral and written instructions and request clarification when needed\n• Strong interpersonal skills\n• Ability to work as part of a team\n• Ability to build relationships\n\nQUALIFICATIONS\n\nNo previous experience required.\n• Maintain regular and consistent attendance and punctuality, with or without reasonable accommodation\n• Available to work flexible hours that may include early mornings, evenings, weekends, nights and/or holidays\n• Meet store operating policies and standards, including providing quality beverages and food products, cash handling and store safety and security, with or without reasonable accommodation\n• Engage with and understand our customers, including discovering and responding to customer needs through clear and pleasant communication\n• Comply with a dress code that prohibits displaying tattoos, piercings in excess of two per ear, and unnatural hair colors, such as blue or pink\n• Prepare food and beverages to standard recipes or customized for customers, including recipe changes such as temperature, quantity of ingredients or substituted ingredients\n• Available to perform many different tasks within the store during each shift\n\nABOUT US\n\nWe're not just passionate purveyors of coffee, but everything else that goes with a full and rewarding coffeehouse experience. We also offer a selection of premium teas, fine pastries and other delectable treats to please the taste buds. And the music you hear in store is chosen for its artistry and appeal.\n\nSCAP - Starbucks College Achievement Program\n\nWe know more than 70% of our U.S. partners (employees) are students or aspiring students. We want to help. Supporting our partners' ambitions is the very best investment Starbucks can make. In a first of its kind collaboration with Arizona State University, we're offering all part- and full-time benefits eligible U.S. partners full tuition coverage for every year of college to earn a bachelor's degree. Partners receive support from a dedicated team of coaches and advisors, 24/7 tutoring on a variety of subjects, and a choice of more than 50 undergraduate degrees through ASU's research driven and top-ranked program, delivered online.\n\nThe Starbucks College Achievement Plan is just one way we're committed to the success of our partners. From growing as a person, as a partner, in your career and in your community – the opportunity is here for you to shape and make your own. That's why when you launch your career inspired by human connection and the opportunity to become your personal best, the possibilities are endless.\n\nFUN FACT\n\nWe proudly hire veterans, opportunity youth, and invest in education. Lots of opportunities to grow with Starbucks, from a barista to a manager",
      "extensions": [
        "Over 1 month ago",
        "14 min",
        "Full-time"
      ],
      "job_id": "eyJqb2JfdGl0bGUiOiJCYXJpc3RhIiwiY29tcGFueV9uYW1lIjoiU3RhcmJ1Y2tzIiwiaHRpZG9jaWQiOiJ4WkppWW1sd000Z1FNaHMwQUFBQUFBPT0iLCJxIjoiYmFyaXN0YSJ9",
      "thumbnail": "https://encrypted-tbn0.gstatic.com/images?q=tbn:ANd9GcQgD10HlGCR_tjGLX1AxTaOgTJS-TTXwOkahgCR&s=0"
    },
    {
      "title": "Barista",
      "company_name": "Starbucks",
      "location": "New City, NY",
      "via": "via Snagajob",
      "description": "Job Description\n\nBENEFITS\n\nBenefits-eligible partners (employees working 20 or more hours a week) can get a wide range of perks, benefits and assistance.\n\nOne of the amazing benefits is the Starbucks College Achievement Program (SCAP):\n\nIn a first of its kind collaboration with Arizona State University, we're offering all part- and full-time benefits eligible U.S. partners full tuition coverage to earn a bachelor's degree. Partners receive support from a dedicated team of coaches and advisors, 24/7 tutoring on a variety of subjects, and a choice of more than 70 undergraduate degrees through ASU's research driven and top-ranked program, delivered online.\n\nThe Starbucks College Achievement Plan is just one way we're committed to the success of our partners. From growing as a person, as a partner, in your career and in your community – the opportunity is here for you to shape and make your own.\n\nJOB DESCRIPTION: BARISTA\n\nResponsibilities and essential job functions include but are not... limited to the following:\n• Acts with integrity, honesty and knowledge that promote the culture, values and mission of Starbucks.\n• Maintains a calm demeanor during periods of high volume or unusual events to keep store operating to standard and to set a positive example for the shift team.\n• Anticipates customer and store needs by constantly evaluating environment and customers for cues.\n• Communicates information to manager so that the team can respond as necessary to create the Third Place environment during each shift.\n• Assists with new partner training by positively reinforcing successful performance and giving respectful and encouraging coaching as needed.\n• Contributes to positive team environment by recognizing alarms or changes in partner morale and performance and communicating them to the store manager.\n• Delivers legendary customer service to all customers by acting with a customer comes first attitude and connecting with the customer. Discovers and responds to customer needs.\n• Follows Starbucks operational policies and procedures, including those for cash handling and safety and security, to ensure the safety of all partners during each shift.\n• Maintains a clean and organized workspace so that partners can locate resources and product as needed.\n• Provides quality beverages, whole bean, and food products consistently for all customers by adhering to all recipe and presentation standards. Follows health, safety and sanitation guidelines for all products.\n• Recognizes and reinforces individual and team accomplishments by using existing organizational methods.\n• Maintains regular and punctual attendance\n\nJob will be at your nearest Starbucks location\n\nSKILLS\n• Ability to learn quickly\n• Ability to understand and carry out oral and written instructions and request clarification when needed\n• Strong interpersonal skills\n• Ability to work as part of a team\n• Ability to build relationships\n\nQUALIFICATIONS\n\nNo previous experience required.\n• Maintain regular and consistent attendance and punctuality, with or without reasonable accommodation\n• Available to work flexible hours that may include early mornings, evenings, weekends, nights and/or holidays\n• Meet store operating policies and standards, including providing quality beverages and food products, cash handling and store safety and security, with or without reasonable accommodation\n• Engage with and understand our customers, including discovering and responding to customer needs through clear and pleasant communication\n• Comply with a dress code that prohibits displaying tattoos, piercings in excess of two per ear, and unnatural hair colors, such as blue or pink\n• Prepare food and beverages to standard recipes or customized for customers, including recipe changes such as temperature, quantity of ingredients or substituted ingredients\n• Available to perform many different tasks within the store during each shift\n\nABOUT US\n\nWe're not just passionate purveyors of coffee, but everything else that goes with a full and rewarding coffeehouse experience. We also offer a selection of premium teas, fine pastries and other delectable treats to please the taste buds. And the music you hear in store is chosen for its artistry and appeal.\n\nSCAP - Starbucks College Achievement Program\n\nWe know more than 70% of our U.S. partners (employees) are students or aspiring students. We want to help. Supporting our partners' ambitions is the very best investment Starbucks can make. In a first of its kind collaboration with Arizona State University, we're offering all part- and full-time benefits eligible U.S. partners full tuition coverage for every year of college to earn a bachelor's degree. Partners receive support from a dedicated team of coaches and advisors, 24/7 tutoring on a variety of subjects, and a choice of more than 50 undergraduate degrees through ASU's research driven and top-ranked program, delivered online.\n\nThe Starbucks College Achievement Plan is just one way we're committed to the success of our partners. From growing as a person, as a partner, in your career and in your community – the opportunity is here for you to shape and make your own. That's why when you launch your career inspired by human connection and the opportunity to become your personal best, the possibilities are endless.\n\nFUN FACT\n\nWe proudly hire veterans, opportunity youth, and invest in education. Lots of opportunities to grow with Starbucks, from a barista to a manager",
      "extensions": [
        "Over 1 month ago",
        "14 min",
        "Full-time"
      ],
      "job_id": "eyJqb2JfdGl0bGUiOiJCYXJpc3RhIiwiY29tcGFueV9uYW1lIjoiU3RhcmJ1Y2tzIiwiaHRpZG9jaWQiOiJ4WkppWW1sd000Z1FNaHMwQUFBQUFBPT0iLCJxIjoiYmFyaXN0YSJ9",
      "thumbnail": "https://encrypted-tbn0.gstatic.com/images?q=tbn:ANd9GcQgD10HlGCR_tjGLX1AxTaOgTJS-TTXwOkahgCR&s=0"
    },
    {
      "title": "Barista",
      "company_name": "Starbucks",
      "location": "New City, NY",
      "via": "via Snagajob",
      "description": "Job Description\n\nBENEFITS\n\nBenefits-eligible partners (employees working 20 or more hours a week) can get a wide range of perks, benefits and assistance.\n\nOne of the amazing benefits is the Starbucks College Achievement Program (SCAP):\n\nIn a first of its kind collaboration with Arizona State University, we're offering all part- and full-time benefits eligible U.S. partners full tuition coverage to earn a bachelor's degree. Partners receive support from a dedicated team of coaches and advisors, 24/7 tutoring on a variety of subjects, and a choice of more than 70 undergraduate degrees through ASU's research driven and top-ranked program, delivered online.\n\nThe Starbucks College Achievement Plan is just one way we're committed to the success of our partners. From growing as a person, as a partner, in your career and in your community – the opportunity is here for you to shape and make your own.\n\nJOB DESCRIPTION: BARISTA\n\nResponsibilities and essential job functions include but are not... limited to the following:\n• Acts with integrity, honesty and knowledge that promote the culture, values and mission of Starbucks.\n• Maintains a calm demeanor during periods of high volume or unusual events to keep store operating to standard and to set a positive example for the shift team.\n• Anticipates customer and store needs by constantly evaluating environment and customers for cues.\n• Communicates information to manager so that the team can respond as necessary to create the Third Place environment during each shift.\n• Assists with new partner training by positively reinforcing successful performance and giving respectful and encouraging coaching as needed.\n• Contributes to positive team environment by recognizing alarms or changes in partner morale and performance and communicating them to the store manager.\n• Delivers legendary customer service to all customers by acting with a customer comes first attitude and connecting with the customer. Discovers and responds to customer needs.\n• Follows Starbucks operational policies and procedures, including those for cash handling and safety and security, to ensure the safety of all partners during each shift.\n• Maintains a clean and organized workspace so that partners can locate resources and product as needed.\n• Provides quality beverages, whole bean, and food products consistently for all customers by adhering to all recipe and presentation standards. Follows health, safety and sanitation guidelines for all products.\n• Recognizes and reinforces individual and team accomplishments by using existing organizational methods.\n• Maintains regular and punctual attendance\n\nJob will be at your nearest Starbucks location\n\nSKILLS\n• Ability to learn quickly\n• Ability to understand and carry out oral and written instructions and request clarification when needed\n• Strong interpersonal skills\n• Ability to work as part of a team\n• Ability to build relationships\n\nQUALIFICATIONS\n\nNo previous experience required.\n• Maintain regular and consistent attendance and punctuality, with or without reasonable accommodation\n• Available to work flexible hours that may include early mornings, evenings, weekends, nights and/or holidays\n• Meet store operating policies and standards, including providing quality beverages and food products, cash handling and store safety and security, with or without reasonable accommodation\n• Engage with and understand our customers, including discovering and responding to customer needs through clear and pleasant communication\n• Comply with a dress code that prohibits displaying tattoos, piercings in excess of two per ear, and unnatural hair colors, such as blue or pink\n• Prepare food and beverages to standard recipes or customized for customers, including recipe changes such as temperature, quantity of ingredients or substituted ingredients\n• Available to perform many different tasks within the store during each shift\n\nABOUT US\n\nWe're not just passionate purveyors of coffee, but everything else that goes with a full and rewarding coffeehouse experience. We also offer a selection of premium teas, fine pastries and other delectable treats to please the taste buds. And the music you hear in store is chosen for its artistry and appeal.\n\nSCAP - Starbucks College Achievement Program\n\nWe know more than 70% of our U.S. partners (employees) are students or aspiring students. We want to help. Supporting our partners' ambitions is the very best investment Starbucks can make. In a first of its kind collaboration with Arizona State University, we're offering all part- and full-time benefits eligible U.S. partners full tuition coverage for every year of college to earn a bachelor's degree. Partners receive support from a dedicated team of coaches and advisors, 24/7 tutoring on a variety of subjects, and a choice of more than 50 undergraduate degrees through ASU's research driven and top-ranked program, delivered online.\n\nThe Starbucks College Achievement Plan is just one way we're committed to the success of our partners. From growing as a person, as a partner, in your career and in your community – the opportunity is here for you to shape and make your own. That's why when you launch your career inspired by human connection and the opportunity to become your personal best, the possibilities are endless.\n\nFUN FACT\n\nWe proudly hire veterans, opportunity youth, and invest in education. Lots of opportunities to grow with Starbucks, from a barista to a manager",
      "extensions": [
        "Over 1 month ago",
        "14 min",
        "Full-time"
      ],
      "job_id": "eyJqb2JfdGl0bGUiOiJCYXJpc3RhIiwiY29tcGFueV9uYW1lIjoiU3RhcmJ1Y2tzIiwiaHRpZG9jaWQiOiJ4WkppWW1sd000Z1FNaHMwQUFBQUFBPT0iLCJxIjoiYmFyaXN0YSJ9",
      "thumbnail": "https://encrypted-tbn0.gstatic.com/images?q=tbn:ANd9GcQgD10HlGCR_tjGLX1AxTaOgTJS-TTXwOkahgCR&s=0"
    },
    {
      "title": "Barista",
      "company_name": "Starbucks",
      "location": "New City, NY",
      "via": "via Snagajob",
      "description": "Job Description\n\nBENEFITS\n\nBenefits-eligible partners (employees working 20 or more hours a week) can get a wide range of perks, benefits and assistance.\n\nOne of the amazing benefits is the Starbucks College Achievement Program (SCAP):\n\nIn a first of its kind collaboration with Arizona State University, we're offering all part- and full-time benefits eligible U.S. partners full tuition coverage to earn a bachelor's degree. Partners receive support from a dedicated team of coaches and advisors, 24/7 tutoring on a variety of subjects, and a choice of more than 70 undergraduate degrees through ASU's research driven and top-ranked program, delivered online.\n\nThe Starbucks College Achievement Plan is just one way we're committed to the success of our partners. From growing as a person, as a partner, in your career and in your community – the opportunity is here for you to shape and make your own.\n\nJOB DESCRIPTION: BARISTA\n\nResponsibilities and essential job functions include but are not... limited to the following:\n• Acts with integrity, honesty and knowledge that promote the culture, values and mission of Starbucks.\n• Maintains a calm demeanor during periods of high volume or unusual events to keep store operating to standard and to set a positive example for the shift team.\n• Anticipates customer and store needs by constantly evaluating environment and customers for cues.\n• Communicates information to manager so that the team can respond as necessary to create the Third Place environment during each shift.\n• Assists with new partner training by positively reinforcing successful performance and giving respectful and encouraging coaching as needed.\n• Contributes to positive team environment by recognizing alarms or changes in partner morale and performance and communicating them to the store manager.\n• Delivers legendary customer service to all customers by acting with a customer comes first attitude and connecting with the customer. Discovers and responds to customer needs.\n• Follows Starbucks operational policies and procedures, including those for cash handling and safety and security, to ensure the safety of all partners during each shift.\n• Maintains a clean and organized workspace so that partners can locate resources and product as needed.\n• Provides quality beverages, whole bean, and food products consistently for all customers by adhering to all recipe and presentation standards. Follows health, safety and sanitation guidelines for all products.\n• Recognizes and reinforces individual and team accomplishments by using existing organizational methods.\n• Maintains regular and punctual attendance\n\nJob will be at your nearest Starbucks location\n\nSKILLS\n• Ability to learn quickly\n• Ability to understand and carry out oral and written instructions and request clarification when needed\n• Strong interpersonal skills\n• Ability to work as part of a team\n• Ability to build relationships\n\nQUALIFICATIONS\n\nNo previous experience required.\n• Maintain regular and consistent attendance and punctuality, with or without reasonable accommodation\n• Available to work flexible hours that may include early mornings, evenings, weekends, nights and/or holidays\n• Meet store operating policies and standards, including providing quality beverages and food products, cash handling and store safety and security, with or without reasonable accommodation\n• Engage with and understand our customers, including discovering and responding to customer needs through clear and pleasant communication\n• Comply with a dress code that prohibits displaying tattoos, piercings in excess of two per ear, and unnatural hair colors, such as blue or pink\n• Prepare food and beverages to standard recipes or customized for customers, including recipe changes such as temperature, quantity of ingredients or substituted ingredients\n• Available to perform many different tasks within the store during each shift\n\nABOUT US\n\nWe're not just passionate purveyors of coffee, but everything else that goes with a full and rewarding coffeehouse experience. We also offer a selection of premium teas, fine pastries and other delectable treats to please the taste buds. And the music you hear in store is chosen for its artistry and appeal.\n\nSCAP - Starbucks College Achievement Program\n\nWe know more than 70% of our U.S. partners (employees) are students or aspiring students. We want to help. Supporting our partners' ambitions is the very best investment Starbucks can make. In a first of its kind collaboration with Arizona State University, we're offering all part- and full-time benefits eligible U.S. partners full tuition coverage for every year of college to earn a bachelor's degree. Partners receive support from a dedicated team of coaches and advisors, 24/7 tutoring on a variety of subjects, and a choice of more than 50 undergraduate degrees through ASU's research driven and top-ranked program, delivered online.\n\nThe Starbucks College Achievement Plan is just one way we're committed to the success of our partners. From growing as a person, as a partner, in your career and in your community – the opportunity is here for you to shape and make your own. That's why when you launch your career inspired by human connection and the opportunity to become your personal best, the possibilities are endless.\n\nFUN FACT\n\nWe proudly hire veterans, opportunity youth, and invest in education. Lots of opportunities to grow with Starbucks, from a barista to a manager",
      "extensions": [
        "Over 1 month ago",
        "14 min",
        "Full-time"
      ],
      "job_id": "eyJqb2JfdGl0bGUiOiJCYXJpc3RhIiwiY29tcGFueV9uYW1lIjoiU3RhcmJ1Y2tzIiwiaHRpZG9jaWQiOiJ4WkppWW1sd000Z1FNaHMwQUFBQUFBPT0iLCJxIjoiYmFyaXN0YSJ9",
      "thumbnail": "https://encrypted-tbn0.gstatic.com/images?q=tbn:ANd9GcQgD10HlGCR_tjGLX1AxTaOgTJS-TTXwOkahgCR&s=0"
    },
    {
      "title": "Barista",
      "company_name": "Starbucks",
      "location": "New City, NY",
      "via": "via Snagajob",
      "description": "Job Description\n\nBENEFITS\n\nBenefits-eligible partners (employees working 20 or more hours a week) can get a wide range of perks, benefits and assistance.\n\nOne of the amazing benefits is the Starbucks College Achievement Program (SCAP):\n\nIn a first of its kind collaboration with Arizona State University, we're offering all part- and full-time benefits eligible U.S. partners full tuition coverage to earn a bachelor's degree. Partners receive support from a dedicated team of coaches and advisors, 24/7 tutoring on a variety of subjects, and a choice of more than 70 undergraduate degrees through ASU's research driven and top-ranked program, delivered online.\n\nThe Starbucks College Achievement Plan is just one way we're committed to the success of our partners. From growing as a person, as a partner, in your career and in your community – the opportunity is here for you to shape and make your own.\n\nJOB DESCRIPTION: BARISTA\n\nResponsibilities and essential job functions include but are not... limited to the following:\n• Acts with integrity, honesty and knowledge that promote the culture, values and mission of Starbucks.\n• Maintains a calm demeanor during periods of high volume or unusual events to keep store operating to standard and to set a positive example for the shift team.\n• Anticipates customer and store needs by constantly evaluating environment and customers for cues.\n• Communicates information to manager so that the team can respond as necessary to create the Third Place environment during each shift.\n• Assists with new partner training by positively reinforcing successful performance and giving respectful and encouraging coaching as needed.\n• Contributes to positive team environment by recognizing alarms or changes in partner morale and performance and communicating them to the store manager.\n• Delivers legendary customer service to all customers by acting with a customer comes first attitude and connecting with the customer. Discovers and responds to customer needs.\n• Follows Starbucks operational policies and procedures, including those for cash handling and safety and security, to ensure the safety of all partners during each shift.\n• Maintains a clean and organized workspace so that partners can locate resources and product as needed.\n• Provides quality beverages, whole bean, and food products consistently for all customers by adhering to all recipe and presentation standards. Follows health, safety and sanitation guidelines for all products.\n• Recognizes and reinforces individual and team accomplishments by using existing organizational methods.\n• Maintains regular and punctual attendance\n\nJob will be at your nearest Starbucks location\n\nSKILLS\n• Ability to learn quickly\n• Ability to understand and carry out oral and written instructions and request clarification when needed\n• Strong interpersonal skills\n• Ability to work as part of a team\n• Ability to build relationships\n\nQUALIFICATIONS\n\nNo previous experience required.\n• Maintain regular and consistent attendance and punctuality, with or without reasonable accommodation\n• Available to work flexible hours that may include early mornings, evenings, weekends, nights and/or holidays\n• Meet store operating policies and standards, including providing quality beverages and food products, cash handling and store safety and security, with or without reasonable accommodation\n• Engage with and understand our customers, including discovering and responding to customer needs through clear and pleasant communication\n• Comply with a dress code that prohibits displaying tattoos, piercings in excess of two per ear, and unnatural hair colors, such as blue or pink\n• Prepare food and beverages to standard recipes or customized for customers, including recipe changes such as temperature, quantity of ingredients or substituted ingredients\n• Available to perform many different tasks within the store during each shift\n\nABOUT US\n\nWe're not just passionate purveyors of coffee, but everything else that goes with a full and rewarding coffeehouse experience. We also offer a selection of premium teas, fine pastries and other delectable treats to please the taste buds. And the music you hear in store is chosen for its artistry and appeal.\n\nSCAP - Starbucks College Achievement Program\n\nWe know more than 70% of our U.S. partners (employees) are students or aspiring students. We want to help. Supporting our partners' ambitions is the very best investment Starbucks can make. In a first of its kind collaboration with Arizona State University, we're offering all part- and full-time benefits eligible U.S. partners full tuition coverage for every year of college to earn a bachelor's degree. Partners receive support from a dedicated team of coaches and advisors, 24/7 tutoring on a variety of subjects, and a choice of more than 50 undergraduate degrees through ASU's research driven and top-ranked program, delivered online.\n\nThe Starbucks College Achievement Plan is just one way we're committed to the success of our partners. From growing as a person, as a partner, in your career and in your community – the opportunity is here for you to shape and make your own. That's why when you launch your career inspired by human connection and the opportunity to become your personal best, the possibilities are endless.\n\nFUN FACT\n\nWe proudly hire veterans, opportunity youth, and invest in education. Lots of opportunities to grow with Starbucks, from a barista to a manager",
      "extensions": [
        "Over 1 month ago",
        "14 min",
        "Full-time"
      ],
      "job_id": "eyJqb2JfdGl0bGUiOiJCYXJpc3RhIiwiY29tcGFueV9uYW1lIjoiU3RhcmJ1Y2tzIiwiaHRpZG9jaWQiOiJ4WkppWW1sd000Z1FNaHMwQUFBQUFBPT0iLCJxIjoiYmFyaXN0YSJ9",
      "thumbnail": "https://encrypted-tbn0.gstatic.com/images?q=tbn:ANd9GcQgD10HlGCR_tjGLX1AxTaOgTJS-TTXwOkahgCR&s=0"
    },
    {
      "title": "Barista",
      "company_name": "Starbucks",
      "location": "New City, NY",
      "via": "via Snagajob",
      "description": "Job Description\n\nBENEFITS\n\nBenefits-eligible partners (employees working 20 or more hours a week) can get a wide range of perks, benefits and assistance.\n\nOne of the amazing benefits is the Starbucks College Achievement Program (SCAP):\n\nIn a first of its kind collaboration with Arizona State University, we're offering all part- and full-time benefits eligible U.S. partners full tuition coverage to earn a bachelor's degree. Partners receive support from a dedicated team of coaches and advisors, 24/7 tutoring on a variety of subjects, and a choice of more than 70 undergraduate degrees through ASU's research driven and top-ranked program, delivered online.\n\nThe Starbucks College Achievement Plan is just one way we're committed to the success of our partners. From growing as a person, as a partner, in your career and in your community – the opportunity is here for you to shape and make your own.\n\nJOB DESCRIPTION: BARISTA\n\nResponsibilities and essential job functions include but are not... limited to the following:\n• Acts with integrity, honesty and knowledge that promote the culture, values and mission of Starbucks.\n• Maintains a calm demeanor during periods of high volume or unusual events to keep store operating to standard and to set a positive example for the shift team.\n• Anticipates customer and store needs by constantly evaluating environment and customers for cues.\n• Communicates information to manager so that the team can respond as necessary to create the Third Place environment during each shift.\n• Assists with new partner training by positively reinforcing successful performance and giving respectful and encouraging coaching as needed.\n• Contributes to positive team environment by recognizing alarms or changes in partner morale and performance and communicating them to the store manager.\n• Delivers legendary customer service to all customers by acting with a customer comes first attitude and connecting with the customer. Discovers and responds to customer needs.\n• Follows Starbucks operational policies and procedures, including those for cash handling and safety and security, to ensure the safety of all partners during each shift.\n• Maintains a clean and organized workspace so that partners can locate resources and product as needed.\n• Provides quality beverages, whole bean, and food products consistently for all customers by adhering to all recipe and presentation standards. Follows health, safety and sanitation guidelines for all products.\n• Recognizes and reinforces individual and team accomplishments by using existing organizational methods.\n• Maintains regular and punctual attendance\n\nJob will be at your nearest Starbucks location\n\nSKILLS\n• Ability to learn quickly\n• Ability to understand and carry out oral and written instructions and request clarification when needed\n• Strong interpersonal skills\n• Ability to work as part of a team\n• Ability to build relationships\n\nQUALIFICATIONS\n\nNo previous experience required.\n• Maintain regular and consistent attendance and punctuality, with or without reasonable accommodation\n• Available to work flexible hours that may include early mornings, evenings, weekends, nights and/or holidays\n• Meet store operating policies and standards, including providing quality beverages and food products, cash handling and store safety and security, with or without reasonable accommodation\n• Engage with and understand our customers, including discovering and responding to customer needs through clear and pleasant communication\n• Comply with a dress code that prohibits displaying tattoos, piercings in excess of two per ear, and unnatural hair colors, such as blue or pink\n• Prepare food and beverages to standard recipes or customized for customers, including recipe changes such as temperature, quantity of ingredients or substituted ingredients\n• Available to perform many different tasks within the store during each shift\n\nABOUT US\n\nWe're not just passionate purveyors of coffee, but everything else that goes with a full and rewarding coffeehouse experience. We also offer a selection of premium teas, fine pastries and other delectable treats to please the taste buds. And the music you hear in store is chosen for its artistry and appeal.\n\nSCAP - Starbucks College Achievement Program\n\nWe know more than 70% of our U.S. partners (employees) are students or aspiring students. We want to help. Supporting our partners' ambitions is the very best investment Starbucks can make. In a first of its kind collaboration with Arizona State University, we're offering all part- and full-time benefits eligible U.S. partners full tuition coverage for every year of college to earn a bachelor's degree. Partners receive support from a dedicated team of coaches and advisors, 24/7 tutoring on a variety of subjects, and a choice of more than 50 undergraduate degrees through ASU's research driven and top-ranked program, delivered online.\n\nThe Starbucks College Achievement Plan is just one way we're committed to the success of our partners. From growing as a person, as a partner, in your career and in your community – the opportunity is here for you to shape and make your own. That's why when you launch your career inspired by human connection and the opportunity to become your personal best, the possibilities are endless.\n\nFUN FACT\n\nWe proudly hire veterans, opportunity youth, and invest in education. Lots of opportunities to grow with Starbucks, from a barista to a manager",
      "extensions": [
        "Over 1 month ago",
        "14 min",
        "Full-time"
      ],
      "job_id": "eyJqb2JfdGl0bGUiOiJCYXJpc3RhIiwiY29tcGFueV9uYW1lIjoiU3RhcmJ1Y2tzIiwiaHRpZG9jaWQiOiJ4WkppWW1sd000Z1FNaHMwQUFBQUFBPT0iLCJxIjoiYmFyaXN0YSJ9",
      "thumbnail": "https://encrypted-tbn0.gstatic.com/images?q=tbn:ANd9GcQgD10HlGCR_tjGLX1AxTaOgTJS-TTXwOkahgCR&s=0"
    }
  ],
  "chips": [
    {
      "type": "Title",
      "options": [
        {
          "text": "All"
        },
        {
          "text": "Barista",
          "value": "barista"
        },
        {
          "text": "Starbucks barista",
          "value": "starbucks barista"
        },
        {
          "text": "Team member",
          "value": "team member"
        },
        {
          "text": "Student",
          "value": "student"
        },
        {
          "text": "Bakery associate",
          "value": "bakery associate"
        },
        {
          "text": "Busser",
          "value": "busser"
        },
        {
          "text": "Shift supervisor",
          "value": "shift supervisor"
        },
        {
          "text": "Cafe",
          "value": "cafe"
        },
        {
          "text": "Shop clerk",
          "value": "shop clerk"
        },
        {
          "text": "Attendant",
          "value": "attendant"
        },
        {
          "text": "Bar attendant",
          "value": "bar attendant"
        },
        {
          "text": "Bartender",
          "value": "bartender"
        },
        {
          "text": "Cashier",
          "value": "cashier"
        },
        {
          "text": "Café",
          "value": "café"
        },
        {
          "text": "Clerk",
          "value": "clerk"
        },
        {
          "text": "Cook",
          "value": "cook"
        },
        {
          "text": "Counter person",
          "value": "counter person"
        },
        {
          "text": "Manager",
          "value": "manager"
        },
        {
          "text": "Person",
          "value": "person"
        },
        {
          "text": "Server",
          "value": "server"
        },
        {
          "text": "Service cashier",
          "value": "service cashier"
        }
      ]
    },
    {
      "type": "Location",
      "options": [
        {
          "text": "All"
        },
        {
          "text": ""
        },
        {
          "text": "New York, NY",
          "value": "New York, NY"
        },
        {
          "text": "Seattle, WA",
          "value": "Seattle, WA"
        },
        {
          "text": "Los Angeles, CA",
          "value": "Los Angeles, CA"
        },
        {
          "text": "Atlanta, GA",
          "value": "Atlanta, GA"
        },
        {
          "text": "Garden City, NY",
          "value": "Garden City, NY"
        },
        {
          "text": "Boston, MA",
          "value": "Boston, MA"
        },
        {
          "text": "Chicago, IL",
          "value": "Chicago, IL"
        },
        {
          "text": "Austin, TX",
          "value": "Austin, TX"
        },
        {
          "text": "Phoenix, AZ",
          "value": "Phoenix, AZ"
        },
        {
          "text": "Charlotte, NC",
          "value": "Charlotte, NC"
        },
        {
          "text": "Culver City, CA",
          "value": "Culver City, CA"
        },
        {
          "text": "Nashville, TN",
          "value": "Nashville, TN"
        },
        {
          "text": "Portland, OR",
          "value": "Portland, OR"
        },
        {
          "text": "Washington, DC",
          "value": "Washington, DC"
        },
        {
          "text": "Beaverton, OR",
          "value": "Beaverton, OR"
        },
        {
          "text": "Boulder, CO",
          "value": "Boulder, CO"
        },
        {
          "text": "Cincinnati, OH",
          "value": "Cincinnati, OH"
        },
        {
          "text": "Columbus, OH",
          "value": "Columbus, OH"
        },
        {
          "text": "Coronado, CA",
          "value": "Coronado, CA"
        },
        {
          "text": "Dallas, TX",
          "value": "Dallas, TX"
        },
        {
          "text": "Fort Worth, TX",
          "value": "Fort Worth, TX"
        },
        {
          "text": "Hershey, PA",
          "value": "Hershey, PA"
        },
        {
          "text": "Houston, TX",
          "value": "Houston, TX"
        },
        {
          "text": "Kansas City, MO",
          "value": "Kansas City, MO"
        },
        {
          "text": "Memphis, TN",
          "value": "Memphis, TN"
        },
        {
          "text": "Miami Beach, FL",
          "value": "Miami Beach, FL"
        },
        {
          "text": "Minneapolis, MN",
          "value": "Minneapolis, MN"
        },
        {
          "text": "New Orleans, LA",
          "value": "New Orleans, LA"
        },
        {
          "text": "Philadelphia, PA",
          "value": "Philadelphia, PA"
        },
        {
          "text": "Plano, TX",
          "value": "Plano, TX"
        },
        {
          "text": "San Diego, CA",
          "value": "San Diego, CA"
        },
        {
          "text": "Waltham, MA",
          "value": "Waltham, MA"
        },
        {
          "text": "Albuquerque, NM",
          "value": "Albuquerque, NM"
        },
        {
          "text": "Arlington, TX",
          "value": "Arlington, TX"
        },
        {
          "text": "Bethesda, MD",
          "value": "Bethesda, MD"
        },
        {
          "text": "Bloomington, MN",
          "value": "Bloomington, MN"
        },
        {
          "text": "Bolingbrook, IL",
          "value": "Bolingbrook, IL"
        },
        {
          "text": "Buffalo, NY",
          "value": "Buffalo, NY"
        },
        {
          "text": "Chandler, AZ",
          "value": "Chandler, AZ"
        },
        {
          "text": "Charleston, SC",
          "value": "Charleston, SC"
        },
        {
          "text": "Cupertino, CA",
          "value": "Cupertino, CA"
        },
        {
          "text": "Dana Point, CA",
          "value": "Dana Point, CA"
        },
        {
          "text": "Delray Beach, FL",
          "value": "Delray Beach, FL"
        },
        {
          "text": "Denver, CO",
          "value": "Denver, CO"
        },
        {
          "text": "Des Moines, IA",
          "value": "Des Moines, IA"
        },
        {
          "text": "Edina, MN",
          "value": "Edina, MN"
        },
        {
          "text": "El Paso, TX",
          "value": "El Paso, TX"
        },
        {
          "text": "Folsom, CA",
          "value": "Folsom, CA"
        },
        {
          "text": "Fort Lauderdale, FL",
          "value": "Fort Lauderdale, FL"
        },
        {
          "text": "Grandville, MI",
          "value": "Grandville, MI"
        },
        {
          "text": "Grapevine, TX",
          "value": "Grapevine, TX"
        },
        {
          "text": "Green Valley, AZ",
          "value": "Green Valley, AZ"
        },
        {
          "text": "Harrisonburg, VA",
          "value": "Harrisonburg, VA"
        }
      ]
    },
    {
      "type": "Date posted",
      "options": [
        {
          "text": "All"
        },
        {
          "text": "Past day",
          "value": "today"
        },
        {
          "text": "Past 3 days",
          "value": "3days"
        },
        {
          "text": "Past week",
          "value": "week"
        },
        {
          "text": "Past month",
          "value": "month"
        }
      ]
    },
    {
      "type": "Requirements",
      "options": [
        {
          "text": "All"
        },
        {
          "text": "No degree",
          "value": "no_degree"
        },
        {
          "text": "No experience",
          "value": "no_experience"
        },
        {
          "text": "Under 3 years of experience",
          "value": "years3under"
        },
        {
          "text": "3+ years of experience",
          "value": "years3plus"
        }
      ]
    },
    {
      "type": "Type",
      "options": [
        {
          "text": "All"
        },
        {
          "text": "Full-time",
          "value": "FULLTIME"
        },
        {
          "text": "Part-time",
          "value": "PARTTIME"
        },
        {
          "text": "Contractor",
          "value": "CONTRACTOR"
        },
        {
          "text": "Internship",
          "value": "INTERN"
        }
      ]
    },
    {
      "type": "Company type",
      "options": [
        {
          "text": "All"
        },
        {
          "text": "Accommodation",
          "value": "Accommodation"
        },
        {
          "text": "Restaurant",
          "value": "Restaurant"
        },
        {
          "text": "Retail",
          "value": "Retail"
        },
        {
          "text": "Foods & Beverages",
          "value": "Foods & Beverages"
        },
        {
          "text": "Health Care",
          "value": "Health Care"
        },
        {
          "text": "Wholesale",
          "value": "Wholesale"
        },
        {
          "text": "Consulting",
          "value": "Consulting"
        },
        {
          "text": "Entertainment",
          "value": "Entertainment"
        },
        {
          "text": "Textiles & Apparel",
          "value": "Textiles & Apparel"
        },
        {
          "text": "Education",
          "value": "Education"
        },
        {
          "text": "Information",
          "value": "Information"
        },
        {
          "text": "Manufacturing",
          "value": "Manufacturing"
        },
        {
          "text": "Engineering Services",
          "value": "Engineering Services"
        },
        {
          "text": "Toiletries",
          "value": "Toiletries"
        }
      ]
    },
    {
      "type": "Employer",
      "options": [
        {
          "text": "All"
        },
        {
          "text": "Starbucks",
          "value": "Starbucks"
        },
        {
          "text": "Sodexo",
          "value": "Sodexo"
        },
        {
          "text": "Aramark",
          "value": "Aramark"
        },
        {
          "text": "Barnes & Noble",
          "value": "Barnes & Noble"
        },
        {
          "text": "Compass Group USA Inc",
          "value": "Compass Group USA Inc"
        },
        {
          "text": "The Cheesecake Factory",
          "value": "The Cheesecake Factory"
        },
        {
          "text": "HMSHOST",
          "value": "HMSHOST"
        },
        {
          "text": "Marriott",
          "value": "Marriott"
        },
        {
          "text": "Hilton",
          "value": "Hilton"
        },
        {
          "text": "Macy?s",
          "value": "Macy?s"
        },
        {
          "text": "Scooters Coffee",
          "value": "Scooters Coffee"
        },
        {
          "text": "Eurest",
          "value": "Eurest"
        },
        {
          "text": "Kroger",
          "value": "Kroger"
        },
        {
          "text": "Coffee And Bagel Brands",
          "value": "Coffee And Bagel Brands"
        },
        {
          "text": "Peet's Coffee",
          "value": "Peet's Coffee"
        },
        {
          "text": "Aimbridge Hospitality",
          "value": "Aimbridge Hospitality"
        },
        {
          "text": "Morrison Healthcare",
          "value": "Morrison Healthcare"
        },
        {
          "text": "SpartanNash",
          "value": "SpartanNash"
        },
        {
          "text": "85C Bakery Cafe",
          "value": "85C Bakery Cafe"
        },
        {
          "text": "Bashas",
          "value": "Bashas"
        },
        {
          "text": "Elior North America",
          "value": "Elior North America"
        },
        {
          "text": "Marriott Vacations Worldwide",
          "value": "Marriott Vacations Worldwide"
        },
        {
          "text": "RH",
          "value": "RH"
        },
        {
          "text": "The Henry",
          "value": "The Henry"
        },
        {
          "text": "Vail Resorts",
          "value": "Vail Resorts"
        },
        {
          "text": "Bon Appétit Management Company",
          "value": "Bon Appétit Management Company"
        },
        {
          "text": "Caesars Entertainment",
          "value": "Caesars Entertainment"
        },
        {
          "text": "Chartwells Higher Education Dining Services",
          "value": "Chartwells Higher Education Dining Services"
        },
        {
          "text": "Eataly",
          "value": "Eataly"
        },
        {
          "text": "Giant Eagle",
          "value": "Giant Eagle"
        },
        {
          "text": "Hershey Entertainment & Resorts",
          "value": "Hershey Entertainment & Resorts"
        },
        {
          "text": "Hy-Vee",
          "value": "Hy-Vee"
        },
        {
          "text": "Hyatt",
          "value": "Hyatt"
        },
        {
          "text": "LA COLOMBE HOLDINGS GROUP",
          "value": "LA COLOMBE HOLDINGS GROUP"
        },
        {
          "text": "Providence Health & Services",
          "value": "Providence Health & Services"
        },
        {
          "text": "AVI Foodsystems",
          "value": "AVI Foodsystems"
        },
        {
          "text": "Blue Bottle Coffee",
          "value": "Blue Bottle Coffee"
        },
        {
          "text": "Bluestone Lane",
          "value": "Bluestone Lane"
        },
        {
          "text": "Busch's, Inc.",
          "value": "Busch's, Inc."
        },
        {
          "text": "CommonSpirit Health",
          "value": "CommonSpirit Health"
        },
        {
          "text": "Compass Group",
          "value": "Compass Group"
        },
        {
          "text": "Delaware North",
          "value": "Delaware North"
        },
        {
          "text": "Dunn Bros Coffee",
          "value": "Dunn Bros Coffee"
        },
        {
          "text": "Eurest USA",
          "value": "Eurest USA"
        },
        {
          "text": "Flik Hospitality Group",
          "value": "Flik Hospitality Group"
        }
      ]
    }
  ]
}