Google Events API
Google Events API allows you to scrape the results from the Google Events.
Engine: google_events
API Parameters
Searchdata Parameters
The engine of the API. Needs to be set to google_events for this request.
The device used for your google search. Can be set to desktop, mobile or tablet.
Search Query
The event that you are searching for (the query).
Geographic Location
Defines where do you want the search to originate from. A list of all the geotargetting locations can be found here
The google encoded location that you want to use for your search.
Localization
Represents the domain from google that you want to use for your search.
Google Events API examples
Example for q:"Events in Paris, France"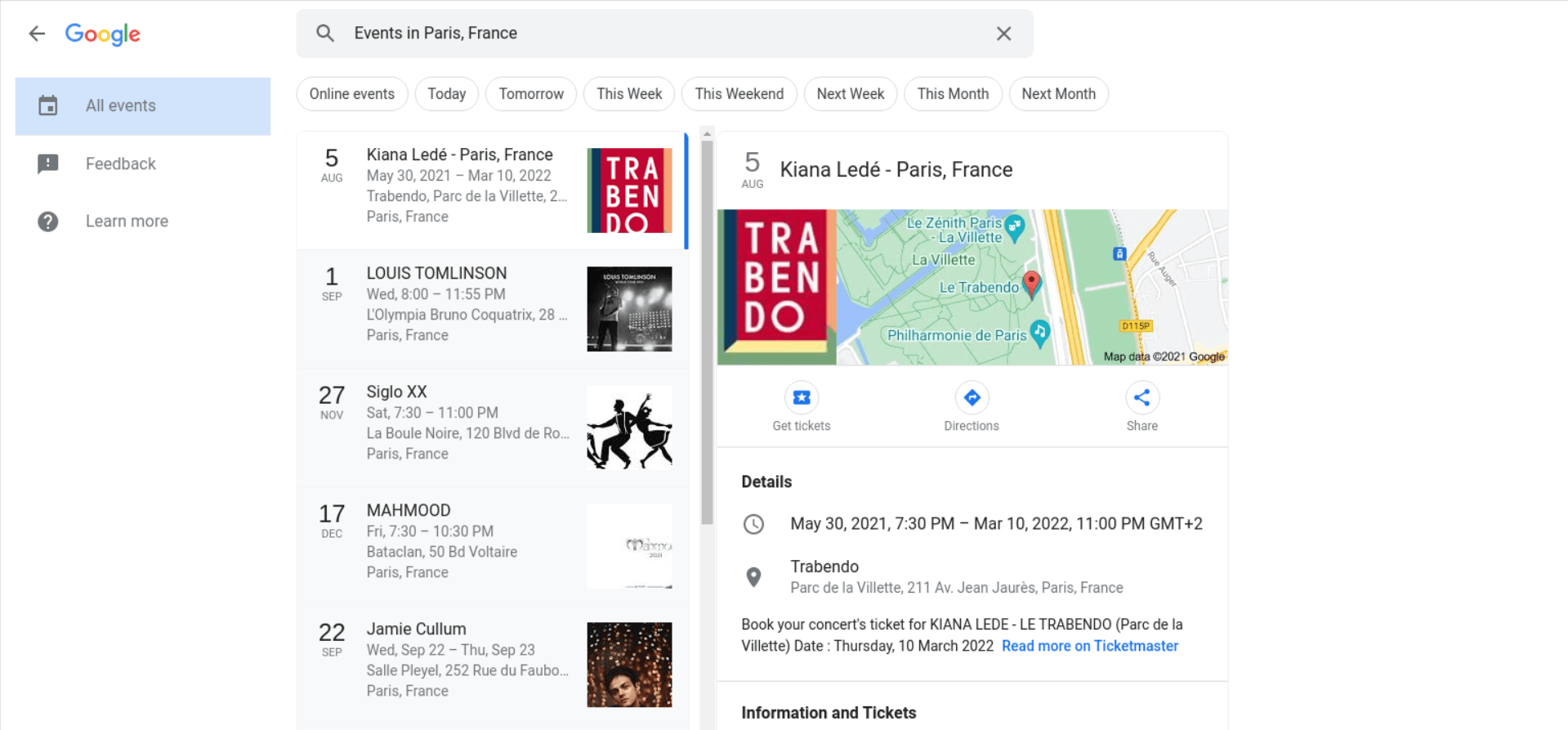 GET
https://api.searchdata.io/v1?engine=google_events&api_key=YOUR_API_KEY&q=Events%20in%20Paris%2C%20France
Code to integrate
Json Example
{
  "search_parameters": {
    "google_events_url": "https://www.google.com/search?q=Events%20in%20Paris,%20France&ibp=htl;events&sourceid=chrome&ie=UTF-8",
    "engine": "google_events",
    "google_domain": "google.com",
    "device": "desktop",
    "query": "Events in Paris, France"
  },
  "search_information": {
    "organic_results_state": "Results for exact spelling",
    "total_results": null,
    "time_taken_displayed": null,
    "query_displayed": null
  },
  "google_events_results": [
    {
      "title": "Kiana Ledé - Paris, France",
      "date": {
        "start_date": "5 Aug",
        "when": "May 30, 2021, 7:30 PM – Mar 10, 2022, 11:00 PM GMT+2"
      },
      "address": [
        "Trabendo",
        "Parc de la Villette, 211 Av. Jean Jaurès, Paris, France"
      ],
      "link": "https://google.comnull",
      "event_location_map": {
        "image": "https://google.com/maps/vt/data=TP4daXuEwqgu8LADXD5RSSmARWWz9FaGuieRKMAZsU-GlLnUtKD39O64TLP9bf2gHujSa_wy9ChCfsqMLYDHtCyYqH1tijh4uPUQa6jw1qcNd1nW91A",
        "link": "https://google.comnull"
      },
      "description": "Book your concert's ticket for KIANA LEDE - LE TRABENDO (Parc de la Villette) Date : Thursday, 10 March 2022",
      "ticket_info": [
        {
          "link": "https://www.bandsintown.com/e/102224001"
        },
        {
          "link": "https://www.songkick.com/concerts/39701161-kiana-lede-at-le-trabendo?utm_source=53907&utm_medium=partner"
        },
        {
          "link": "https://festivaly.eu/en/kiana-lede-le-trabendo-parc-de-la-villette-pariz-2021"
        },
        {
          "link": "https://www.ticketmaster.fr/en/manifestation/kiana-lede-ticket/idmanif/496862"
        },
        {
          "link": "https://mozaart.com/en/e/kiana-lede-paris-2021-05-30"
        }
      ],
      "thumbnail": "https://encrypted-tbn0.gstatic.com/images?q=tbn:ANd9GcROu-AFln96erewd5cmKk34Wxw70rAqq3Qad7vf7pysrdkRoZpv3wjM&s"
    },
    {
      "title": "LOUIS TOMLINSON",
      "date": {
        "start_date": "1 Sep",
        "when": "Wed, Sep 1, 8:00 – 11:55 PM GMT+2"
      },
      "address": [
        "L'Olympia Bruno Coquatrix",
        "28 Bd des Capucines, Paris, France"
      ],
      "link": "https://google.comnull",
      "event_location_map": {
        "image": "https://google.com/maps/vt/data=5bdk9Mdl7edStlromcynDpPhvcTokG5US4gXGkH2OdsqUJm9PRM9vOikeSj2hu2M2wtx6lcDL8LGju5OV3cjDrqoWv17G39Gai5cD-KW1m4I5Bw8QV8",
        "link": "https://google.comnull"
      },
      "description": "Book your concert's ticket for LOUIS TOMLINSON - L'OLYMPIA Price is from: 45.50 € Date : Tuesday, 5 April 2022 to Wednesday, 6 April 2022 You can print at home your e-ticket for LOUIS TOMLINSON at...",
      "ticket_info": [
        {
          "link": "https://m.ticketmaster.fr/en/manifestation/louis-tomlinson-ticket/idmanif/479804"
        },
        {
          "link": "https://m.billetterie.aegpresents.fr/en/manifestation/louis-tomlinson-ticket/idmanif/479804"
        },
        {
          "link": "https://prf.hn/click/camref:1011l9QnS/destination:https://www.stubhub.com/billets-louis-tomlinson-louis-tomlinson-paris-l-olympia-1-9-2021/event/104424626/"
        },
        {
          "link": "https://www.awin1.com/pclick.php?p=25190445019&a=139743&m=12494"
        },
        {
          "link": "http://www.stubhub.com/billets-louis-tomlinson-louis-tomlinson-paris-l-olympia-5-4-2022/event/104424626"
        }
      ],
      "thumbnail": "https://encrypted-tbn0.gstatic.com/images?q=tbn:ANd9GcQHRE9dMLni43OnpDyR8_zqaJ-1fHH-onjJxuZIz02W4VZ-MbZTKV1p&s"
    },
    {
      "title": "Siglo XX",
      "date": {
        "start_date": "27 Nov",
        "when": "Sat, Nov 27, 7:30 – 11:00 PM GMT+1"
      },
      "address": [
        "La Boule Noire",
        "120 Blvd de Rochechouart, Paris, France"
      ],
      "link": "https://google.comnull",
      "event_location_map": {
        "image": "https://google.com/maps/vt/data=A47boyNln_boO3iLyVFB9v-RTq2aTEl4fsfO2c-5PZwUVmqvg9mfhBeIvcaKz9xztv0OmHc_wqx0GHy4vJzNa19g9AOl3kDKvfSXia4t-uxZ1-dkg6g",
        "link": "https://google.comnull"
      },
      "description": "Jimmy Buffett is back in town! Assure your tickets for a concert you will not forget and experience Jimmy Buffett Paris at the one and only La Cigale. At StubHub we offer you the best tickets...",
      "ticket_info": [
        {
          "link": "https://www.bandsintown.com/e/1021753614"
        },
        {
          "link": "https://www.songkick.com/concerts/39225249-siglo-xx-at-la-boule-noire?utm_source=53907&utm_medium=partner"
        },
        {
          "link": "https://www.stubhub.com/jimmy-buffett-tickets-jimmy-buffett-paris-la-cigale-26-9-2020/event/104528315/"
        },
        {
          "link": "https://www.macmcanally.com/tour?dc_id=881"
        },
        {
          "link": "https://paris.eventful.com/events/jimmy-buffett-paris-/E0-001-132969227-2"
        }
      ],
      "thumbnail": "https://encrypted-tbn0.gstatic.com/images?q=tbn:ANd9GcT7v6cx4sfPZXsJTXW6i0X1SbLPq2WkgUzVb2cnz79WoCL73E0aPuxuCBw&s"
    },
    {
      "title": "MAHMOOD",
      "date": {
        "start_date": "17 Dec",
        "when": "Fri, Dec 17, 7:30 – 10:30 PM GMT+1"
      },
      "address": [
        "Bataclan",
        "50 Bd Voltaire, Paris, France"
      ],
      "link": "https://google.comnull",
      "event_location_map": {
        "image": "https://google.com/maps/vt/data=bdKSOAKm-NqleuRPQdj_mxuMX8tpH1dJPEbZSHSoyjM5T69RocYmGF6FzcUysuYQ76zeqmOJxgN1myyx6QD9QUlDgUGzwX-TbwdUZ-OpYH4mBoIgE0M",
        "link": "https://google.comnull"
      },
      "description": "MAHMOOD, an Italian-Egyptian singer-songwriter revealed at Eurovision 2019, has developed a unique style of Urban Pop. MAHMOOD reached the top of sales with its first album "Gioventù Bruciata"...",
      "ticket_info": [
        {
          "link": "https://www.ticketone.it/en/event/mahmood-tour-2021-bataclan-13424232/"
        },
        {
          "link": "https://m.ticketmaster.fr/en/manifestation/mahmood-2020-ticket/idmanif/482763"
        },
        {
          "link": "http://www.songkick.com/concerts/39743914-mahmood-at-le-bataclan?utm_medium=organic&utm_source=microformat"
        },
        {
          "link": "https://www.bandsintown.com/e/1021311118"
        },
        {
          "link": "https://www.awin1.com/pclick.php?p=28333694647&a=139743&m=9567"
        }
      ],
      "thumbnail": "https://encrypted-tbn0.gstatic.com/images?q=tbn:ANd9GcQInLyxCNAdMWVhHvkk4fGdFQzn6BXOksZJ_ZydR3pks_sKW3kQCAYddQo&s"
    },
    {
      "title": "Jamie Cullum",
      "date": {
        "start_date": "22 Sep",
        "when": "Wed, Sep 22, 8:00 PM – Thu, Sep 23, 11:55 PM GMT+2"
      },
      "address": [
        "Salle Pleyel",
        "252 Rue du Faubourg Saint-Honoré, Paris, France"
      ],
      "link": "https://google.comnull",
      "event_location_map": {
        "image": "https://google.com/maps/vt/data=s1SslWBpCiZDfFYzZOSEE-NTcMA2URc5xIjVHFEvKorOCDLGUjXpVhA6bdoNyzuIENnCD1ZAANylDycq5tUwKjYbhtypSJtZUvJ-1OT0sYTeRvaw_9c",
        "link": "https://google.comnull"
      },
      "description": "Band Members: vocals, guitar, mad jumps & percussion, drums, Jamie Cullum - Piano",
      "ticket_info": [
        {
          "link": "https://www.bandsintown.com/e/1017016033"
        },
        {
          "link": "https://www.songkick.com/concerts/39729835-jamie-cullum-at-salle-pleyel?utm_source=53907&utm_medium=partner"
        },
        {
          "link": "http://ticketmaster.evyy.net/c/266168/271177/4272?u=https%3A%2F%2Fwww.ticketmaster.fr%2Ffr%2Fmanifestation%2Fjamie-cullum-billet%2Fidmanif%2F475727%2Fidtier%2F18864121"
        },
        {
          "link": "https://www.awin1.com/pclick.php?p=24888119559&a=139743&m=12494"
        },
        {
          "link": "https://festivaly.eu/en/jamie-cullum-salle-pleyel-pariz-2020"
        }
      ],
      "thumbnail": "https://encrypted-tbn0.gstatic.com/images?q=tbn:ANd9GcQeawe-Q695kC_mZ4gOfXfWiZkEiw8WysFajfoaRo8QnlOwv0TEaPNeqAY&s"
    },
    {
      "title": "Catherine Ringer",
      "date": {
        "start_date": "21 Nov",
        "when": "Sun, Nov 21, 8 – 10 PM GMT+1"
      },
      "address": [
        "L'Olympia Bruno Coquatrix",
        "28 Bd des Capucines, Paris, France"
      ],
      "link": "https://google.comnull",
      "event_location_map": {
        "image": "https://google.com/maps/vt/data=5bdk9Mdl7edStlromcynDpPhvcTokG5US4gXGkH2OdsqUJm9PRM9vOikeSj2hu2M2wtx6lcDL8LGju5OV3cjDrqoWv17G39Gai5cD-KW1m4I5Bw8QV8",
        "link": "https://google.comnull"
      },
      "description": "Catherine Ringer and Catherine Ringer CHANTE Les Rita Mitsouko at L'OLYMPIA at 2020-04-29T20:00:00+0200",
      "ticket_info": [
        {
          "link": "https://www.songkick.com/concerts/39219363-catherine-ringer-at-lolympia?utm_medium=organic&utm_source=microformat"
        },
        {
          "link": "http://ticketmaster.evyy.net/c/266168/271177/4272?u=https%3A%2F%2Fwww.ticketmaster.fr%2Ffr%2Fmanifestation%2Fcatherine-ringer-billet%2Fidmanif%2F479310%2Fidtier%2F18864121"
        },
        {
          "link": "https://www.awin1.com/pclick.php?p=25187914109&a=139743&m=12494"
        },
        {
          "link": "https://www.stubhub.com/catherine-ringer-tickets/performer/100837450/"
        },
        {
          "link": "https://paris.eventful.com/events/catherine-ringer-chante-les-rita-mitsouko-paris-/E0-001-131825213-9"
        }
      ],
      "thumbnail": "https://encrypted-tbn0.gstatic.com/images?q=tbn:ANd9GcSZGigygZU7ziV52JlxxHQiQJT1HetLENb1uXf6m7s&s"
    },
    {
      "title": "David Walters Avec Ballake Sissoko,",
      "date": {
        "start_date": "26 Oct",
        "when": "Tue, Oct 26, 8 – 11 PM GMT+2"
      },
      "address": [
        "La Cigale",
        "120 Blvd de Rochechouart, Paris, France"
      ],
      "link": "https://google.comnull",
      "event_location_map": {
        "image": "https://google.com/maps/vt/data=ZuVtQoDGPblKlqomD9EABAUFgcd6LkOO_RhSxTA-eIWAhCQzUmCxmk4yL4MKhavG8HiE_e-Dbi5Y4tYPABXgEMakZe0wR5IJ9aBDho3F2LMVv_AVhb0",
        "link": "https://google.comnull"
      },
      "description": "Yasiin Bey at La Cigale on Wednesday Apr 8, 2020 at 7:00PM",
      "ticket_info": [
        {
          "link": "https://www.songkick.com/concerts/39687114-david-walters-at-la-cigale?utm_source=53907&utm_medium=partner"
        },
        {
          "link": "http://www.lacigale.fr/en/spectacle/yasiin-bey-2/"
        },
        {
          "link": "https://www.bandsintown.com/en/e/1019350846-yasiin-bey-at-la-cigale"
        },
        {
          "link": "https://m.facebook.com/events/2926703807656416"
        },
        {
          "link": "https://gigs.guide/event/420lFbhNZN/Yasiin-Bey-Paris-2020-04-08"
        }
      ],
      "thumbnail": "https://encrypted-tbn0.gstatic.com/images?q=tbn:ANd9GcQh_Pz0w6kVvw_RstaSFnekLZRVwkSBkmUZwAAZueG74dDfovDl9-nRiDk&s"
    },
    {
      "title": "PARKWAY DRIVE",
      "date": {
        "start_date": "27 Nov",
        "when": "Sat, Nov 27, 8 – 11 PM GMT+1"
      },
      "address": [
        "Paris Philharmonic",
        "221 Av. Jean Jaurès, Paris, France"
      ],
      "link": "https://google.comnull",
      "event_location_map": {
        "image": "https://google.com/maps/vt/data=lZFtVO6EbsLvk6IWlMpNfGzP0QPNCinYvyFYA3ee985EIf_BZqDWnkrCTOj1RZ7fp8dp8qqztpW3FWaF0f0dxCTVlTGHXCWjdDYk8LSHElkqALhl_a4",
        "link": "https://google.comnull"
      },
      "description": "Les australiens de Parkway Drive sont de retour avec Reverence : un sixième album furieux à découvrir au Zénith de Paris le 15 Avril 2020 ! EVENEMENT REPORTE au 27 Novembre. Vos billets restent...",
      "ticket_info": [
        {
          "link": "https://www.songkick.com/concerts/39138590-parkway-drive-at-zenith-paris-la-villette"
        },
        {
          "link": "https://paris.eventful.com/events/parkway-drive-paris-/E0-001-130642766-0"
        },
        {
          "link": "https://www.bandsintown.com/e/101585618"
        },
        {
          "link": "https://www.ticketmade.de/en/event/parkway-drive-1/paris"
        },
        {
          "link": "https://m.rockifi.com/buy-concert-tickets/116793/parkway-drive/paris"
        }
      ],
      "thumbnail": "https://encrypted-tbn0.gstatic.com/images?q=tbn:ANd9GcR6L0Cs-DIc25rqsL1ial44ODrku1WpjeSh8jtx3g8&s"
    },
    {
      "title": "CATHERINE RINGER CHANTE",
      "date": {
        "start_date": "20 Nov",
        "when": "Sat, Nov 20, 8 PM – Sun, Nov 21, 8 PM GMT+1"
      },
      "address": [
        "L'Olympia Bruno Coquatrix",
        "28 Bd des Capucines, Paris, France"
      ],
      "link": "https://google.comnull",
      "event_location_map": {
        "image": "https://google.com/maps/vt/data=5bdk9Mdl7edStlromcynDpPhvcTokG5US4gXGkH2OdsqUJm9PRM9vOikeSj2hu2M2wtx6lcDL8LGju5OV3cjDrqoWv17G39Gai5cD-KW1m4I5Bw8QV8",
        "link": "https://google.comnull"
      },
      "description": "Catherine Ringer and Catherine Ringer CHANTE Les Rita Mitsouko at L'OLYMPIA at 2020-04-28T20:00:00+0200",
      "ticket_info": [
        {
          "link": "https://www.songkick.com/concerts/39670467-catherine-ringer-at-lolympia?utm_medium=organic&utm_source=microformat"
        },
        {
          "link": "https://www.bandsintown.com/e/1021906990"
        },
        {
          "link": "http://ticketmaster.evyy.net/c/266168/271177/4272?u=https%3A%2F%2Fwww.ticketmaster.fr%2Ffr%2Fmanifestation%2Fcatherine-ringer-billet%2Fidmanif%2F479310%2Fidtier%2F18864121"
        },
        {
          "link": "https://www.awin1.com/pclick.php?p=25187914109&a=139743&m=12494"
        },
        {
          "link": "https://m.ticketmaster.fr/en/manifestation/catherine-ringer-chante-ticket/idmanif/479310"
        }
      ],
      "thumbnail": "https://encrypted-tbn0.gstatic.com/images?q=tbn:ANd9GcSZGigygZU7ziV52JlxxHQiQJT1HetLENb1uXf6m7s&s"
    },
    {
      "title": "Ghostemane",
      "date": {
        "start_date": "8 Dec",
        "when": "Wed, Dec 8, 7:30 – 10:30 PM GMT+1"
      },
      "address": [
        "Bataclan",
        "50 Bd Voltaire, Paris, France"
      ],
      "link": "https://google.comnull",
      "event_location_map": {
        "image": "https://google.com/maps/vt/data=bdKSOAKm-NqleuRPQdj_mxuMX8tpH1dJPEbZSHSoyjM5T69RocYmGF6FzcUysuYQ76zeqmOJxgN1myyx6QD9QUlDgUGzwX-TbwdUZ-OpYH4mBoIgE0M",
        "link": "https://google.comnull"
      },
      "description": "Ghostemane le 08 décembre 2021 au Bataclan // report du concert initialement prévu à La Cigale L'évolution de la situation sanitaire et les mesures prises dans les différents pays que doit...",
      "ticket_info": [
        {
          "link": "https://en.concerts-metal.com/lkt.php?c=57904"
        },
        {
          "link": "https://www.ticketmaster.fr/en/manifestation/ghostemane-ticket/idmanif/475957"
        },
        {
          "link": "https://www.facebook.com/events/bataclan/report-ghostemane-08-d%C3%A9cembre-2021-le-bataclan/819699158814849/"
        },
        {
          "link": "https://www.bandsintown.com/en/e/1017080382-ghostemane-at-la-cigale"
        },
        {
          "link": "https://www.stereoboard.com/ghostemane-tickets/paris"
        }
      ],
      "thumbnail": "https://encrypted-tbn0.gstatic.com/images?q=tbn:ANd9GcTr0NSnwGdARyfFVPVqjQ6cHDoztPKJ-7LjtvSST9M&s"
    }
  ]
}